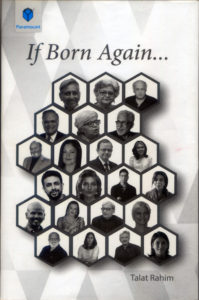 If Born Again… An unusual title for an unusual book. The premise: what, if anything, would you do differently if given the chance to relive your life?
It's a question that was pondered over, and then posed, to 22 well known personalities from India and Pakistan by the brave author, Talat Rahim. Why brave, you might ask? Because, not only is it amazing that she managed to sell a somewhat nebulous concept to a hard-nosed publisher, but also to the cast of celebrities and experts in their chosen fields, who agreed to be interviewed for this book — perhaps the only book of this ilk. Which is a plus point, but as the author recalls, it wasn't easy; there were many upsets and rejections along the way. To make it just that bit harder, another component was added to the brew — the peace question. Eleven personalities each from India and Pakistan were asked about their lives and what they would do differently if born again and also what they felt about prospects for peace among 'un-friendly' neighbours. It took a lot of networking and coaxing and sheer perseverance by the author through the three years it took for the concept to materialise and reach the print stage, but now that it has, the question arises, was the outcome worth the struggle?
The book begins with an interview of iconoclastic Indian director Mahesh Bhatt (and ends with that of his daughter, Pooja), the former epitomising the very nth degree of tolerance. In his own words, he was born "a love-child to a Shia mother and a Brahmin father…where the minority Muslim community was the enemy within. Today people talk of religious tolerance, the India I come from, stories of Shiva and Ganesh were told to me by my Muslim mother…And in the next breath she would teach me to recite the Kalima and chant Ya Ali Madad." To this day, Mahesh fasts during Ramazan. His challenging childhood, his life, his loves, his losses, his obsession with Urdu poetry and his love for his Pakistani 'mother' — Mrs Parveen Saeed Haroon — whom he helped bury, make fascinating reading. Calling himself a "nomad with no destination," Mahesh goes on to say, "I hated my anonymity. I had no skills, just images in my mind. But I wanted to tell the world I am there." Well, he has certainly done that, with over a hundred movies to his credit in his 43-year career. In that time, Mahesh has also gone through some major upheavals, both personal and professional. Would he alter it given the chance? Well, that would be giving it away.
Mahesh's interview is followed by Salima Hashmi's, the formidably accomplished artist, curator, former principal of the National College of Arts, Lahore, and daughter of Faiz Ahmed Faiz. Salima talks frankly of her childhood, her father, the Partition Museum that she would like to see being set up — "a narrative of ordinary people. Until we are grown-up enough, the best Partition museum should exist in virtual space. Only then can it transcend our pettiness." Her frustration is palpable. Probably even more so, after the Indians' refused her sister, Moneeza Hashmi, entry to a conference she was invited to as a speaker in Delhi in May, even though she had landed with a valid visa.
Mani Shankar Aiyar, the third interviewee, is an Indian diplomat turned politician and an active participant in the peace process. He laments: "My single most unfulfilled ambition (is) to see India and Pakistan live in harmony…I fear I will not see that happen in my life." If not this time around, maybe in another avatar?
Zubeida Mustafa, with her much acclaimed recent book, My DAWN Years: Exploring Social Issues, speaks frankly of her professional journey as a journalist, of the compromises she made and the challenges she faced in her personal and professional sphere. Would she make different choices, given a chance?
Ad-man, erstwhile Senator, author and peacenik, Javed Jabbar is an interviewee's dream. Articulate, well read, opinionated, he has something interesting to offer on diverse subjects. An active participant in the Indo-Pak peace process, like Aiyar, he discusses other initiatives like Aman ki Asha and the Neemrana Initiative, his theory being, "The more the merrier, the less the mayhem."
The list continues. Among those featured, is Shabnam Hashmi, the fearless, feisty, much-respected Indian woman and human and peace rights activist, who, at Beena Sarwar's request, lined up the interviews for the author with well-known Indian personalities.
Sardar Mumtaz Ali Bhutto, the 'talented cousin' who the author describes as a "living legend" and who describes himself as "a proud landlord…This is a country of landlords," asking "where would the Shehri babus be if we did not provide them with water and food?"  Known to be a  fearlessly outspoken man with a wicked sense of humour, I wish the author had questioned him on some of his pet peeves — provincialism, the federation, Zardari.
Then there's Priya Dutt, the daughter of legendary parents Nargis and Sunil Dutt, following in her father's footsteps as a politician, who dreams of visiting her father's village in Khurd, Jhelum. And there's Naseeruddin Shah, the amazingly versatile Indian actor with his superb command of Urdu and English and his self-deprecating humour,  who admits to his greatest fear: his dread of people.
Beena Sarwar, described as a 'maverick,' wears multiple hats, perhaps the most important being that of editor of Aman ki Asha and a strong supporter of this book from its inception. Ganesh Nataranjan, one of the bright stars in the Indian IT galaxy and a successful author of     business-related books, having made it in the material realm, now looks to other pursuits. Second chances?  As for Tehmina Durrani, she of the My Feudal Lord fame, married to arguably two of the most-happening Chief Ministers of the Punjab, Mustafa Khar, now Shahbaz Sharif, what is her take on life? Would she make different choices?
Mehmood Shaam, a respected poet and political analyst who just completed his golden jubilee in journalism, says that "all good work is done in defiance of the powerful and the influential." Always a rebel of sorts, Shaam ponders whether a second chance would be a reprieve.
The gender issue was kept in mind in the selection of interviewees. Laxmi Narayan Tripathi, the  author of Me Hijra, Me Laxmi, who was a key player in the 2014 India Supreme Court ruling that recognised  transgenders as a third gender on all documents, is a cult in her own right today, friends with two famous Salmans' (Rushdie the author and Khan the actor). Would she choose to be born differently?
Naseer Turabi, the writer and poet — in a society that does not overly value either — whose poem 'Woh Humsafar Tha,' was adapted as a song for the serial Humsafar, recounts his skirmish with Zia-ul-Haq that earned him a ban from PTV and Radio Pakistan for many years. Would he choose differently given a second shot at life?
Mehreen Jabbar, television director, producer and filmmaker, whose movie Ramchand Pakistani was well received and won several awards, both local and international, would definitely handle things differently. Why, given her early fame and success?
Ram Subramanian, in addition to being a successful advertiser, is the Voice of Ram, that advocates for all things wrong that need to be righted. He recently faced threats after tweeting on Mothers' Day that, had Modi's mother opted for an abortion that "would have been a wonderful gift to India on Mothers' Day."  Ram is representative of the new generation of Indians who, want a second chance, to do things very differently.
Amin Gulgee, the well-known sculptor, artist, jewellery designer, son of the famous artist, Ismail Gulgee, has had a lot to deal with, but his take on life is upbeat. The stunning Fatima Zara Mallick is a passionate fashion and fitness guru, making waves on the celebrity circuit in Karachi. She is also a published art historian. With so much happening in this life, would she opt for another?
Raghu Karnad, author and the youngest editor of Time Out, Delhi, is on a roll after the launch of his debut book — Farthest Field  —  which  garnered rave reviews worldwide, the NYT calling it "the best book of 2015." And, yes, Raghu definitely has scores to settle if born again.
Sikander Bakht, Pakistan's renowned cricketer, now senior cricket analyst, who will be forever remembered in the annals of cricket for taking eight wickets in a row in New Delhi in 1979, vows he would never go near cricket if born again. Why? Well, that is another story.
Pooja Bhatt, who closes the book in style, freely admits that her life is an ode to her father, Mahesh Bhatt. She started acting at 17 and her first movie, Zakhm, was a runaway success. On peace, she thinks a few seminars a year will not achieve that. The only way is for people to meet — again and again and again. Would she opt for the same life again?
This is the author — Talat Rahim's — fourth published work. Her previous three — Down Bureaucracy Lane, Down Matrimonial Lane, Diary of a Hypocrite — have all been drawn from her own or her friends and acquaintances' experiences. This book stepped outside the comfort zone of those, with all its attendant pitfalls. To begin with, there was no precedent for such a book. And it mostly seems to have developed on its own, without a clear blueprint or structure. Surprisingly, despite this, the selection is of highly accomplished people, from diverse fields, from different age groups. But there are some misses.
Mahesh Bhatt's no-holds barred interview was a hit which set the bar very high. Few have come close to his level of honesty and candour. After such a blazing start, many of the subsequent interviews seem rather tame. The format is partly to blame: a eulogistic start to each interview. Not that most are not deserved. But the effusive praise becomes repetitive and the questions too, could have been more focused. The answers, with notable exceptions, are fairly predictable. This is disappointing, given that these are highly creative people; 14 of the 22 are published authors, three are artists and writers, several are actors, producers, film and documentary makers; then there are politicians and peacemakers and committed activists for different causes. All have excelled in the work and the causes they have undertaken. Given this, more fire was expected, more passion.
Also, the book cover is disappointing; it does not draw you in. Good looking people, all of them, better pictures could have been selected. And inside as well, there should have been more pictures; it would have livened up the layout.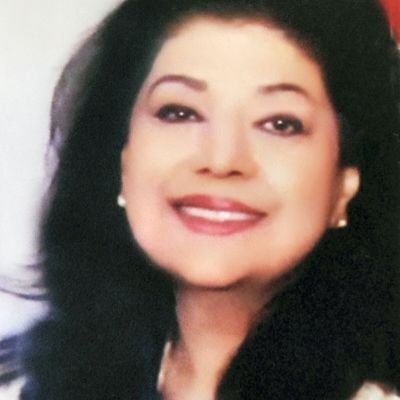 These quibbles aside, the question we started out with, was the outcome worth the effort?
Though the author insists the book is apolitical, peace activist, Beena Sarwar, vehemently disagrees saying, "Every drop makes the ocean. What you are doing is very political, bringing people from either side onto one platform. We need more such initiatives…and not cede space to the forces of the rightwing hegemonic narrative that thrives on hate and bigotry." Measured against this criterion, the outcome would seem to have been well worth the effort, if only because of the uniqueness of the concept and the unusual way in which two very different questions were juxtaposed.
Next