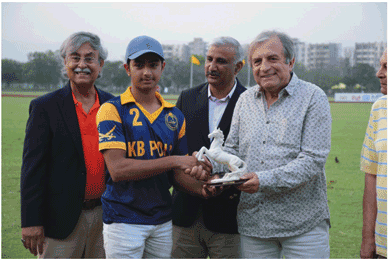 On a balmy Sunday morning in May, the Murree Brewery Company hosted its 114th annual polo tournament — the M. P. Bhandara Polo Memorial Cup — on the Rawalpindi Garrison Polo grounds in Westridge area. Six polo teams participated in the tournament and the Kalabagh Asean team stood took home the cup, after scoring five winning goals against the Security 2000 team.
Speaking to the journalists after the prize distribution ceremony, Mr Isphanyar Bhandara, Member National Assembly and Chief Executive Murree Brewery Company, emphasised the importance of promoting sports in Pakistan. He said it was an essential avenue that helped keep the youth away from indulging in negative activities such as drug addiction, terrorism, etc. He encouraged other national and multinational companies to play their part in fostering a healthy society by promoting sports. The company has been hosting the annual Murree Brewery Polo Cup tournaments since 1904. The tournament was renamed in 2008 after its late owner, M P Bandara, a Pakistan Muslim League (PML-Q) legislator, who represented the minorities in parliament.
Argentinian Ambassador, Mr. Ivan Ivanissevich,  Bulgarian Ambassador Mr Roumen Pirontchev, the UK Defense Attaché, politician Ms Sumera Malik and Justice (R.) Ali Nawaz Chauhan were among the distinguished guests who had come to witness the tournament. The chief guest, Mr. Roumen, Ambassador of Bulgaria to Pakistan, gave away the winning cup to the victors. 
The writer is working with the Newsline as Assistant Editor, she is a documentary filmmaker and activist.
Next