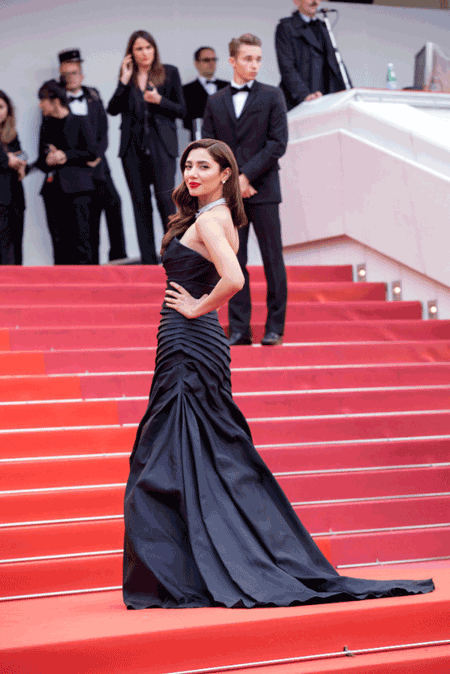 Mahira Khan, one of Pakistan's most loved celebrities, turned on her charm at the Cannes Film Festival this year as she made her impressive debut on the red carpet as L'Oreal Paris Pakistan's official spokesperson for Hair Care. It was an incredibly empowering experience for the stunning actress as she noted the heaps of support and love she received while preparing for the extraordinary event — a keepsake for her long journey home.
The Humsafar star reminisced about her stressful but enchanting time at Cannes. She spoke of how Bollywood star Sonam Kapoor and other actors lifted her self-esteem and eased her nerves beforeshe walked the red carpet. Hearing the words, 'Mahira Khan from Pakistan' being called out was a pivotal moment: "I could never have imagined how it would feel. It was amazing. I felt so empowered and strong. That feeling that people had my back."
There were glitches along the way. The dress that Mahira had originally picked for herself got stuck in customs so she had to settle for Alberta Ferretti's simple and classic outfit. One of the many outfits she wore in Cannes was a London-based brand Solace, with shoes by Christian Louboutin.
The Cannes Film Festival focused on the theme of women's empowerment.
The conversations emerging from the interviews, workshops and panel discussions at Cannes proved highly transformative for Mahira. Her conversation with Jane Fonda ended with a lovely piece of advice. "I wanted her to give me one piece of advice. 'Okay, one piece of advice: stay strong,'" said Fonda. She realised that these women joining her at Cannes were no different from her — perceptive as well as magnanimous.
"I don't want to deal with noise and negativity," says Mahira, "I want to focus on the positive…the most important thing is supporting each other. It is elevating and it's the only way industries grow."
Charting her experience of a lifetime on Instagram, she wrote a love letter to Cannes, "Oh Cannes, you have a piece of my heart! Thank you for taking us in with open arms, you were warm and generous. I wish I could pen down my entire experience but that'll be a long love letter for another time."
Next