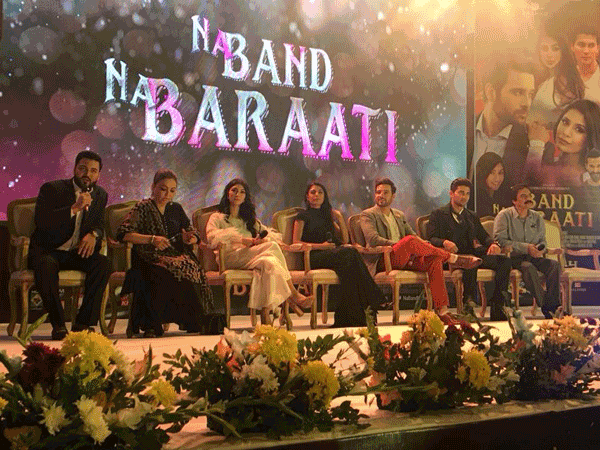 The music launch and trailer preview on May 8, of the upcoming Pakistani comedy Na Band Na Baraati, offered a stark contrast to the movie's title. Organised by Zashko Entertainment, the US-based producers of the movie, and Hum Films at the Mövenpick Hotel, the event featured live choreographed performances of the musical numbers and a sneak peek of the songs from the movie itself. The entertainment-packed meet-and-greet offered a taste of what the movie itself would be like: fast-paced, energetic and fun.
The press conference introduced a medley of the entertainment industry's renowned luminaries and newcomers, who banded together to create the film. Actors Mikaal Zulfiqar, Qavi Khan, Atiqa Odho, Azra Mohyeddin, Shayan Khan, Nayab Khan, Mehmood Akhtar, Komal Farooqi and Ali Kazmi form part of the stellar ensemble cast. The songs for the movie are sung by Shafqat Amanat Ali Khan, Rahat Fateh Ali Khan, Sahir Ali Bagga and Aima Baig, and composed by Ayaz Sonu. Videos of the songs, 'Baahon Mein,' 'Sajan Bin Raina' and 'Pyar Wyar,' were screened for the media and audience, and the protagonists of the film, Mikaal Zulfiqaar and Shayan Khan, who play brothers in this romantic comedy, and Nayab Khan, danced to the music.
The movie's director, Mahmood Akhtar, talked about the collaboration between HUM Films and Zashko Entertainment – an American film studio that provides full pre-production, production, and post-production facilities, in the making of film, television, and other content. With Na Band Na Baraati, they took it a step further. Set to release in theatres nationwide on July 6, 2018, the film was shot entirely in Canada, mostly on outdoor locations, and producer Zain Farooqi spoke of the diverse production team that was assembled with a view to creating an imaginative and fresh project.
Next