The trailer of the highly anticipated sequel Na Maloom Afraad 2, releasing in the country soon, was unveiled at Nueplex cinemas on June 21. The event kicked off with the red carpet in the atrium and moved into one of the cinemas for a Q&A session with the cast and viewing of the trailer.
This is the third movie that the multi-talented duo, Nabeel Qureshi (as director) and Fizza Meerza (as producer,) have done together. Unlike their earlier films (Na Maloom Afraad and Actor In Law), that were shot in the country, this movie has been filmed in South Africa. It features an entirely different plotline (co-authored by the two), though it picks up three years from where the last one left off. The dynamic trio, Fahad Mustafa, Javed Sheikh and Mohsin Abbas Haider, return to the screen in the sequel, as does Urwa Hocane. Hania Amir is a new addition, along wit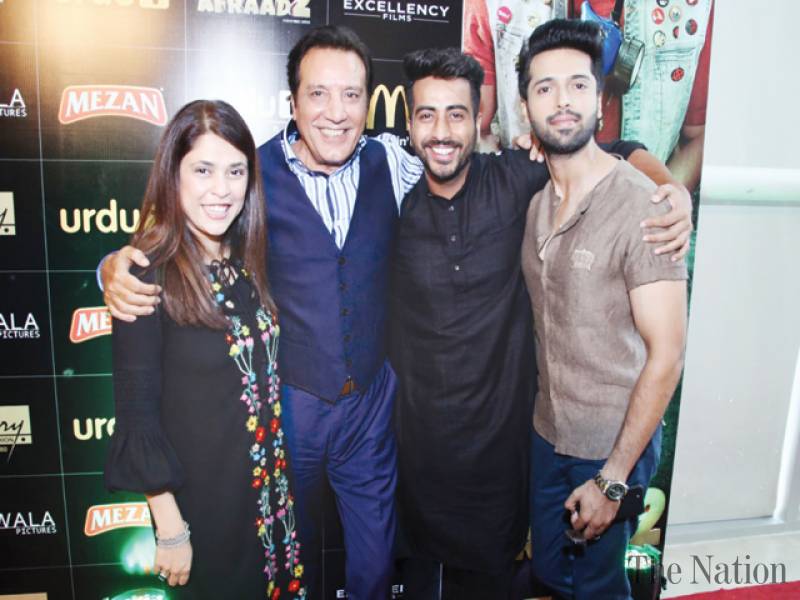 h Nayyar Ejaz and Saleem Miraj.
The chemistry between the cast, during the Q&A session, was palpable through the constant flow of jokes and good-natured ribbing, which bodes well for the on-screen dynamic.
Though filmed in Cape Town, Qureshi assured the press that everything else, excluding the sound, was home grown — and that included the post-production team. Qureshi told the press that a new camera, the Arri Alexa SXT, was purchased for the shooting and it has made all the difference to the cinematography. When asked what the budget for the movie was, the director and producer side-stepped the query with a joke. When asked the same question a second time, the team became defensive and quipped that as long as the tax collectors were aware of the expenditure incurred, it should not matter to anyone else.
The plot revolves around the visit to South Africa of an Arab Sheikh, who brings along with him his golden commode. His visit coincides with the arrival of the three "musketeers," in Cape Town. As if on cue, Sheikh Baklava's toilet is stolen and suddenly they find themselves in the heart of the mess. Of course, the toilet has more than just sentimental value for the Sheikh, as it turns out to be a front for something else more sinister.
With witty back-and-forths, well-timed one-liners, and high energy action scenes, the film promises to be a roller-coaster ride. So hold your breath…
Next