Young at Art: Saudi Arabia's Growing Art Scene
In this Newsline special, Naima Rashid, who is in charge of the Arts and Culture section of the Jeddah Blog that aims to look beyond restricting stereotypes about the region, takes you on a journey of Saudi art, starting from the ground-breaking exhibition 'Shattah' in Jeddah (below) and the growing art movement in the country (see Rising Sands) to the future of art in the Kingdom and finally an interview with Arnout Helb — owner of Greenbox Museum, a museum of Saudi art located in Amsterdam.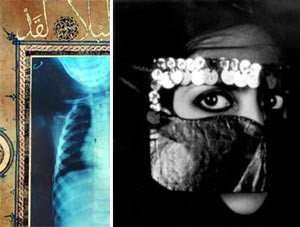 Contemporary art in Saudi Arabia rose to the fore locally with a ground-breaking exhibition called 'Shattah' (meaning disjointed or disembodied), organised in Jeddah by a group of bold young artists. This group of bohemian young men were mostly engaged in other full-time professions and practiced art as a hobby at the Al-Miftaha Artists' Village in the hilly city of Abha in the south — an art residency/boarding school (the only one of its kind in Saudi Arabia) established by Prince Khalid Al Faisal. Saudi Arabia was then as it is now a place of rapid change and restructuring, but they were unable to reflect their experience of their country in the traditional forms of art they learnt at Al-Miftaha. There was a lag between the matter they needed and the artistic means they were equipped with to express themselves. Then came the Internet and it changed everything. A whole vista of new means of creation and expression lay open before them. Over years of exposure and experimentation they finally forged a new and relevant art.
In 2004, the Shattah group staged their first-ever exhibition of contemporary art in Saudi Arabia, defying convention both in matter and in manner. This was truly an art of the times and contemporary Saudi art was born right here with the success of the radical Shattah. It confirmed a readiness, both on the part of the artists and the public, to embrace an art of ideas rather than an art of mere imitation.
After the initial victory on home turf this art had to be shown to the rest of the world, where in the minds of many, to this day, the expression 'Saudi art' spells an oxymoron. Several initiatives in the wake of Shattah played and continue to play a significant role in making Saudi art known abroad. Of these, two are particularly noteworthy; Edge of Arabia, a cultural cooperative initiative, launched in 2008 by the UK-based Social Enterprise Offscreen, showcased Saudi art for the first time internationally where it was extremely well-received. With the long-term aim of promoting understanding between the UK and the Middle East, Edge of Arabia has been pivotal in helping Saudi art cross borders. Established in 2008 a partner of Edge of Arabia, the Athr Gallery in Jeddah, is another indispensable player in making Saudi artists known abroad. It also acts as an art educative platform, with the long-term aim of introducing a culture of art appreciation in the country.
In most local schools in Saudi Arabia, well-thought-out art education is not incorporated into the syllabi as yet. However, with rapidly increasingly international exposure and the availability of alternative platforms of expression these developments might slowly be leading to a shift in attitudes. At the college and university level, in institutions that are still few and far between, art and design departments are slowly building their reputations. A number of creative competitions and talent hunts, some assisted and organised by SAGIA (Saudi Arabian General Investment Authority) have brought creative individuals to the fore. Events and initiatives are helping establish a general consciousness towards art and creativity. Where art was only conceivable as a side activity as far back as five years ago, it is now a demanding, fulfilling and financially rewarding career, completely within the realm of possibility. Saudi artists, both established and emerging ones, talk with contagious optimism about the future of art in the Kingdom and initiatives, platforms and opportunities for young artists are steadily on the rise. Indeed, these are exciting times for Saudi art, a young art perhaps still in the throes of its birth and whose history is only beginning to be created.
This article originally appeared in the September 2011 issue of Newsline under the headline "Young at Art."
Next