The Dream Merchant: Sabiha Sumar Talks About "Rafina"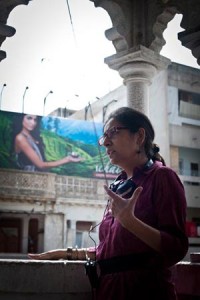 The year was 2004 and Sabiha Sumar's first feature film, Khamosh Pani was being screened in an open-air cinema in the city of Peshawar. After the screening one woman in the audience stood up and said, "Mujhe to meri awaaz mil gai, mein hi to hoon yeh aurat," (I have finally found my voice, this woman's struggle is my own) and then broke into tears. The policemen hovering on the fringes got all riled up and proclaimed, "Yeh sab bakwas hai, this film has been made from foreign funding." But the crowd's curiosity was piqued — a group of six, between the ages of 18-25­ years, caught hold of Sabiha after the screening. "Hum bhi iss daur say guzray hain jiss sey aap ka Saleem guzra tha," they remarked about Khamosh Pani's teenaged protagonist Saleem, who is swept away by the wave of radicalisation in the '80s as Zia's institutionalised Islamisation and the war in Afghanistan grips the region.
In the absence of a local distributor, the travelling cinema featuring Khamosh Pani journeyed across 41 small towns and villages, screening the film free of cost everywhere. A slow-paced, art-house movie, with serious undertones, it managed to hold the masses captive.
"It is a myth to say that all the masses want is vulgar and obscene visual entertainment. We can make films that are commercially viable, entertaining and have the power to make people look at the world and themselves differently," says Khamosh Pani's exceptionally gifted director, Sabiha Sumar. And now Sabiha is working part-time to complete her second feature film, Rafina, scheduled for release in 2012. It boasts an equally riveting storyline, but in complete departure from her first film, this one explores a new phenomenon in Pakistani society — the struggle of the urbanised middle class.
Based on a novella written by Shandana Minhas (author of Tunnel Vision), Rafina is the story of a girl with a dream. From her dusty bedroom window in a congested inner city locality, Rafina sees a billboard of a glamorous model towering above the decrepitude, and resolves to become someone — someone rich and famous. In spite of what may seem like insuperable odds, she fights to make her dream of stardom come true.
Once the screenplay was finalised, Sabiha auditioned potential actors with Tayyab Siddiqui from Rafina's casting department and subsequently selected a mixed bag of talent. Model Amna Ilyas, a first-time actor, is cast as the zealous protagonist Rafina, alongside veteran actress Saba Hameed, who plays her mother who wants nothing more than to see her daughter happily married. The effervescent Beo Raana Zafar is cast as Rosie Khala, a waxing woman; Yasir Aqueel plays Rafina's feral politico boyfriend and Khalid Malik is Murad, who represents radiance, the world of fashion and beauty.
Once the cast was in place Sabiha started training the actors, asking them to look deep within and draw on their own memories and experiences to infuse reality in their performances. Says Sabiha, "The relationship between a director and the actor is of prime importance. The minute you feel someone is acting, you stop watching because you cannot get into their world. Films allow you to see a situation and experience it even though you may have never been in it, and the better it is crafted the more you will be drawn into the film." And Sabiha has nothing but praise for the tenacity of her cast and crew members, who put in their all and learnt on the job.
The Sumar residence in Karachi became the headquarters, housing 11 crew members, including a Dutch technical team. "It was loads of fun," says Sabiha, "but the stamina required was immense. Between my full-time job in the family business and my passion for filmmaking, I couldn't even sit down and unwind over a cup of tea during those six to eight weeks" when shooting the film! And working within an ill-equipped, virtually non-existent film industry couldn't have been easy. "With the Pakistani film industry still in the throes of self-discovery and no distinct style of storytelling, it struggles to forge an identity. There are fewer still here who truly understand cinema, leave alone a real body of work that empowers the audience with the choice of what to view." laments Sabiha. "This country has never understood that the arts matter…" However, our neighbours in India, in Bollywood, have been catapulted to the dizzying heights of worldwide acclaim with their films. "Their distinct fantasy style of storytelling works and they have managed to create and purport an image of a patriotic, secular melting pot that is India, to the masses with films like Chak De India, or even the blast from the past, Amar, Akbar Anthony (1979)." Om Shanti Om, the Bollywood blockbuster is Sabiha's pick of that year and she qualifies it as filmmaking at its best and adds films like Dil Walay Dulhaniya Lay Jaanegay and Sholay to the list, saying they truly capture emotion and enthrall the audience. She feels that although local releases like Bol have potential, films in Pakistan still have a very long way to go.
Conceding that a project in Europe or somewhere else abroad would have given her the technical edge and spared her the time spent on training, Sabiha ardently maintains that her stories cannot be told anywhere else: "I would lose the smells, the sounds, the taste — the emotional intensity would just disappear. My stories are about Pakistan." Hence, Rafina was filmed in Karachi's very own Pakistan Chowk with some scenes shot in Nabila's salon.
With Rafina, Sabiha has started to manufacture a dream for Pakistan and Pakistanis. Pakistanis don't have anything akin to the "American Dream," but with films Sabiha feels we can, one step at a time, build towards a collective dream, an identity. She has an unstinting belief in the power of the media to help shape a national identity. "Rafina is the voice of so many women we see on billboards today and so many more who want to be on those billboards," says the director, alluding to the "reputation" of media-women in Pakistan. "In western countries, feminists would see images of women splashed across billboards as exploitation; however, here in Pakistan, given the social deprivation, it actually mirrors successful, economically independent and powerful women. It is completely the reverse of what modelling means in the West." Rafina is primarily about struggle, the struggle of so many middle class women across the country.
Sabiha attended college in the early '80s and was a fervent and ambitious graduate from Cambridge when Zia-ul-Haq's Islamisation crept into homes and hearts in Karachi. "When I got back, the country was showing signs of change and it kept changing in front of our eyes. Boundary walls were raised and schools made long-sleeved shirts compulsory. You know how conservatism seeps in — as Arundhuti Roy says, like tea out of a tea bag. I remember telling my mother, I am not going to cover myself in a chador, and my mother said, 'but beta, it's fashionable!' It was very insidious the way the Islamic process grew and spread among us. We gave up our freedom, inch by inch, and didn't even know it."
After having studied filmmaking and political science at Sarah Lawrence College in New York, Sabiha made her first documentary film, Who Will Cast the First Stone, about women in prison during Zia-ul-Haq's time and pitched it to Pakistan Television (PTV). "No one knew about documentaries during Zia's time and the censor boards were busy censoring Punjabi and Pathan films, having killed any fledgling cinema that we had." However, PTV did not run the documentary, deeming it too powerful, but it was first aired on Channel Four and then on PBS. The documentary won the Golden Gate Award later that year. Sabiha then went on to make several award-winning documentaries including Don't Ask Why (1999), For a Place Under the Heavens (2003), On the Roofs of Delhi (2007) and Dinner with the President (2007). "I wanted to make a difference, I wanted to be heard and I felt what I wanted to say was important. It was important that people listened to it and it helped them look at things differently or changed their mind," says Sabiha of the medium. Visual narrative, according to her, reaches a wider audience, including those who are perhaps illiterate.
Rafina promises Sabiha's expertise and professionalism plus a brilliant song composed by Vicky Haider, sung by Shafqat Amanat Ali, and a stimulating dance sequence by Joshinder Chaggar. Unlike Khamosh Pani, Rafina will have a local distributor and will be screened in all big cinema houses in the country. Juggling her hobby of filmmaking with the family business and her responsibilities as a mother, Sabiha says Rafina may have taken longer than usual to shoot and edit, but she has great expectations from it.
Maheen Bashir Adamjee is an APNS award-winning journalist. She was an editorial assistant at Newsline from 2010-2011.
Next