"I like to create jewellery for the feet"
– Isma Meer
Isma Meer is a Pakistan-born, London-based luxury footwear designer who has studied shoe design and jewellery design at the London College of Fashion. She is now introducing her brand to Pakistan.

Newsline sat down with Isma Meer to talk about the challenges of running a global business and introducing high-end, luxury shoes in a fashion industry that is still in its infancy.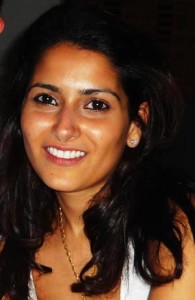 Q: What inspired you to enter the field of shoe designing?
A: Like most women I have a passion for shoes and handbags. As a little girl I would use my mother's earring clips to dress my pumps and create different looks.
I wanted to address a shortfall in the Pakistani market by introducing a luxury footwear brand. I wanted people to have access to high quality, genuine leather, structured footwear at reasonable prices. In hot climates, I think it's important to not wear synthetic footwear as the skin cannot breathe. Also, people like myself who suffer from skin diseases like eczema, need natural footwear to avoid flare-ups. It was then that I went back to school to study fashion with a focus on shoe design and shoemaking. I also took a course in jewellery-making and tried to integrate this into my shoe and bag collections, by making more personalised accessories.
Q: Since when have you been designing shoes?
A: I had to design my first collection as part of my coursework. That was approximately three years ago.
Q: Tell us about your thought process when designing: do you make sketches, or do you first buy the material and then figure out how it should look?
A: I am inspired by materials, jewellery trends and colours. I always say, I like to create jewellery for the feet. In so many cultures, when women are restricted in expressing themselves through clothes, they can still feel fashionable by wearing a beautiful pair of embellished shoes or carrying a wonderful, brightly coloured clutch bag.
Q: What raw materials do you use?
A: I use all sorts of materials, from rhinestones to mesh, and from leathers to exotic skins and textiles. I don't use synthetics though.
Q: You went to a school for fashion in London. How was the experience? Do you think a fashion education is essential for a designer?
A: Well, I went back to school because I wanted direction and felt I wanted to be trained as a shoemaker. However, Coco Chanel never went to a fashion school and we all know how she changed the fashion industry of her time.
Q: Where do you make the accessories and what materials do you use?
A: The accessory is the most important part of my shoe and the materials used just showcase it effectively. I design the accessory using a lot of loose rhinestones and metal chains. I do sketches, then moulds and then the actual accessory is made. These stones and chains are usually manufactured in the Czech republic, Europe, and China.
Q: What are your favourite colours and what colour combinations do you like using?
A: Strangely I do not have a favourite colour palette at all. I love playing with colours and juxtaposing different colours with each other. It is easier to work with clear rhinestones though, only because it allows you to play with different leathers.
Q: What's the most daring shoe you have ever designed in terms of colour.
A: I think the most daring shoe I designed was the 13cm, double-platform heel for the Pakistani market. I took a big risk because I didn't know if that would work in the domestic market at all. In terms of colour, if you see my collection on my website (www.ismameer.com) or on my Facebook fan page, then you will see that my collection is very bold and bright. I don't think any colour is off limits.
Q: You are already selling in Dubai and London. What inspired you to start selling in Pakistan?
A: Actually, I started selling in Pakistan before I started anywhere else. I wanted to introduce a luxury footwear brand in Pakistan first. The rest was just an auxiliary market that stemmed from my primary market.
Q: What kind of a market do you think there is in Pakistan as far as luxury products are concerned?
A: I think the market is huge. In my view Pakistani women are bonafide fashionistas and I think when they have access to a quality product in the local market and understand what the Isma Meer brand represents, I am sure they will appreciate it.
Q: How does your product compare with what is already available in the market?
A: I think there is a lack of luxury footwear available at a reasonable price tag in Pakistan. I don't design and manufacture shoes and bags for the sake of designing shoes and bags. I started this company because I felt there was a dearth of quality footwear in Pakistan. My brand incorporates trends as soon as they hit the runways and it is of good quality. So it is different from what is already available in the market.
Q: If you could dress one international celebrity in your shoes, who would it be?
A: Not to sound cheesy, but I want everyone who buys my shoes to feel like a celebrity! That would be a huge compliment!
Q: And what about locally? Is there a celebrity you would like to dress in Pakistan?
A: I think my best friend Maheen Karim is a celebrity. I think she is simply elegant and I am proud to say she owns every single piece in my collection!
Q: Do you think the Pakistani market is daring when it comes to shoes, and are people willing to pick up red chappals and pink pumps or do they prefer sticking to white and black?
A: Based on experience, I have to say that I reinforce the fact that Pakistani women are very fashion forward. I do think they take fashion risks and do not just stick to safe colours.
Q: Is it difficult to sell your products in Pakistan, when you are based in London?
A: I work with very good people in Pakistan. I have only had good experiences selling my collection at Sania Maskatiya and Labels. I trust them completely; they are very supportive and have never let me down.
Q: You are running what can easily be described as a global enterprise: designing in London, producing in Bali and selling in Pakistan? What are the challenges of running such an enterprise?
A: I don't only produce in Indonesia, I produce in Asia and in Europe as well. In fact, I am now importing materials from Pakistan. Yes, it is a huge challenge. However, I have to source the best materials to produce the best product and so inconvenient or not, I cannot compromise the end product.
Q: You plan to exhibit at Labels in Faisalabad. How do you view the fashion market in Faisalabad?
A: Yes, I am very excited about that. Like in all the big cities, I think the ladies in Faisalabad are very fashionable and aware of trends and products in the local as well as the international market. I do hope they are receptive to the Isma Meer brand. I would be honoured to have them add a piece from my collection to their wardrobe.
Photography: Desmond Murray
Models: Gaurika Gambhir/ Erica Svensson
Hair: Mathieu Simo
Make-up: Akiko (Capa Salon)
Co-ordination: Voila PR
Shoes: Isma Meer (available at Labels and Saniya Maskatiya's outlet).
Next