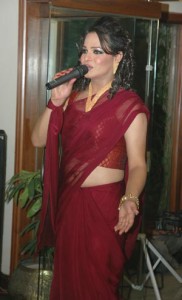 Red Haute
Red is what the lady of the house ordered. So red it was. From Tammy Raza Rabbani to Nilofer Farrukh to Parveen Bashir to Happy Naveed Qamar — everyone wore red to the preview of the sequel of TV One's hit serial, Band Khirkiyon Kay Peechey.
A tale of what transpires behind the closed doors of the bold and the beautiful, the sequel features TV's haute women Gia Ali, Ayesha Toor and Ayesha Omar.
There to introduce them was Begum Nawazish Ali, who was more interested in flirting with Nazim Haji — the "token male" present that evening — who took it all in his stride.
Seema Tahir Khan, always the perfect host, had arranged for mocktails and a "chatpatta" dinner (pani puri, bun kabab, et al) for all the "red haute" women who had turned up for the do.
This article was originally published in the September 2011 issue of Newsline under the headline "Red Haute."
Next