Classic Movie Review: Singin' in the Rain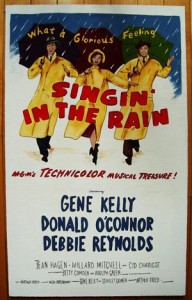 One of the most delightful musicals ever made, Singin' in the Rain glitters with colour, talent and catchy tunes. Co-directed by Stanley Donen and Gene Kelly, it was produced during the height of the musical movie era, well after the genre had become established, but more than a decade before it began to run out of steam. That Singin' in the Rain holds up so well today, more than 50 years after its first release, is a testament to the dexterity of the filmmakers and the athleticism of the performers.
Singin' In The Rain is essential viewing for even the casual moviegoer. The plot revolves around a famous actress, Lina Lamont (Jean Hagen), and her inability to adjust from "silent" to "talkie" pictures. Lamont's dominance, alongside screen partner Don Lockwood (Gene Kelley), is threatened as she has a screechy Brooklyn accent that she can't shake and she soon finds herself being dubbed by Kathy Selden (Debbie Reynolds), a gooey-voiced no-hoper who loves and is loved back by Lina's leading man, Don Lockwood. But the plot doesn't matter; it is really the energetic song and dance numbers that count the most.
While singing is an important aspect of the film, it's secondary to dancing. Kelly's choreography is animated and buoyant, and there's an infectious gaiety in each of the numbers that has seldom been matched before or after. The two most remarkable singing/dancing sequences in any of Hollywood's musicals take place in this movie: Donald O'Connor's astonishing, gravity-defying delivery of "Make 'Em Laugh" and Kelly dancing on a rainy night, swinging around a lamppost and energetically splashing and jumping, articulating his love for Kathy.
Like many other musicals, Singin' in the Rain affectionately satirises Hollywood. Cleverly written by the team of Adolphe Green and Betty Comden, the film is infused with spirited imagination, natural wit, and pure love for the movie industry. The film's title and its title song aptly intimate the contagiously euphoric feeling. This is a movie that genuinely makes you feel better about life.
This movie review originally appeared in the September 2011 issue of Newsline under the headline "Blast from the Past."
Next