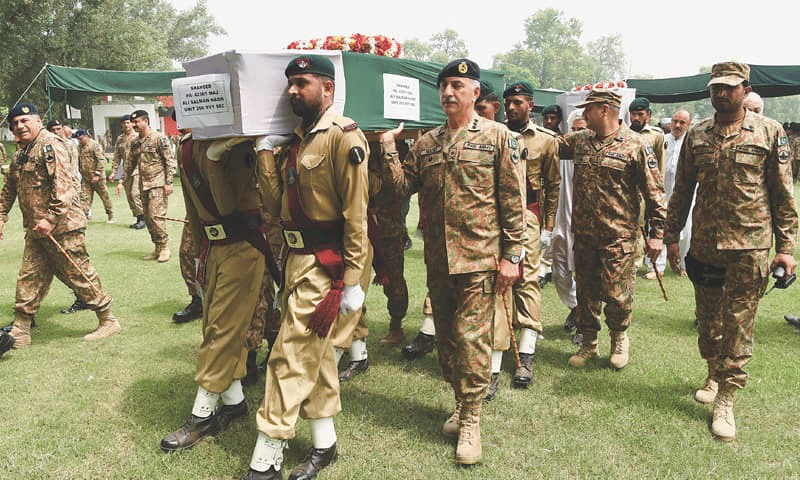 The halls were buzzing with activity. Young boys, monitored by teachers, were busy setting up stalls. Young school girls from all across the district were doing the same, albeit in a much more organised fashion. Soon, a steady stream of visitors started arriving. The stalls filled up. School children enthusiastically explained their projects to the visitors, who seemed to be engrossed in the presentations. 
This was not Karachi, Lahore, Islamabad or Peshawar. It was Mingora, Swat. 
I had gone to the science festival with low expectations, but what I witnessed was unbelievable. Intelligent children, alongside enthusiastic teachers and mentors had prepared elaborate science projects, full of intricate details. 
The girls' section was even more awe-inspiring. Notwithstanding the conservative culture of the region, the school girls were confident, knowledgeable and at ease. This was not the Swat I had imagined. 
At one stall, two girls spent five minutes explaining their project to me, and as I was leaving, one of them asked, "Excuse me, can you introduce yourself, please?" I was floored. We spent the next five minutes discussing who I am and what I do, after which she said, "Maybe you should be a teacher."
Dr. Jawad  Iqbal, Campaign Director at Udhyaana, an organiser of the Swat Science Festival, told me that in the aftermath of Taliban rule and the army operation, the youth of the region were suffering from severe post-traumatic stress disorder. "Many have taken to drugs," he told me. "However, when we took the idea of the science fair to their schools, they came on board immediately, as it gave them an outlet."
According to Iqbal, what Swat needs right now, is more such interactive events, so that people, especially the youth, can get over their trauma.
While Swat has generally been peaceful over the last few years, a suicide attack in February 2018, killed at least 11 security officers at an army camp in Swat's Kabal area. This was the first major bombing in the region in three years. It shocked residents and analysts who had come to believe that the army operation in 2009 had cleared the area of insurgents. The Tehrik-e-Taliban Pakistan, as expected, claimed responsibility in a mass email to journalists.
Mahafuz, a young resident of Kabal, was picked by the army on claims of being involved in terrorist activities. He was sent to a militant rehabilitation centre in Swat district. When he was picked up, and how long he spent in the camp is anybody's guess, as gaining credible information in regards to this is no easy task. Locals, however, suggest that he spent upwards of six months in the centre, after he was no longer viewed as a security threat. Despite that he never walked away a free man. The army held on to him. He was used as a runner for menial tasks between the camps and the city. 
Whenever Mahafuz went into the city, he would take a little time out and talk to his friends. Revenge was all he could think of. "These guys killed my uncle and my relatives," he would complain. "I haven't forgotten that"'
Because he was now ostensibly 'working' for the army, his security clearance into camps was low. And so, he had an idea. One day, while out on a routine errand, he made his way to a safe house where he had arranged for a suicide vest to be waiting for him. He quickly donned the same, finished his errand, and made his way back to the camp, where the guard on duty nonchalantly waved him through. He walked in, and looked around — a game of volleyball was being played. He made his way to the field and promptly blew himself up. 
"The people of Swat have not forgotten the atrocities the armed forces meted out to some of them under the guise of regaining and maintaining peace," says Ali, a local journalist. 
But you don't see this simmering anger and lust for revenge, if you walk the streets of Swat. Peace has indeed returned to the valley, businesses are flourishing, there is a buzz about the place which had all but disappeared during Mullah Fazlullah's reign of terror, and the military operation that followed. The security detail has also gone down,  and while military checkposts continue to exist, they are far fewer in number. "Previously we had a General who was overseeing Swat, now there's a Major," continues Ali. 
Still, the army remains a key arbiter of justice in the region. And according to Ali, people forged connections with the armed forces while they were here. "People will use their connections with higher-ups to get their way in disputes," he says. This influence has put further pressure on the fragile relationship that exists between a vast number of people in the valley and the armed forces. 
"People are wary of speaking their mind," says Babar, another journalist who worked closely with one of the leading news channels during the Swat operation. "The problem really is that nobody knows who is an informant and who isn't — so when three people sit together they are very careful about what they say." 
Enter Manzoor Pashteen and the Pashtun Tahaffuz Movement (PTM), against this backdrop.
Pashteen's demand that forced disappearances be stopped resonates with the people of Swat. "If PTM workers are stopped at numerous checkposts on the way to the Swat rally on April 29, it will only help bolster their demands," says Babar. "People here are listening to Pashteen and silently nodding their heads," says Babar. If the PTM makes it to Swat, it will find a large number of supporters, who were waiting to find a voice. 
As things stand today, Swat seems to be a valley in flux. Those who did not witness the atrocities of the Taliban, and the ensuing heavy-handedness of the military as a consequence, are brimming with enthusiasm, while those who did, have not been able to move on.
The writer is a journalist based in Lahore. He is the current managing editor of MIT Technology Review Pakistan, a bi-monthly science and technology magazine.
Next