Though the dry-heat spell may have hit Karachi a little earlier than in prior years, many Karachiites, undettered, were still out and about, as seen at the Keto Food Fest, held at the Alliance Française on April 21. The one-day event was a collaborative effort of vendors that supply ketogenic food and menus and the Facebook group, 'Ketogenic Diet Pakistan.'
The food festival was organised by TeamEventure, an event management company, owned by Nida Koreshi, along with her partner and husband, Masood Koreshi, who took on the responsibility of organising the Keto Food Fest, after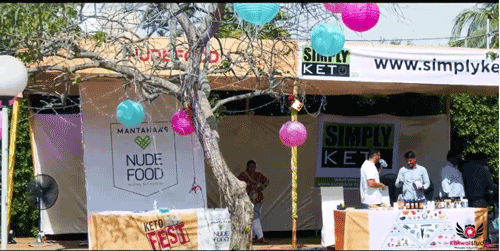 experiencing how well the diet had impacted their own lives.  "The inspiration behind following the keto diet was simple: I wanted to lose the weight I had gained after the delivery of my third child," said Nida. "I started the keto diet, and was following different groups on Facebook, and the more I learnt about it, the more it appealed to me as a lifestyle."
The Ketogenic diet plan is high on fat, and low on carbs, a slightly unusual food regime for the regular desi whose every meal nearly is accompanied by roti or rice. However, creating greater awareness about 'keto diets' was exactly what the event was meant to achieve. With a following of over 60,000 people on Facebook, Ketogenic Diet Pakistan receives frequent questions and concerns regarding whether the diet is something that is feasible in this country, and how to go about following it. Amir Dhedi, owner of the Facebook group and the chief guest felt that by bringing together keto vendors in Karachi, who are not well known,  and keto diet followers, they could bridge the gap between the two, provide a forum that promoted a healthier lifestyle and opened up new business avenues.
"When I started it, I found there were restaurants that had keto menus, and vendors that made dishes and supplied them to homes," said Nida. "They even made keto desserts!"
FLOC (For the Love of Coffee), PanAsia, Berlin Doner, Keato, Mantahaa's Nude Food, Chewy Bars, Simply Keto, Saydyz, The Keto Bakery and Sweet Confessions were 10 restaurants and food vendors that had set up stalls at the event. Keto pizzas, sugar-free keto baked goods, keto gelato and ice-cream were just a few of the many eye-catching dishes on offer at the food fest.
The event also had a panel session with six health and nutrition-conscious keto diet followers, including Dhedi, who answered questions about the ketogenic dietary plans, the ease with which they can be followed and the benefits of doing so. Dhedi shared his experience, of how he went from 140 kg to 96 kg, and reversed several ailments he was experiencing at the time, which included borderline diabetes, insulin resistance and fatty liver syndrome.
Next