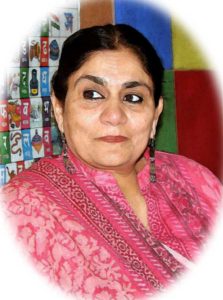 The strength she exuded was Madeeha Gauhar's most striking feature, and people automatically gravitated towards it. She coupled that with a steely resolve which served her through many challenging episodes in her life. An actor, artistic director, lecturer and civil rights activist she has, in her passing, left behind an indelible mark in Pakistan's theatre industry, and as in Asma Jahangir's untimely death, a big vacuum in civil society in Pakistan and abroad, of which she was an integral part. Madeeha was a true heir to her lineage: her mother was the well-known social scientist, anthropologist and journalist, Khadija Ali Gauhar, and their home was the hub of intellectual activity generated by a stream of progressive thinkers and literary figures.
 Madeeha's association with the theatre industry began early, as did her clash with the authorities. She would act and direct plays while studying at Kinnaird College, Lahore. She also started acting on PTV, very quickly becoming recognised as a premier television actress, when Zia-ul-Haq seized power. With the increasing imposition of his retrogressive dogma on the national media, curtailing any freedom of expression, Madeeha chose to quit television. But her parting with TV did not stop her from pursuing her passion.
Enrolled in the Master's programme at Government College in 1978, Madeeha became the secretary of the famed Government College Dramatic society. Her group dared to perform Jean-Paul Sartre's Men Without Shadows, a play about the French resistance during the Vichy government. It was an obvious parallel to General Zia-ul-Haq's regime, which was still in its initial years. Even when the college administration tried to lock them out of the auditorium, the students broke the locks to stage it. However, under the growing oppressive environment of censorship, Madeeha felt compelled to resign as the joint-editor of the college magazine, The Ravian.        
Madeeha's activism continued with the short plays she put together on women's issues for an organisation she had joined, the Women's Action Forum, which was created as a reaction to Zia's repressive legislations against women. Thereafter, having completed her Masters in English Literature, she departed for England on a British Council scholarship to pursue a degree in Theatre Sciences from the University of London, where she met Pakistani activist and playwright in exile, Shahid Nadeem.
On her return, Madeeha combined her love for theatre with her commitment to human rights activism and founded the Ajoka Theatre in 1984.  This Lahore-based theatre group was formed at the height of Zia-ul-Haq's military regime and she was joined by several fellow artists and writers who felt just as strongly against the injustices being perpetrated on ordinary citizens of the country.
Jaloos, a play by the radical Bengali playwright Badal Sircar, Ajoka Theatre's first production was staged the same year. It was performed in defiance against the strict censorship laws of the time on the lawn of Madeeha's mother's home and drew a large crowd. Pretty soon, harassment from the agencies followed, since the residence was located in the Cantonment area.
In search of original plays, Madeeha also staged Shahid Nadeem's first play, Barri (The Acquittal) for Ajoka which was about four female prisoners incarcerated on various charges, from Hudood to blasphemy. It gained critical acclaim in both Pakistan and India and was turned into a television serial, Neelay Hath. Shahid Nadeem returned to Pakistan after General Zia's plane crashed in 1988, after which Madeeha and him were married.
Along with her renowned husband, Madeeha became part of a dynamic duo staging numerous hard-hitting satirical plays and several of the pairs' plays reflected the hypocrisy and double standards in society. The Ajoka Theatre gained a significant reputation as a theatre for social change, producing socially meaningful plays on human rights, especially women's issues such as honour killing, female literacy, women's empowerment, family planning, female infanticide and the rights of the girl child.
And in 2004, Ajoka Theatre organised the Punj Pani Indo-Pak theatre festival, the only one of its kind, for which leading Indian theatre directors like Neelam Mansingh, N K Raina, Usha Ganguly and Kewal Dhaliwal would come to Pakistan with their troupes. 
As an actor, director and women and human rights activist, Madeeha also often staged street theatre for low-income groups in poor localities, to create and raise awareness about social issues — very much like the street theatre during the French Revolution. Over more than three decades, among all the theatre groups, Ajoka became the most prolific, performing all over Pakistan. 
Ajoka Theatre's repertoire includes a variety of memorable plays including stories surrounding Partition such as Toba Tek Singh and Aik Thi Nani, Punjabi play Bullah on the life of Bulleh Shah, Saadat Manto's Letters to Uncle Sam, Kaun Hai Yay Gustakh; Mera Rang de Basanti Chola based on the struggle of freedom fighter Bhagat Singh, Dara, the tragic story of Dara Shikoh — eldest son of Mughal Emperor Shah Jahan — which was staged for India's National School of Drama festival and in Jaipur, Amritsar and Lucknow, and Lo Phir Basant Ayee on the suppression of cultural expression. Unafraid of courting controversy, Madeeha wrote and directed a play Burqavaganza in 2007, which was banned by the government of Pakistan for insulting cultural mores.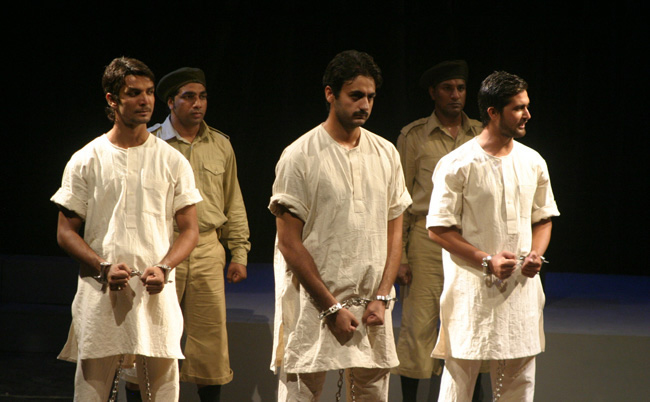 Madeeha travelled across Asia with her theatre group to Bangladesh, Sri Lanka, Nepal, Iran, Oman, Egypt, Hong Kong and India. She also staged performances in Europe and the USA. Ajoka celebrated its 30th anniversary in 2015, by staging Dara at The National Theatre — it was the first time any play from India or Pakistan had been adapted for UK's preeminent state-run theatre. Following this, the dynamic couple were invited by Georgetown University in Washington D.C to stage their play Amrika Chalo.
The classic play Kaala Mainda Bhes, Madeeha produced in 2012 has been staged several times. It was inspired by a true incident in a village in Sindh in which a woman was exchanged for an ox and where the local feudal lord controlled the lives of the villagers by controlling their water sources. Last year the Ajoka Theatre also showcased a new play Intezaar, based on the true stories of death-row prisoners in Pakistan. The production was a joint collaboration with the Pakistan and UK-based Justice Peace project. 
Over three decades Madeeha amassed a considerable fan base, particularly in India where she had been travelling for the last 25 years to stage Ajoka's productions and began to be regarded as an ambassador of peace between India and Pakistan.  
Apart from being the wife of a celebrated playwright and theatre director, Shahid Nadeem, Madeeha's other talented family members included her younger sister, an acclaimed actress and activist, Feryal Ali Gauhar, and her stepdaughter, actress and presenter, Savera Nadeem.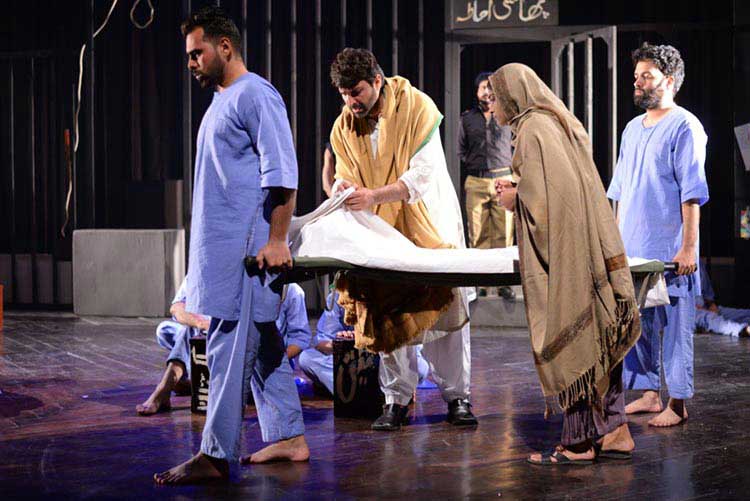 In 2003, the multi-talented actor and artistic director was awarded the Tamgha-e-Imtiaz by the Government of Pakistan. In 2006 she became the first Pakistani to be honoured with the prestigious Prince Claus Award by the government of Netherlands in praise of "withstanding pressures from the political and religious establishment, and remaining committed to the cause of theatre for social change." In India, she won the Theatre Pasta Award in 2007 and was also the recipient the Fatima Jinnah Award in 2014. In 2014, at the inaugural of the Indo-Pak International Theatre Festival at Kurukshetra University, Haryana, India, Madeeha was awarded the International Theatre Award for Peace.   
Madeeha was much admired and acknowledged by her contemporaries and fans for her bravery through the many challenges and struggles she was confronted with throughout her life — particularly  in the last three years during which she battled with cancer, but through sheer resilience, continued to work. She breathed her last on April 25, 2018 aged 61, survived by her two sons, Nirvaan and Sarang. Her son Nirvaan Nadeem is an emerging actor and theatre director.  
The writer is working with the Newsline as Assistant Editor, she is a documentary filmmaker and activist.
Next