The Milli Muslim League (MML), the political party affiliated with Lashkar-e-Taiba (LeT) and Jamaat-ud-Dawa (JuD) chief Hafiz Saeed, is rethinking its strategy after being designated as a terror group by the US last month.
In a statement released on April 2, the US State Department said that MML and Tehreek-e-Azadi-e-Kashmir (TAJK) have been declared as Foreign Terrorist Organisations (FTO), because they act as fronts for the LeT.
"The aliases have been added to LeT's designation as a Foreign Terrorist Organisation (FTO) under Section 219 of the Immigration and Nationality Act, and as a Specially Designated Global Terrorist (SDGT) under Executive Order 13224," the State Department said in its statement.
"These designations seek to deny LeT the resources it needs to plan and carry out further terrorist attacks. Among the other consequences of the designations, LeT's property and interests in property subject to US jurisdiction are blocked, and US persons are generally prohibited from engaging in any transactions with the group."
The move has put MML's participation in the upcoming general elections under jeopardy. Earlier, the Interior Ministry had already written to the Election Commission of Pakistan (ECP) to not give the party an election symbol citing the same links as mentioned by the US State Department. 
This has meant that since its inception in August last year, the MML remains an unregistered party, despite having contested all major by-elections through affiliated independent candidates.
Their case is now under further jeopardy with the Anti-Terrorism Ordinance 2018 passed by the government in February, ahead of the Financial Action Task Force (FATF) meeting in Paris, which sanctioned all United Nations-designated terror groups and individual terrorists in Pakistan as well, including Hafiz Saeed and all groups affiliated with him.
Saeed was released in November following a 10-month detention last year, after the Lahore High Court (LHC) ruled that there was "insufficient evidence" against him to prolong his house arrest. In March, the LHC extended its stay order against Saeed's arrests and asked the government to "not harass him," and demanded evidence against the JuD chief.
Government insiders maintain that despite proof aplenty, presenting damning evidence against Saeed has been tricky considering that most of his activities have had state backing.
"The current political climate isn't conducive at all to opening a Pandora's Box by listing down all the activities that Hafiz Saeed has been involved in," says a government official. "But there is growing demand internationally to take decisive action against him and his groups, as has been clarified in the FATF meeting."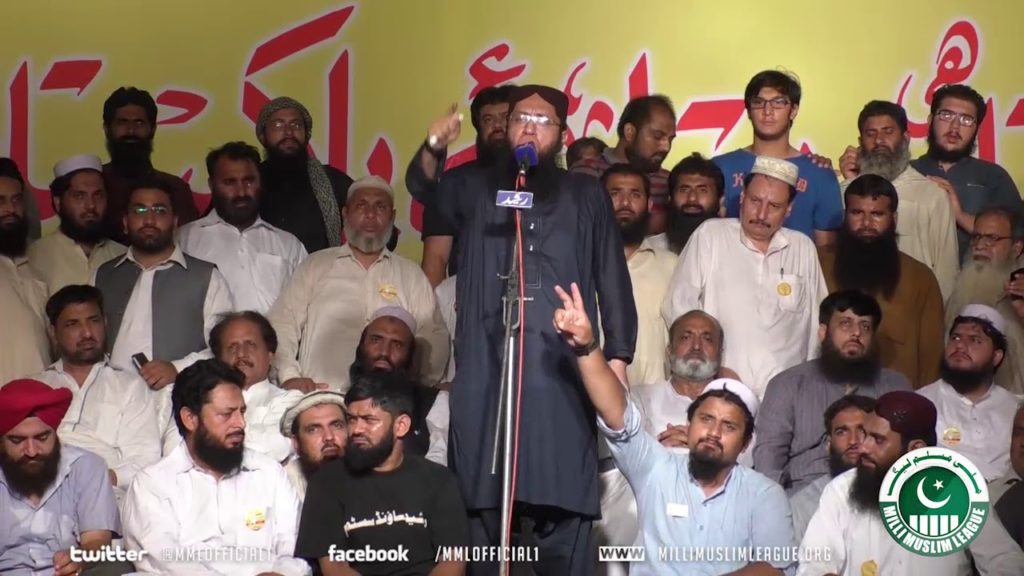 FATF has asked Islamabad to put forward a 'significantly improved' proposal in the June meeting, with clear indications of action against all terror groups, including Saeed's, failing which Pakistan could face blacklisting as well.
Meanwhile, the US-led FATF reprimand has meant that the military's intent of 'mainstreaming' jihadis has been put on the backburner, at least as far as Hafiz Saeed's party is concerned.
This, party members confirm, has prompted the MML to consider disassociating itself from Saeed.
"If ideological affiliation is a problem, then let's not forget that the Pakistan Muslim League-Nawaz (PML-N) has paid allegiance to Hafiz sahib for years in order to build a political stronghold, but that didn't prompt anyone to declare the PML-N a terrorist group," says MML spokesperson Tabish Qayyum.
"That is all we did as well — just announced our ideological affiliation with him. This does not mean that the MML belongs to him. We are an independent party, with Saifullah Khalid as its president and Fayyaz Ahmad as the general secretary."
The JuD has also been quick to underscore that the MML is a separate entity as well.
"For years we have been affiliated with the LeT and now we are being lumped together with the MML. We are all separate groups, which is why we have separate names," says JuD spokesman Nadeem Awan, inadvertently underscoring why there has been criticism — both internationally and at home — of Pakistan allowing proscribed groups to reincarnate under different banners.
However, while the US State Department designating the MML as a terrorist group has strengthened the Interior Ministry's case against the MML, and made it difficult for them to contest the upcoming elections, the party remains confident that the courts would bail them out.
"The courts have been asking the government to provide evidence against us, and they are struggling to do so. International claims do not equal proof against us in the court," says MML Finance Secretary, Ehsan Ullah.
"Furthermore, let's not forget that we are talking about the claims of a ruling party, which has been named after and taking orders from a man who has just been disqualified for life by the highest court in the country. The fact that he has been taking orders from India and the US does not prove any claims against us, and in fact proves our credibility."
Next