Movie Review: Motorcycle Girl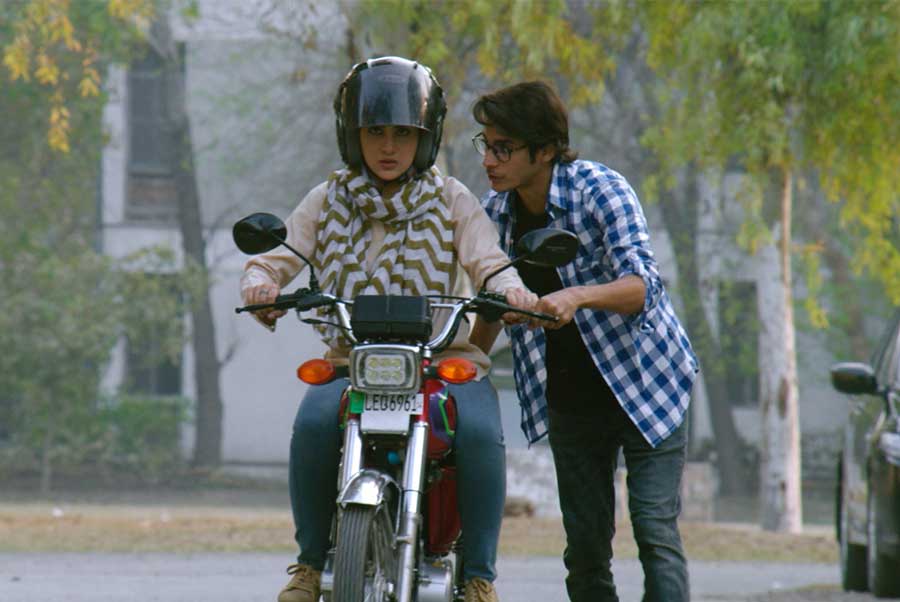 A lone biker cruises through some of the most spectacular, breathtaking vistas of northern Pakistan. The biker is none other than Zenith Irfan, the inspiration behind the film, Motorcycle Girl — a title which has become synonymous with her name in the country. Before her incredible story made breaking news around the world in 2015, Irfan had already travelled across Azad Kashmir, Chitral and other parts of the Northern Areas. She documented her journeys through selfies that she would post on her Facebook travelogue page, '1 Girl, 2 Wheels.' Three years after she made that memorable trip to to the majestic Khunjerab Pass in 2015, which made headlines in the international media, her life is being showcased in cinemas across the country.
Her story seemed incredulous at first, because Irfan made her solo trek through places that were hazardous, and highly risky for a Pakistani woman who was barely in her twenties. The fact that she undertook the journey not to seek fame or fortune but simply to fulfil her  long-deceased father's dream of travelling the world on a motorbike, was truly inspirational.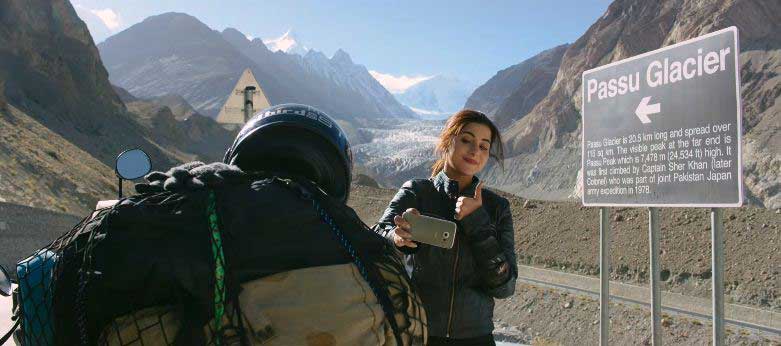 The film begins in Lahore, her home town, where young Zenith is leading a humdrum existence, as she struggles on several fronts. Her efforts to retain her job, fob off leering men while commuting to work, deal with a chauvinistic, obnoxious boss (played convincingly by none other than Sarmad Khoosat) and a manipulative male colleague who helps himself to her brilliant concept for an ad campaign — all are the stuff a working woman's life is made of. And then there is a domineering dadi, a self-obsessed trophy fiancé from New York and an exasperated mother to contend with. 
Her only two pillars of support are a wacko but well-meaning friend played endearingly by Mehar Bano and her understanding brother, Sultan (Hadi Arshad). He is the only member of the family who eggs her on to utilise their father's motorbike to resolve her transport issues. Many an urban woman would identify with all these narratives. I know I did, especially when Zenith's male colleague in the film smoothly positioned himself to present her hard work as his to a major client — with the blessings of her boss.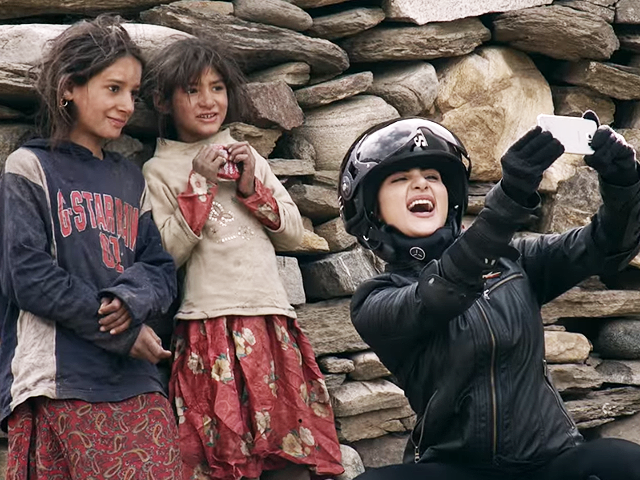 Motorcycle Girl is "a heavily fictionalised account" of Zenith Irfan's life, says the film's director and writer Adnan Sarwar. This is his second attempt at making a biopic. His debut film, Shah, in 2015, was a biopic on the life of Pakistani boxing champion, Syed Hussain Shah, which Sarwar not only directed and wrote, but also played the lead role in. Made on a modest budget, the film had garnered critical acclaim. So has Motorcycle Girl. In the lead role of Zenith Irfan, Sohai Ali Abro mirrors the frustrations of all those young women who struggle to better themselves in a male-dominated world, without the presence of a father figure. Riding the motorbike with considerable ease, Abro gets into the skin of the character and portrays it with conviction.
Worthy of special praise is the overhead cinematography of the magnificent barren mountains, the Karakoram Highway, and the Attabad Lake, as Zenith embarks on her journey. A leisurely paced biopic inspired by true events, Motorcycle Girl is intelligently made. It pushes the powerful message of female empowerment — with a sprinkling of family humour that leaves the audiences in splits. The impact of the film was clear from the applause of the audience, especially when I saw a young mother clapping, along with her 12-year-old daughter, at the end of the movie.
The writer is working with the Newsline as Assistant Editor, she is a documentary filmmaker and activist.
Next