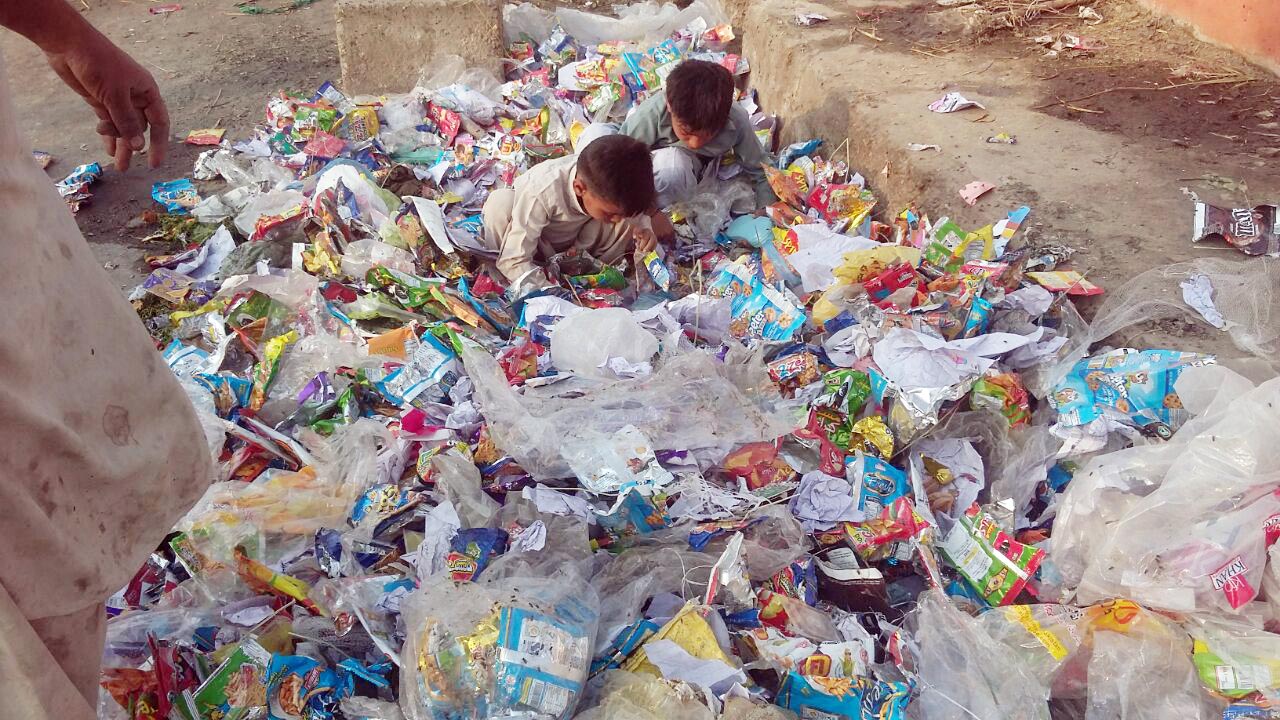 Mounds of garbage, broken roads, lack of gas pressure, loadshedding, and an acute shortage of clean drinking water are what constitute everyday life for the residents of Larkana (the city is located within Larkana District), the home of Prime Ministers and for long stretches, the seat of power. Despite repeated stints at the helm – the current lasting 10 years – the PPP-led government has failed to address even the basic needs of the people: health, education and potable water. Additionally, assorted development works have been started in the city, but have not been completed. 
All this despite the fact that Larkana  district receives the lion's share of the overall provincial budget.  
The statistics speak for themselves. In Larkana district, only 48 per cent of the primary schools have electricity, only 58 per cent have drinking water, only 64 per cent have toilets and  only 65 per cent have boundary walls, ie. basic security. Students of 84 schools in Larkana study under the open sky, and 97 schools have only one classroom. Overall, only 35 per cent of the district's school buildings have been found to be in a 'satisfactory' condition. 
With the collaboration of the World Bank, the Sindh Education Department took one step in the right direction – it introduced the biometric system in Larkana district, aimed at checking the attendance of staff in schools. This has unarguably brought a small degree of progress in the educational sector as it has improved staff attendance to some extent, but there is still a long way to go.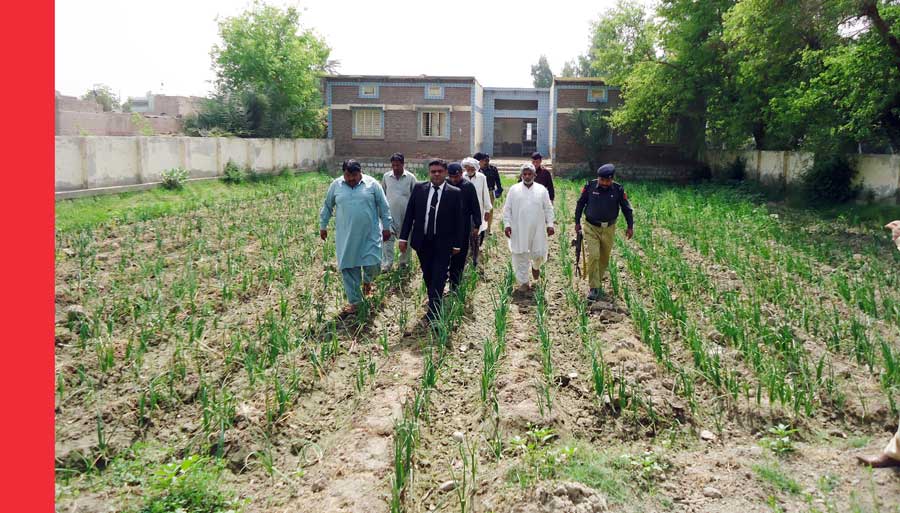 One third of Larkana's schools have no clean drinking – or indeed any – water, toilets or basic sanitation. Surveys have been conducted in schools in different cities of Larkana  district and water samples collected of the water available there for laboratory testing. The results: disturbing degrees of arsenic. Despite these findings, no filter plant has been installed in the schools to provide safe drinking water. The fallout: kidney ailments and hepatitis, to name a few.
The Sindh government runs a teaching hospital, a district headquarters medical facility and other taluka-based hospitals in Larkana district. Unfortunately, their performance is far from satisfactory, and does not cater, in even a small part, to the dire healthcare needs of patients. 
The main reasons for the poor state of affairs in the hospitals are mismanagement, apathy, corruption, and political interference in appointments, transfers and the posting of doctors and paramedical staff. In Larkana, government-run hospitals lack pathologists, urologists, radiologists, orthopaedic surgeons, eye and ENT specialists, general surgeons and physicians, not to mention adequate medical facilities.
Chandka Medical College Hospital (CMCH) Larkana is the largest medical institution in Northern Sindh, but it faces a shortage of medicines, doctors, other paramedical staff and attendants, non-availability of clean drinking water for patients, poor generator facilities, and equally poor cleanliness and security issues. The MRI and CT scan machines have been out of order for months. In 2012, the Sindh government upgraded the rural health centre in Naudero to a 100 bed facility – on paper.  Almost six years later, this plan has still not been implemented. The Naudero hospital continues to face a shortage of medicines and consulting doctors. And there is no facility for the provision of clean drinking water in the hospital.
In Larkana district, 26 basic health units (BHUs) have been established in different villages, but so far, only one BHU in Tarar village is providing any health facilities. The remaining 25 BHUs are dysfunctional. Meanwhile, 12 health facilities in Larkana district, including the ones in Naudero and Garhi Khuda Bux Bhutto, have been handed over to the Integrated Health Service (IHS) under the Public Private Partnership initiative, presumably to generate quality health services. However, so far these too have failed to meet even the basic health requirements of the people of the area. 
Dr Abdul Rahman Baloch, the district health officer, Larkana, said, while responding to a question about the state of affairs regarding the performance of the IHS and other health facilities, that "doctors have not yet been appointed in these medical facilities. Only when there are doctors to staff them, can the BHUs be opened for patients."
Larkana city's drainage/sanitation system is in equally dire straits, thanks to poor planning, corruption and bad governance. Almost 70 per cent of the city's sewerage water is drained out through pipes and discharged into the rice canal which flows through the centre of the city. This contaminated water has seeped into the underground water pipes and caused major health problems for the city's residents. This has resulted in a preponderance of serious health conditions, such as hepatitis. In 2012, the Sindh government approved a scheme estimated at Rs 1.4 billion rupees for the overhaul of Larkana's drainage system.  This scheme was inaugurated by PPP MNA Faryal Talpur, but due to the late and improper release of the allocated funds by the Sindh government, this scheme too remains largely on hold to date. So far, work on five new disposal units is claimed to have been completed – those located in Nazar Mohalla, Police Line, Suhail Colony, Murad Wahan and Zulfiqar Bagh. But clean drinking water remains little more than a pipe dream for the citizens of Larkana.
Law and order and the crime situation in Larkana, meanwhile, is going from bad to worse. The roads and streets of the city are no longer safe for commuters, and there are numerous incidents of vehicle and mobile phone snatching, alongside more serious crimes. The recent shooting of local singer Samina Sindhu – who was pregnant – at a circumcision celebration in Kanga village near Larkana city where she was performing, is one case in point. In another incident in Bakrani Taluka of Larkana, a home constituency of the Sindh home minister, a young couple died in police custody due to alleged torture. 
Ironically, Larkana city received a special development package of Rs. 12 billion for the development and beautification of Larkana, including the laying of new roads and drainage lines. However, the few roads that were made and the other development works done, were completed without proper planning, and with substandard materials, owing to corruption. Most of the reconstructed roads were completely destroyed by the recent rains, while several others developed major cracks, rendering them hard to traverse, or worse, hazardous for drivers.
And how the nine billion rupees allocated for the construction of the Benazir Bhutto Medical University in 2012 and the Rs 180 million earmarked for the renovation and beautification of the Benazir Bhutto Municipal Stadium Larkana were used, remains moot. Apart from a few random buildings, minus fixtures, furniture, or a gate, there is no evidence of any development.
All that notwithstanding, the PPP government in Sindh claims to have carried out 'record development work' in the city. Perhaps they see the renaming of various institutions in the city as record developments. Because the fact is, this is all that has changed.
Next