So grateful that Pakistan's born again, albeit still fledgling film industry is slowly finding its feet, I am reluctant to judge the movies being made at home too critically. But even so, it is difficult to find much merit in Jeewan Hathi, the latest film release.
To begin with, despite being a short film, despite the stellar cast — Hina Dilpazeer, Samiya Mumtaz, Adnan Jaffer and Naseeruddin Shah's guest appearance — the film is truly disappointing.
Jeewan Hathi is based around the dog-eat-dog tactics the media resorts to when ratings are at stake. This is most visible in regard to reality TV shows. The film's protagonist and probably only saving grace, Natasha Hina Dilpazeer is the soon-to-be to be ex-wife of Tabani (Naseeruddin Shah), a media mogul and owner of a television channel. Host to once the most popular show on the channel, Natasha's popularity is seeing a dip and ratings are plummeting. No surprises then that Tabani replaces her — both as his wife and as the show's host — with a younger, publicly adored TV host, Simi. To soften the blow, however, Tabani gives Natasha a new reality TV show — Jeewan Saathi — to host. This show, created on the lines of assorted US TV programmes on the relationship between newlyweds or longer married couples, tests how well each partner of the respective contesting couples knows his/her spouse. The winners are to be given a 60 inch colour television set. If the new show fails, Natasha will fall into the has-been category, and if it takes off, she will reestablish her image as a TV idol.
The producer, ATM (Saif Hasan) uses the show as a platform to exploit and expose every crack in the competitors' relationships, as well as Natasha's insecurities, in the process keeping the audience riveted. Sensing that everyone around her is anticipating her defeat, Natasha suffers a meltdown, played out on-screen in cringe-worthy style. She even contemplates suicide, but finally decides against it.
Meanwhile, Khalida (Kiran Tabeer) and Siraj (Fawad Khan) are a lower middle-class couple with no greater aspirations than owning a brand new television set. They ask to volunteer as participants on Natasha's show, naively sure that their mutual love and understanding will secure victory.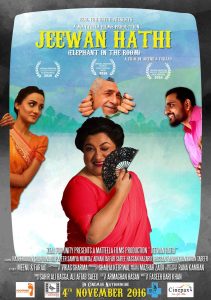 Unbeknownst to them, however, ATM has already chosen the winning couple — his relatives who happen to be part of the social elite, Farhan (Adnan Jaffer) and Samiya (Samia Mumtaz). Throughout the movie there are several critiques of the media industry that are not even slightly veiled, such as the producer specifying that if the contestants are poor, they must at least be beautiful. There is a relatively torturous scene where Siraj and Khalida are sharing an intimate moment behind the scenes, forgetting that their clipped-on mics are on and they are on air. They are heard by everyone in the studio, as well as everyone watching the show nationally, but no one interrupts this grotesque invasion of their privacy — after all it makes for high ratings.
Meanwhile, during the show Natasha asks questions that are deliberately provocative and plays up any differences that surface between the couples. This tactic succeeds in sowing seeds of resentment and mistrust between partners — Farhan threatens to kill his partner (while she updates a status on Facebook about it), and Siraj drags his wife's sordid family history out of the closet and into the public arena, even threatening to divorce her on live television) — but alongside manages ro achieve rave reviews and skyrocketing ratings.
Jeewan Hathi could have been a really worthwhile film, but it failed to flesh out the promise it carried. All of which is particularly disappointing coming from the director of the truly wonderful Zinda Bhaag.
Next