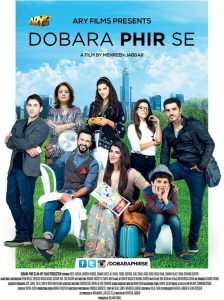 Dobara Phir Se is packaged and branded as Mehreen Jabbar's foray into the commercial cinema and a departure from her first film, Ramchand Pakistani (2008). However, Dobara Phir Se has Jabbar's stamp all over it — her study of urban relationships, the city's trappings and defiant women. It pleasantly reminds one of her earlier telefilms from the '90s such as Putli Ghar (1997), Abb Tum Ja Saktay Ho (1996) and Farar (1997).
From the first few moments, when Hammad (Adeel Hussain) walks onto a ferry in New York and eyes Zainab (Hareem Farooq) on a cloudy day in New York and then later that evening at a party hosted by his friends Saman (Sanam Saeed) and Vasay (Ali Kazmi), Mehreen's camera is always close, observing, studying and languorously revealing. She resists the temptation of sweeping shots or long tracks. Andreas Burgess' beautiful camera work lends poetry and melancholy to the images captured, setting the tone for a restrained, slow-paced film that doesn't overstate.
It is at the same party that one gets a sense of Hammad's character, as he is introduced to Natasha (Tooba Siddiqui), chats her up but is intrigued to discover Zainab again. Within the first 15 minutes of the film, we know the point of contention — Zainab is stuck in a crumbling marriage with Asim (Shaz Khan). The film briefly delves into what could possibly brew between Zainab and Hammad as they meet after the party. The cosy, dimly lit cafe provides a small opening for romance between the two but the writer, Bilal Sami, holds it back deftly and organically constructs the love story. Soon after, Hammad starts dating Natasha. However, something isn't quite right with that relationship. It is this subtlety with which Bilal and Mehreen explore the greys in the characters of Hammad, Zainab and Natasha in great depth.
Adeel's portrayal of Hammad's thinking, sensitive persona is an exceptional characterisation. Hareem's role is essayed intricately and Ali Kazmi's energy is a fitting antidote to Adeel's. Child actor Musa Khan's role as Zaid, lifts the scenes with his innocence and sincerity. Acting is first rate for the most part, except for some underwritten characters such as Tooba Siddiqui's Natasha, walking in and out of Hammad's life with ease and not quite standing her ground. Sanam Saeed's Saman could have been more nuanced than just being a supportive friend and spunky girlfriend. Shamim Hilaly and Sonia Rehman, playing Hammad's mother and sister respectively, appear only briefly but leave their mark.
Mumtaz Mustafa's production design is outstanding and some of the details add to how a lot of thought has gone into conceiving the colour palette of the film. The editing is surprisingly choppy at times, considering Dipika Kalra, the editor, has films like Lootera (2013) and Udaan (2010) to her credit. The truly jarring moments in the film are the product placements scattered throughout. They come at junctures when one is really feeling for the characters. For instance, when Hammad is getting over heartbreak, he uses a well-known toothpaste brand to brush his teeth, Vasay eats sponsored chips as he consoles his friend and everyone seems to be using Q-Mobile in New York. One understands that the producers need to gather sponsorships in order to cut costs but for such a well-crafted film, the placements stand out like a sore thumb and take the viewers away from the story of the film.
In a lot of ways Mehreen's first film, Ramchand Pakistani had a different journey. It premiered at the Tribeca Film Festival in New York and garnered positive reviews by the critics, but it didn't do as well in Pakistani theatres. With the worldwide release of Dobara Phir Se, one hopes that Mehreen and the team will inspire us to look at character-driven films rather than plot heavy cinema again — something that was at the heart of Pakistani
telefilms and plays throughout the '80s and '90s.
Next