Editor's Note: December 2016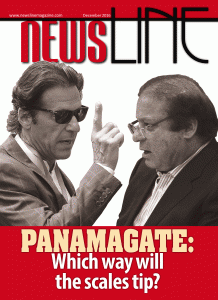 Last month, a National Assembly session convened to discuss a motion on the situation along the Line of Control moved by the Federal Law Minister, drew only 62 of the 342 members of the assembly.
The number further dipped to 25, when the Defence Minister was delivering a policy statement on the issue.
However, when it came to the passage of a bill raising the parliamentarians' salaries by 150 per cent, almost all were on board.
A blatant reminder of how seriously our parliamentarians take their job. Lack of quorum has often delayed the passage of laws. In, fact the PML-N's own controversial Inquiry Commission Bill 2016 had to be postponed thrice for lack of quorum, but the treasury finally managed to muster the required numbers. It had to — their leader's future, in case of an adverse Supreme Court judgement on Panamagate, hinges on it. As it does on a constitutional amendment opening up the option of appeal against the apex court's verdict, which the party also aims to push through.
Currently, all roads lead to the Supreme Court. More PML-N and PTI legislators are to be seen inside and outside the Court than in the Assembly. Ostensibly, both sides want to settle Panamagate outside the Court, in full glare of the TV cameras, the Justices' warnings notwithstanding. The PM's entire cabinet has been pressed into service for defending the PM and his family. As has the First Family itself. It is pulling out all its stops and punches.
Desperate times call for desperate measures.
Yesterday, it was a Qatari Prince's letter regarding ownership of the four Park Lane flats in London, that raised far more questions than it answered.
And now, it is a "flowery" transcript of a "bizarre" conversation, to quote The New York Times, Sharif had with the US President-elect, Donald Trump, which is kicking up a storm in the US media. Much to the consternation of Trump's transition team. A former White House Press Secretary describes it as a "breach of diplomatic protocol and tradition," and an adviser to the Trump team says, "it committed the President-elect to more than what he meant."
Intended to prop up the Prime Minister at a time when Panamagate is pulling him down, the Pakistani readout has ended up as a further source of embarrassment.
But the three-time Prime Minister is known to be a survivor. He is determined to fight to the bitter end. As is his arch-nemesis, Imran Khan.
And all eyes are on the Supreme Court. For its decision on Panamagate will determine not just Sharif's future, but the future course of this country.
Will truth prevail or will lies win the day?
Rehana Hakim is one of the core team of journalists that helped start Newsline. She has been the editor-in-chief since 1996.