Movie Review: Revenge of the Worthless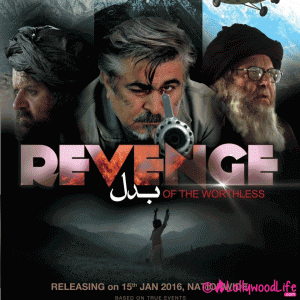 The opening credits of Revenge of the Worthless begin with the name of the film's director of photography, Aamir Tehseen Rao. This is a curious choice — and not because it defies convention, but because the cinematography is one of the film's weakest areas. Rao fails to lock down exposure, focus and white balance throughout Revenge of the Worthless. Focus has not been pulled in a number of scenes, possibly because an LCD screen, instead of a monitor, was used to determine accuracy of focus. The film lacks a uniform colour palette; colour grading was either not done or done very poorly. Close-ups are shot with too much headroom and often from very low angles, giving the scenes a strange look.
A lot of the film has been shot in the picturesque Swat valley which, sadly, appears dull, drab and gloomy. The horizon line is often ignored, creating a botched Dutch tilt effect which, when added to the multiple flaws of focus, exposure, grading and framing, results in a decidedly unpleasant visual experience.
Bad cinematography is but one of the many problems of Revenge of the Worthless. The film is inadequate in many areas — direction, editing, screenwriting, dialogue and acting — and hurts the cause of the resurgent Pakistani cinema by lowering the bar and not living up to its hype.
Revenge of the Worthless is based on real-life incidents that took place in Swat in 2009, when a small number of civilians took on the Taliban before the army intervened and defeated them. It tells the intertwined stories of several ostensibly remarkable individuals — a retired army officer, Zarak Khan (Jamal Shah); a young transgender, Gulalai (Abdul Raheem); a folk singer, Shabana (Maira Khan); a film director, Arbaz Khan (Shamyl Khan); a devoted wife, Zar Lashta (Irum Rehman); and a Taliban leader, Zarar Khan (Ayub Khoso) — against the backdrop of the 2009 operation in Swat. However, the characters are poorly developed and uninteresting and their stories dull and unconvincing. They fail to come together in Jamal Shah's choppy, disjointed and poorly structured screenplay.
The cast includes a number of well-known and well-regarded actors. Firdaus Jamal (as Maulana Sufi Mohammad), Ayub Khoso and Faheem Azam do well but are severely constrained by badly written dialogues and poorly constructed scenes. Shamyl Khan looks good but fails to impress due to the odd and unnatural lines he is made to deliver. Maira Khan is unconvincing as a singer, struggles with her accent, acts poorly, and looks bad.
An actor, civil servant, educationist, director, painter, singer, and social worker, Jamal Shah fails — and fails miserably — to impress as an actor, writer and director in the film. He does not appear to have any visible passion for the stories he wants to tell, looks disinterested and distant as an actor, seems unable to find his bearings as a director, and is clueless as a storyteller.
The subject of the film is powerful and the real-life stories of the heroes who fought the Taliban are both inspiring and interesting. Jamal Shah deserves credit for attempting to bring to screen stories that deserved to be told — but for little else. The powerful subject and strong characters of Revenge of the Worthless fail to move, rouse or engage. They deserved a better film.
Next