The Final Innings: Remembering Hanif Mohammad
How do people express their "Pakistaniyat" — the sense of being a Pakistani? We see an overwhelming display on national days like March 23 and August 14, and during cricket and hockey matches — especially against arch rival India at international competitions.
On these occasions, some will paint their faces with the national flag, others drape themselves in it, wear it on their lapels, or hoist it on the roofs of their homes or cars. Alongside, these proud nationalists often become hoarse shouting patriotic slogans. And then, that's it — until next year, the next independence day, another cricket match.
So how many people do we know who actually actually epitomise Pakistan? How many people are synonymous with the country, the way it came into being, and the way it struggled to find its place among the comity of nations?
One such person — who recently left this world, and left it so much poorer — was Little Master Hanif Mohammed, who passed away on August 11, 2016 at the age of 81, just a few days short of the 69th birthday of the country he had opted for and which adopted him as its first real star!
Coming from Junagadh in the wake of the tumultuous events of 1947 that saw the creation of a new country, he not only adopted it as his new home, he soon came to personify it. He took upon his young shoulders the heavy mantle of showing to the world that Pakistanis, hitherto an unknown commodity, had courage, grit, commitment and dedication, and that despite the paucity of resources and seemingly insurmountable odds, it would prove itself as a nation to contend with.
Prove himself he certainly did. His cricketing talent was, of course, a natural, inherent gift. How else can you explain the fact that when just in his teens, he was sent for coaching to the world-famous coach, Alf Gover, in England, and was told that he was already perfect, there was nothing he could be taught —and that he should keep playing the way he did!
That could have caused complacency and cockiness. Not in Hanif. Once he became part of the new country's Test squad, he was determined to win laurels for his new country, not himself. His cricketing talent and his sharp cricketing intellect enabled him to mould his game to suit the needs of the team, and help mould theirs as well to stop them from floundering every time he departed from the batting crease.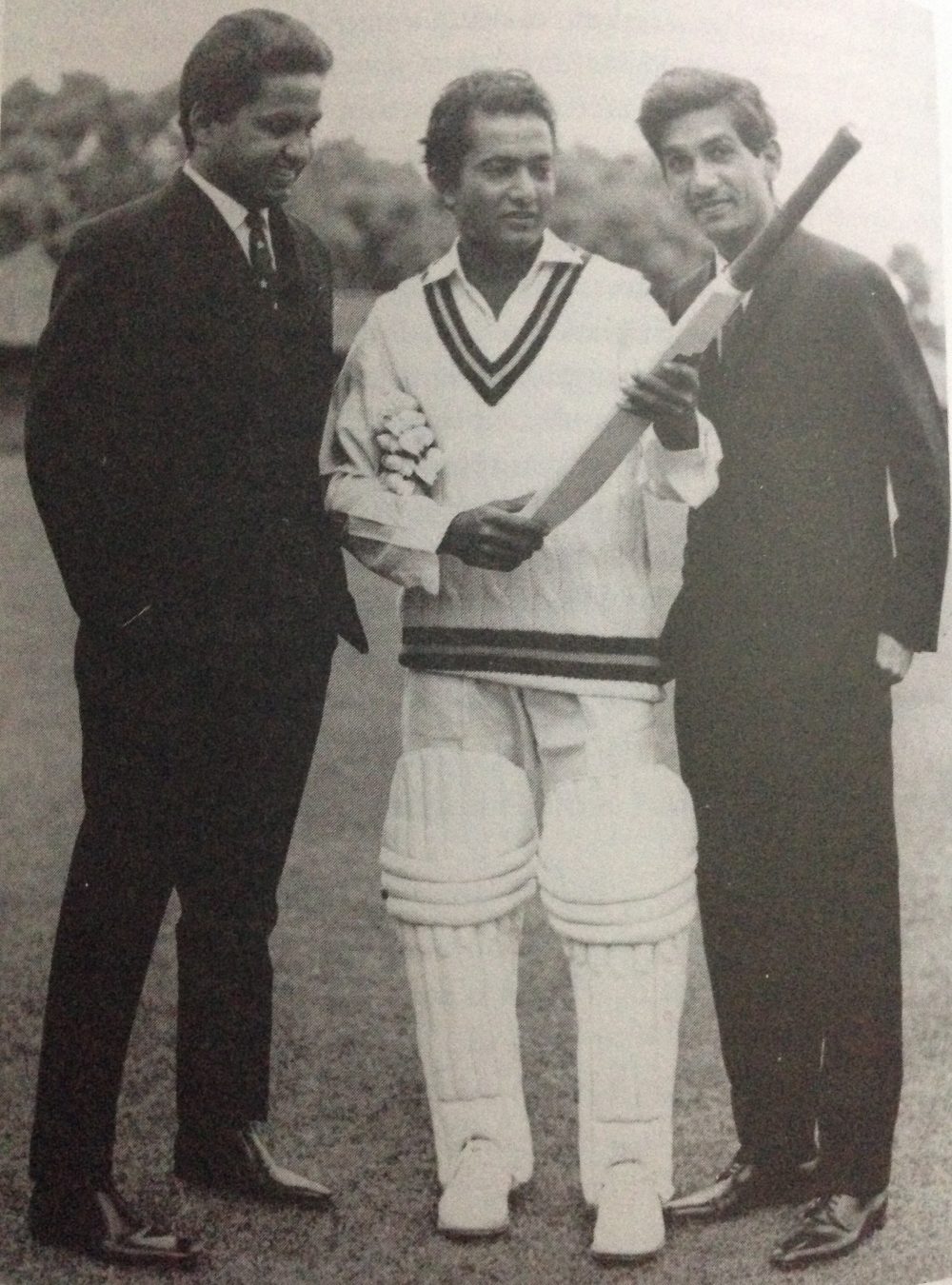 For a nation hungry for an icon whom they could show off to the world, he became a symbol of hope and courage, and of the ability to beat the odds, no matter how strong the opposition. The millions who were glued to their radios to listen to the commentary every time Pakistan was playing, remained hopeful as long as Hanif Mohammed was at the crease.
Hanif was an opener in the classical mould: he played text-book cricket, and had every stroke in his repertoire. However, the heavy mantle of Pakistaniyat on his shoulders meant that he could not play his 'own' game because the dire straits his team usually found itself in meant he had to become the stonewaller. He learnt to thwart the fiery leather projectiles hurled his way by the quickie bowlers of his time — without the protective gear that is now the norm — and also handled the wiles of the spinners who were plentiful in his time.
He was always mindful of the fact that he was 'playing for Pakistan' which also became the title of his memoirs. He was Pakistan's first wicket-keeper, and the opener, when he made his debut against India in 1952. He became the skipper of the national team in 1964, served as a selector of the national team several times, and enlightened cricket fans about the game through his analysis on radio and television.
Hanif was the first to score a century for Pakistan at home, in 1954-55, and played the longest Test innings of more than 16 hours in the fourth innings when he scored 337 against the fiery West Indian attack in 1957-58. He was the first to score a century in each innings (against England in Dhaka in 1962), to capture five scalps as a wicket-keeper, in Melbourne in 1964-65, and when he scored his 187 at Lords in 1967, he earned the honour of having scored a century against each country he had played against, at home and away. To cap these achievements was the style he exhibited, delighting connoisseurs with every conceivable cricketing shot that could be played.
His exploits at the Test level aside, he also held the record of the highest First Class innings when he scored 499 runs. No surprises then that his awesome cricketing prowess earned this diminutive batsman the title of 'Little Master' very early on in his career. He also received the Pride of Performance Award, but the true measure of his worth was the reverence accorded to him by cricket players, officials and fans, long after he had hung up his gloves, albeit reluctantly as he still had a lot of cricket left in him when he was forced to call it a day.
Despite his larger-than-life role in the cricketing fortunes of Pakistan, or maybe because of that status, he had to face many setbacks. Jealousy and the ugly politics in cricket reared their head even in the early days, with the Lahore-Karachi divide creating a major schism that impacted Hanif greatly — as did the fact that since his brothers too were part of the national team, people carped that it was becoming a family monopoly. All this affected not just his career, but also that of his son Shoaib Mohammad, who had been coached and trained by the Little Master himself. It was only Hanif Mohammed's greatness of person that despite his sadness over the treatment he had received, whenever he was asked to render any service for Pakistan, he was always willing.
Hanif played a large part in the development of modern cricketing and squash facilities at home, and in the nurturing of many players. And he was the best authority on wicket-making in the country. Additionally, he even advanced the case for women's cricket by offering a nascent team — not supported by the Board — coaching tips, and also getting a good turf wicket prepared for them.
Despite his status and stature as a national hero, Hanif was a gentle, humble man, devoted to his wife, his children, Shoaib, Seema and Shazaib, and to his grandchildren, who he said were "the light of [his] life."
His affection and compassion was not, however, restricted to his family alone. It was there for all those who came into contact with him, be they members of his illustrious cricketing family of Wazir, Raees, Mushtaq and Sadiq Mohammed, the legion of other cricketers who frequently sought his company, seeking advice about their game and career, neighbours, friends, acquaintances, officials — in fact, anyone he had met even once.
In the many condolence messages that have poured in from across the world extolling the Little Master, the common thread running through them, is the feeling of personal loss, the loss of a man who personified the best of Pakistan, his cricketing greatness, and to his personal humility that made him so unique.
A freelance journalist, with an experience of print, electronic and web media. She writes, and trains media on climate change, gender and labour issues, as well as media ethics.
Next