Movie Review: Happy Bhag Gayegi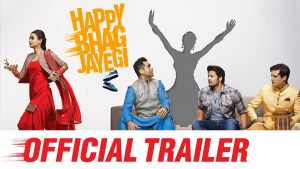 The title of this Bollywood film should have been Happy Bhag Gaye to Pakistan, as a substantial part of the movie — a cross-border romance, but with a twist — is set against the backdrop of Lahore. Released in India on August 19, there was a lot of hype about the movie in Pakistan because it was Javed Sheikh's daughter Momal Sheikh's launching pad in India. Unfortunately, it was banned by the Central Board of Film Certification, much to the father and daughter's disappointment. And the writer/director Mudassar Aziz wrote a stinker to the board to protest against the ban.
The story unfolds with a wedding scene in Amritsar, where festivities are in full swing as Harpreet Kaur aka Happy (Diana Penty), a loud and vivacious Punjabi kuri, is about to be wed to Bagga (Jimmy Shergill), a local goon with political aspirations. Not wanting to be tied down in a loveless arranged marriage, Happy takes a leap of faith — out of a rear window and onto a truck that would reunite her with her college sweetheart, Guddu (Ali Fazal). As fortune would have it, Happy's path to true love instead takes her across the border to the residence of an ex-governor of Lahore (instead of Punjab, making room for some creative license). There she is discovered by Bilal Ahmed (Abhay Deol), the heir-apparent of a political dynasty, headed by Javed Ahmed (played by Javed Sheikh), who visualises his son as the next Jinnah, and exhorts him to change the history of Pakistan — ad nauseam.
Fearful of having his father, or worse, the public, learn about a runaway bride from across the border taking refuge in his home, Bilal, at first, is determined to deport her. Meanwhile, Happy, terrified of being handed back to her father and Bagga, is equally determined to stay put, until she can make contact with Guddu. She blackmails Bilal with serious consequences if she is deported. The third angle of the triangle is Zoya Rahmani, Bilal's fiancé (played by Momal Sheikh), who is perplexed by the arrival of this Punjabi 'pathaka.'
Bilal, who has forsaken his dreams of becoming a cricketer and has allowed his father to push him into the political arena, even though his heart is not in it, learns an important lesson from the effervescent Happy: Follow your dreams. As Happy hurtles from one misadventure to the next, she does not have an iota of regret so long as it can help her get to the love of her life.
Despite his growing attraction for Happy, Bilal makes every effort to reunite her with Guddu. With the connivance of his sidekick, a man in uniform, Usman Afridi (Piyush Mishra), who salutes Gandhi's picture on an Indian rupee note, but is reluctant to travel to India because he would have to eat their namak.
"Namak toh hum India kaa hi khate hain," Bilal reminds him. Really? With a little bit of research Mudassar Aziz, the writer, would have found that the second largest salt mines in the world — the Khewra salt mines — exist in Pakistan.
A light-hearted family entertainer, Happy Bhag Jayegi got mixed reviews in the Indian media. It would have done reasonably well in Pakistan, but for certain scenes and dialogues that the Pakistan Censor Board found demeaning and offensive to Pakistani sensibilities — especially one particular jibe at the Quaid by Bilal — he looks at the founding founder's portrait and says, "Aur kitnay jhoot bulwaogay" — which may have crossed the red line. Several one-liners would certainly draw raucous laughter from the Indians, but the Pakistani audiences might, in all probability, have found them objectionable.
This movie review was published in the September 2016 issue of Newsline.
The writer is working with the Newsline as Assistant Editor, she is a documentary filmmaker and activist.
Next