Tribute to a Maestro: Shakeel's Solo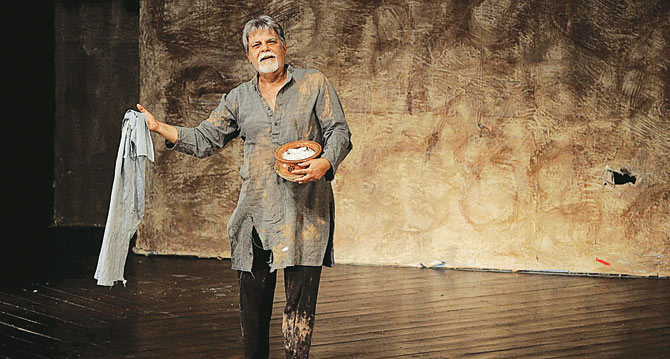 With a long and distinguished career behind him and still an active and integral part of the acting fraternity, Shakeel has played some of the most popular characters to grace the local television screen. Shakeel is also known to be one of the most humane and humble actors around, hailing from a time when actors were artists and professionals before they became stars. Certainly, he still has no starry airs about him and doesn't hesitate to answer his own phone in this age of agents screening calls for one-hit serial old actors.
A solo, one-day performance by the actor, followed by the screening of a short film spanning Shakeel's body of work, was recently organised at the Arts Council in Karachi as a well deserved tribute to the actor. With his first appearance on the small screen in the early '70s, Shakeel's intense blue-eyed gaze and smooth dialogue delivery made him an instant heartthrob. But at the very height of his romantic appeal, he switched gears to play the bespectacled, bearded Uncle Urfi, receding hairline and all. The gamble paid off and that remains one of his most memorable characters to date.
The solo performance titled Uss Gali Na Jawin, penned by Sarmad Sehbai, presented Shakeel the actor, pure and unplugged. With a minimalist set comprising several scratched and scribbled-upon screens and aided only by the effective use of lighting and sound, the actor held sway. Shakeel played an old tramp who wandered onto the stage feeding pigeons, which he addressed like his children. He cajoled them, chatted with them, chided them. But one pigeon was missing. He had not returned home from his travels and the old man became increasingly agitated. As his anxiety increased, it seemed that the missing pigeon was perhaps a son who had left the old man or whom he had lost.
The play, which opened in a light-hearted mood, with the old man enjoying the bright weather, became more somber as it unfolded. Slowly, dread and a nameless fear crept in, and also a sense of having lost something very precious, perhaps a time that will never return. The play had no concrete story line; it was more of a stream of consciousness monologue, touching on the old man's loneliness and isolation as well as various societal ills and conflicts we struggle with. There was, for example, the definite theme of going away, of abandonment. The old man spoke of airplanes, security checks and leaving for foreign shores, seeming to touch upon the post 9-11 age of enhanced security and the constant mistrust in which we now live.
Given the very abstract script he had to work with, Shakeel gave a restrained and sensitive performance to evoke interest and pathos for a character that could have been overplayed by a less seasoned artist.
In a short span of time, the actor included us in the old man's internal world where his own thoughts were his only and most constant companions. The dramatic use of light and sound added to the mood to convey terror, catastrophe and finally resignation.
The evening brought home two points: first the joy of watching a live performance, and second, the skill of our veteran actors. One wishes Shakeel and other actors of his ilk would grace the stage more often.
Zahra Chughtai has worked and written for Pakistan's leading publications including Newsline, the Herald and Dawn. She continues to write freelance.
Next