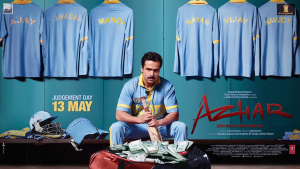 Everything you need to know about Azhar, the Emraan Hashmi-starring film about India's disgraced cricket captain, is contained in the disclaimer before the movie starts. Azhar, we are told, is a fictional movie, based on a real-life person, and that any resemblance to actual incidents is purely coincidental. What is not coincidental is that this safety-first approach — which would have been anathema to the risk-taking Mohammed Azharuddin — manages to make its fascinating subject dull and ordinary.
One of many tactics used by Azhar, likely to avoid lawsuits, is to use only first names or in the case of Mohammed Azharuddin, turning him into Azhar Mohd. It needn't have bothered since there is nothing controversial in the film. About the only thing it's useful for is providing Hashmi with an alibi since he does not look like, talk like or act like Azharuddin. The movie has one agenda and one agenda only: to clear the name of an Indian hero-turned-villain.
For those not well-versed in cricket, a look at Azharuddin's life might be in order, since you certainly won't be getting that from the movie. He burst onto the scene as a teenager by scoring centuries in his first three Tests and quickly became captain — a significant achievement for a Muslim in a team of Hindus. Azharuddin's languid, wristy style and easy-going manner made him one of the most beloved cricketers in the world. Even a tawdry tabloid scandal, when he left his wife for Bollywood actress Sangeeta Bijlani (only Sangeeta in the movie) and was disowned by his own parents, was not enough to dent his popularity. What finally brought Azharuddin down was his involvement in match-fixing which, at the fag end of his career, earned him a life ban.
This riches-to-rag story should have been ideal Bollywood fodder. Instead, we have oily bookies and shady mafia dons whose only purpose is to serve as a vehicle for Azhar's redemption. We are asked to believe that the cricketer was lured unwillingly into this world and forced to do what he did out of fear. None of this gels with reality as we know it.
The romance is no better than the cricket. Nargis Fakhri seems to think all she needs is a pout to turn into Sangeeta. It does not work and neither does the earnest manner in which Hashmi plays Azhar, since we know the cricketer had a cynical heart beating under his faux innocent demeanour.
Cricket is only a backdrop for the usual Bollywood fare of songs, dances and melodrama but, just like listening to an Imran Khan speech, one is left with cricketing clichés ringing in one's ears. Let's throw out a few of our own. Azhar queers the pitch in favour of its star and it most certainly does not hit it out of the stadium.
Nadir Hassan is a Pakistan-based journalist and assistant editor at Newsline.
Next