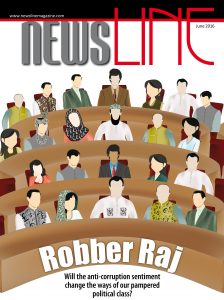 Ours is a country without parallel.
The Amir of the Afghan Taliban, Mullah Akhtar Mansour, is struck down by a US drone in Balochistan. We feign ignorance about the identity of the dead man, even though US President Barack Obama and US Secretary of State John Kerry have already informed Prime Minister Nawaz Sharif and the COAS, Raheel Sharif, about the target of their latest drone attack. It is only five days later that Pakistan confirms it is, indeed, Mullah Mansour.
Then we proceed to protest violently about the violation of our sovereignty for the umpteenth time. Pakistan's air space has been violated 400 plus times — with the tacit understanding of the powers-that-be, as was confirmed by a Wikileaks cable. Also, it is common knowledge that in Musharraf's tenure, two air bases in Pakistan were handed over to the Americans.
Next, an embarrassed interior minister swings into action, to rectify the situation arising from the revelation that Mullah Mansour carried a Pakistani passport and a Pakistani ID card. He orders the reverification of 180 million cards by the National Database Registration Authority (NADRA), and punishment for those carrying, and those issuing, illegal ID cards. A marathon undertaking.
Pakistan's security paradigm may have shifted for now, but once upon a time, during the Cold War in Afghanistan, all sorts of rules were bent to accommodate our "strategic assets." Additionally, we played the perfect host to three million plus Afghan refugees who crossed the border. Instead of registering them at the entry point and confining them to special camps like Iran did, we allowed them to spread their wings, set up businesses and acquire Pakistani passports and ID cards — often at a hefty fee.
And now, 40 years later, Balochistan's Home Minister Sarfaraz Bugti, threatens to throw out all illegal Afghan refugees. One is not quite sure how he proposes to do that.
It's a right royal mess, and the million-dollar question: who will fix it?
The man with the portfolio of foreign minister, the prime minister, who is recuperating from an open heart surgery in London, the "de-facto" foreign office or the "real" foreign office?
There are some vexing questions that need answers: Who issued the CNIC and passport to Mullah Mansour? How did he manage to whizz past the immigration as he travelled to Iran and Dubai several times? If he enjoyed a safe haven in Pakistan, why couldn't he be coerced to come to the negotiating table? And more to the point, if Pakistan has lost its clout with the Afghan Taliban, why are they still being allowed to stay on in Pakistan?
Allegations are being levelled that Pakistan plans to unleash these "strategic assets" nesting in Pakistan, once the US departs from Afghanistan.
Meanwhile, the US Congress has refused to sanction US funds for part payment of the F-16s, and issued an ultimatum on disbanding the Haqqani network. So now we are at loggerheads with not just three of our neighbours — Afghanistan, Iran and India — but also our closest ally.
Can Pakistan afford to pursue a foreign policy that borders on paranoia, is a continuous source of embarrassment and is alienating us from the rest of the world?
Rehana Hakim is one of the core team of journalists that helped start Newsline. She has been the editor-in-chief since 1996.