Battleground Bangladesh: Extremists attack bloggers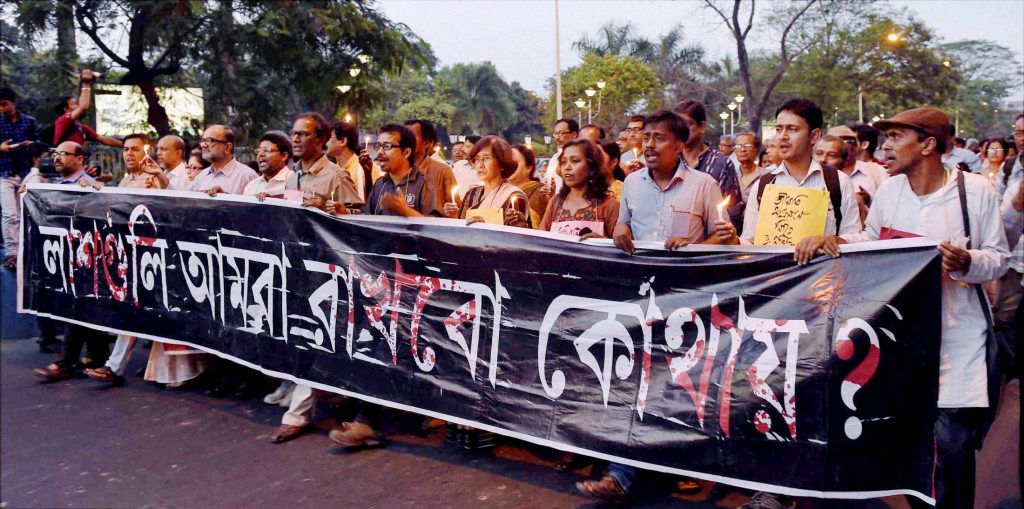 On May 20, 55-year-old homeopath Mir Sanaur Rahman was travelling to a village on his bike. Rahman operated a free weekly clinic in the village. Rahman was accompanied by his friend Saifuzzaman, 45, a schoolteacher when both of them were hacked to death by Islamist militants, in attack claimed by the Islamic State (IS).
The attack came nine days after a 75-year-old Buddhist monk Maung Shue U Chak was killed in Bandarban. In April a Hindu tailor, Nikhil Joarder, and an English professor Rezaul Karim Siddique were killed — the latter as much as claimed by IS. In the same month, secular blogger Nazimuddin Samad was attacked by a machete and shot to death. A machete was found near Sanaur Rahman's dead body as well.
The most high profile case in the precipitous escalation of attacks on secular activists came when Xulhaz Mannan, the editor of Bangladesh's first LGBT magazine, was stabbed to death along with his friend, Tanay Majumder, in another attack claimed by IS on April 25.
The surge in attacks on secular Bangladeshi bloggers has come after Bangladesh's International Crimes Tribunal (ICT) initiated trials in 2013 against those accused of war crimes in the 1971 war.
Bangladeshi secular activist and religious critic, Asif Mohiuddin, was attacked and stabbed outside his house in 2013 by men inspired by Al-Qaeda's Anwar Al-Awlaki. The attack on Mohiuddin fuelled the 2013 Shahbag protests, when secular bloggers and activists united to demand capital punishment for Abdul Quader Mollah, who had been convicted of war crimes by the ICT. After surviving the attack, Mohiuddin moved to Berlin.
"Asif's blog was one of the most popular websites in Bangladesh," says Mehedi Hassan, a member of Bangladesh's Awami Jubo League and former vice president of Bangladesh Student League, who is friends with Asif Mohiuddin. "Asif was imprisoned by the Bangladesh government ostensibly for posting 'offensive comments about Islam' when in reality, his biggest quest was the fight against Islamist fundamentalism."
Mehedi Hassan, who is a secular blogger himself, says that all writers and activists in Bangladesh want is freedom to express themselves, without putting their lives in jeopardy. "They are labeling us all atheists, which is not true. Not that there is, or should be, anything wrong with being an atheist, and many of us are nonbelievers, but secularism is not synonymous with not believing in God or even religion. Many practicing Muslims are also secular bloggers in Bangladesh."
"Our murderers, the likes of Eifazat-e-Islam, want to silence anyone who is critical of Islam. That is their only goal: to silence dissent against religious fanaticism."
Mehedi Hassan believes until Jamaat-e-Islami's clout isn't targeted, the murderous spree against secular bloggers will continue.
"JI's front is their student organisation Bangladesh Islami Chhatra Shibir. Shibir has been the driving force behind the attacks on secular activists," he says. "And it's because all bloggers are against the JI and its fascist activities."
Since the attack on Mohiuddin, Ahmed Rajib Haider, Sunnyur Rahaman, Shafiul Islam, Avijit Roy, Oyasiqur Rhaman, Ananta Bijoy Das and, Niloy Neel are the other high profile bloggers who have been killed by radical Islamists. All of them were on the hit list published by Hefazat-e-Islam or 'Defenders of Islam'.
Riasat Ahsan a Bangladeshi blogger who has translated the works of Bangladeshi freethinkers for the International Humanist and Ethical Union and The Daily Beast, says violence against freethinkers and religious non-conformers is nothing new in Bangladesh. "It stretches back well over a decade, with the attack on author Humayun Azad in 2004, who died a few months later, most likely due to the injuries sustained during his assassination attempt," he says. "In many ways, these attacks are reminiscent of the systematic execution of pro-liberation Bengali intellectuals by the Pakistani army, and their local collaborators al-Badr and al-Shams, during the last days of the 1971 liberation war."
Ahsan continues: "What ordinary Bangladeshi Muslims, who may not find the murder of people criticising their religion to be particularly grievous, need to realise is that their deafening silence will come back to haunt them, for the Islamists are not only after those who excoriate Islam, but after anyone who does not agree with their draconian interpretation of Islamic scripture.
"Already, they have moved on from bloggers and writers who are openly nonbelievers, and have taken the life of a liberal and culturist professor, Rezaul Karim Siddique, who never professed to leave Islam. At the moment, most of the bloggers I know who are still in Bangladesh are all trying to leave for good."
Ahsan says the reason Islamists are blatantly targeting bloggers on such a large scale is because the blogosphere of Bangladesh has made a significant contribution in maintaining the country's 'relatively progressive' quality. "Comprised of the works of many eloquent and prolific writers, artists and cartoonists, who are at heart secularists deeply concerned about the future and well-being of the country, the Bangladeshi blogosphere is uniquely powerful in shaping the perceptions of a large number of people," he says. "For whatever reason, Bangladeshis are more open to the idea of secularism, a government devoid of bias towards any particular religion, than are the Muslims of more conservative countries, like Pakistan, for example."
He says, "I think it has to do with the fact that the country's bloody birth as an independent, sovereign and secular state is still fresh in memory, and the wounds are revisited often, especially with the ongoing war crimes trials. In my opinion, it is the cognitive dissonance, which stems from Bangladesh's inherent identity crisis of being a secular country with an overwhelmingly Muslim majority population and a constitution that was amended in 1988 to declare Islam as the state religion, which makes many of its citizens more open to reason in favour of religious indoctrination.
"Avijit Roy realised the vast potential of this previously untapped resource, the blogosphere, to reach out to a large number of like-minded individuals across the country, particularly the marginalised minorities such as the Muslim apostates. The Islamists were quick to follow, and they recognised the power of the bloggers to counter their incessant propaganda promoting Islamic Sharia law in Bangladesh; so, they retaliated."
Ahsan says Prime Minister Sheikh Hasina, the leader of the ruling Awami League party, is a very controversial figure in the country. "But there is one thing nearly everybody, across the entire range of the political spectrum, will agree on: She is a very cunning politician," he says.
Back in February 2013, when Ahmed Rajib Haider was brutally murdered, Sheikh Hasina paid a visit to the victim's home to pay her condolences and consoled his mother. Ahsan believes she did that because back then, there was a very strong anti-Islamist sentiment in the country, with people demanding the key figures of the JI be tried for war crimes committed during the 1971 liberation war. "The Shahbag Protest was also picking up steam. But things have changed since then. The Islamists have held mass rallies and have run a very successful brainwashing campaign, branding the bloggers and even the organisers of the Shahbag Protests, which had a lot of public support when it began, as being part of the atheist agenda and dehumanised them by exploiting the general public's religiosity, and their ignorance about what being a blogger entails.
Ahsan says, "Alas, it is no longer popular to side with the bloggers, and Sheikh Hasina has since abandoned her previous show of solidarity, as it no longer served her needs as a publicity stunt, and has left the secular bloggers at the mercy of the radical Islamist mob."
On May 11, Bangladesh hanged JI leader Motiur Rahman Nizami for genocide and other crimes. The 73-year-old former legislator and minister became the fifth former opposition politician, and fourth JI leader to be executed for over war crimes. Nizami's execution received diplomatic backlash from Pakistan.
Another secular blogger wishing not to be named says amidst all the focus on JI, Bangladesh must be wary of the threat that IS poses. "Most of the attacks during the last 12 months have been claimed by IS," he says. "While the IS core might not have its war machinery in South Asia just yet, its affiliates have been launching terror attacks in Afghanistan, Pakistan and even Indonesia. Bangladesh needs to realise that the biggest global terror threat and world's deadliest radical Islamist organisation is targeting bloggers. This is no longer about political power — it's open ideological warfare between Islamism and secularism."
Pakistani secular blogger Haroon Riaz, who recently wrote a piece 'The secular theocracy of Bangladesh', believes the secular nature of the Bangladeshi Constitution, or the state's apparent moderate perception, might actually have very little to do with its secular activists being under attack. "We know Saudi Arabia is actively taking action against atheist bloggers, but as for the rest of the relatively secular countries, they still have a Muslim majority. That offers a safe, unchallenged environment for Islamists to thrive and that pushes the society overall towards extremism," he says.
"Even if that is not the case, extremist activities go unchecked, and people are afraid to stand up to them. Such actions, while prevalent in Bangladesh currently, could very easily be mimicked in countries such as Indonesia, Egypt and Pakistan.
"Bangla bloggers were active in the local language and involved with the grassroots far more than Pakistani bloggers, making the clash more imminent. Sabeen Mahmud's Valentine campaign was very public and in Urdu, and that easily made her a target for the local fundamentalists. Furthermore, among the so-called moderate Muslims, the tolerance and support for such extremist actions are disappointingly high."
Riaz says secular writers in Pakistan are wary of using local languages to express their ideas. "Secular and liberal writers such as myself and various other friends deliberately do not choose Urdu as the medium of communication," he says. "Primarily, because they consider communicating with those schooled to speak English as a relatively safer option to express themselves and gain some sympathy, if not change minds, for the secular cause. Mind you, this is not necessarily safe and it does not mean that supporters and workers of Islamist parties do not study them. The Frontier Post blasphemy letter case [when the owner of the paper was arrested after a blasphemous letter to the editor was mistakenly published]is an example of that. And probably they find it hard to build a more public case against such pieces (in the English language)."
Riaz says the reach of English language pieces by such secular writers is very limited. "Antithetical Facebook pages in Urdu have regularly been reported and suspended, even blocked by the PTA as well, which goes to show that Urdu language has a far broader audience, and provokes a greater reaction," he says. "The cases of Shaista Wahidi and Junaid Jamshed are testament that even comments perceived as minor blasphemy do not go unpunished."
Riaz has no desire to get involved with the grassroots too 'for several complicated reasons'. "But I can criticise the government for letting the monster of Islamist extremism go unchecked. Furthermore, Pakistani Islamists are somewhat passive because of the sense of satisfaction that they are living in an Islamic Republic, the fortress of Islam, and do not necessarily see the need to organise themselves into proactive murderers of progressive, liberal and secular authors as they need to do in a secular Bangladesh."
"However, despite all the reasons to believe otherwise, such actions can easily be copied here. But I think bloggers in Pakistan are mostly very careful about respecting religious sensitivities and those who don't either use pseudonyms or don't get published on more public platforms. Besides, I think Pakistani publications are a bit extra cautious too. I can't think of one which goes out of its way to attack religion or Islam."
Riaz says Pakistan should learn from Bangladesh and not take Islamic extremism lightly. "Liberal and secular elements in Muslim majority countries have almost no choice but to appease Islamic fundamentalists who hijack a majority carrying a virus of dormant extremism. One solution could be their proactive suppression as the Egyptian military dictators have carried out, but history shows that it could whet the blade of Islamism even sharper," he says.
"So a start is to crush the freely allowed religious riots with an iron fist in the name of establishing law and order. It is true that most Muslims do not practice extremist beliefs in everyday life. Of course, everyone loves life and does not want to get involved in extremist activities, but what are you to do when your faith is questioned? If you do not agree with tenets such as killing for blasphemy, your very faith will be questioned.
Riaz doesn't believe that the ideological war will be won overnight, if at all. "But the lesson is for governments to monitor Islamic fundamentalist activity, take necessary action to counter it and to treat political Islam as the kind of threat that communism was once perceived as during the Cold War. In a way, the latter has been true since 9/11 anyway."
Riasat Ahsan warns what Bangladesh is going through right now, is something every Muslim majority country that strives to have a secular government will face. Ahsan believes international attention to the matter is a key. "Awami League has adopted a policy of 'let sleeping dogs lie' when it comes to providing justice for the murdered bloggers. Doubtlessly, it has to do with the fact that the party of Bangabandhu has milked its pedigree as the party that won Bangladesh her sovereignty for all its worth. They have politicised and taken full advantage of these war crimes trials, and the strong emotions they elicit in the people, to stay in power for as long as possible, deliberately delaying court proceedings."
Ahsan says Awami League's precarious grip on power hangs in the balance, with the chief opposition having boycotted the last elections, and they will most likely not take on the task of going after these Islamists. "Lest they are seen as aiding the "atheist agenda" and fall out of favour of the public. A strong nudge from the international community may be required for the Awami League to ensure accountability for the perpetrators, and safeguard the lives of those who are at risk."
Kunwar Khuldune Shahid is a journalist and writer based in Lahore.
Next