The Game Changer
A successful industrialist, Mushtaq Chhapra also epitomises the spirit of social welfare.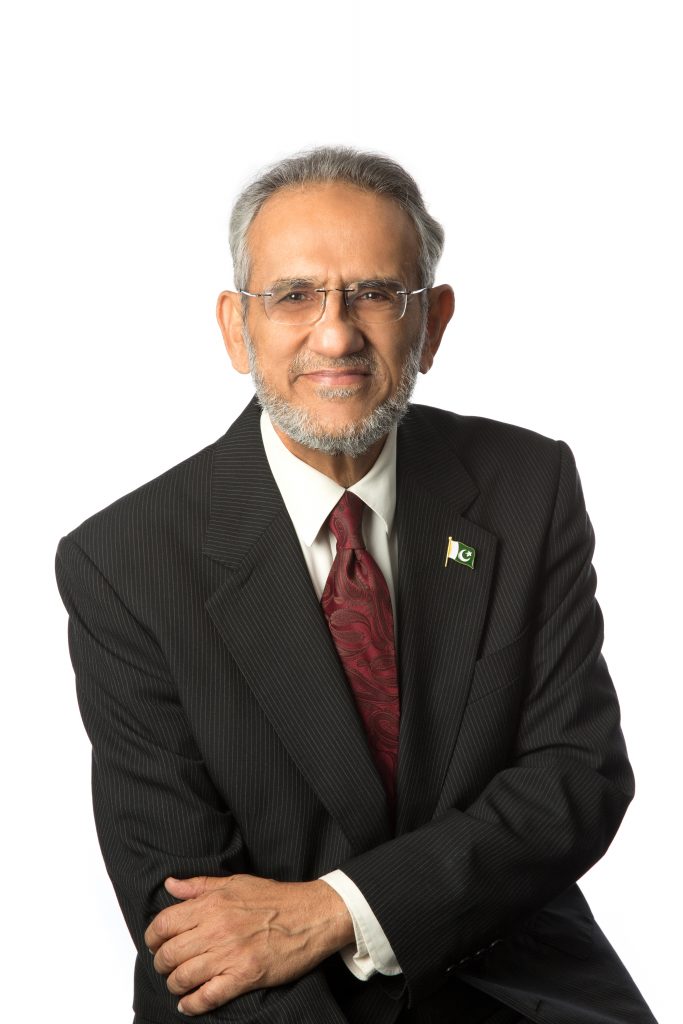 As the Panama Papers scandal reverberated around the globe, it exposed in its wake the stashed millions of hundreds of Pakistan's leading business/political figures and of their offspring in an offshore tax haven.
That is one end of the spectrum. On the other end is another businessman: Mushtaq K Chhapra. It is said, "You need a bit of insanity to do great things." That is how it is with him. Born into an industrial family, the director of various manufacturing companies and corporations, he is also the driving force behind several of the country's most successful social welfare initiatives. Yet this philanthropic giant of a man resolutely remains away from the limelight.
Hailing from the Memon business community, Chhapra was drawn to social work very early. When he joined the family's textile concern, he became involved in social work as well, first at a community level, and later with various welfare organisations. Chhapra remained the general secretary of the Memon Jamaat from the mid-1970s to the 1990s, but from the mid-1980s, Chhapra's non-denominational social welfare projects increasingly occupied most of his time and effort.
In 1985, Chhapra, along with a handful of friends began The Kidney Centre (KC) — a non-profit community project set up to provide quality medical treatment and relief for those with renal and kidney-related diseases. Most of the patients who came for treatment were non-paying for lack of funds. From a small dialysis unit consisting of two machines, the KC evolved into a 100-bed hospital with four operating theatres and an intensive care unit providing a full range of services for people suffering from renal problems. And in the 30 years since its inception, it remains a premier medical, teaching and research institution for nephrology, urology and associated fields where no one is turned away just because they cannot afford it.
In 1990, Karachi's Jinnah Postgraduate Medical Centre (JPMC), one of the country's largest subsidised government-run hospitals, was in a state of abject disrepair. The landmark medical institution's 28-ward, 1,200-bed facility and resources were stretched beyond capacity, but the enterprise forged on because it remained a lifeline for the thousands of needy patients who arrived there daily for free basic medical care. This came to the attention of Chhapra, who then launched an independent, strictly non-political drive to raise funds for the hospital, and in doing so set up the Patients' Aid Foundation (PAF) with like-minded philanthropists.
Over the last 25 years, through its private-public partnership model, Chhapra has remained one of the driving forces behind the completion of assorted projects for the hospital, which have cost in the range of one billion rupees. The PAF has renovated the JPMC's dilapidated structures and added new ones to accommodate the huge ongoing influx of patients from interior Sindh and Balochistan, in addition to those from Karachi. The organisation has also facilitated the maintenance, replacement and upgrading of the JPMC's facilities, provided medical supplies and added new equipment, some of it state-of-the-art, like the Cyber Knife robotic tool — a precision cutting-edge treatment for cancer and other medical disorders. It is the first and only one of its kind in the country and completely free for the needy. In the USA the cost of this treatment is 90,000 USD. Earlier Chhapra served as the chairman of the executive committee of the PAF. Now he heads the watchdog committee overseeing all of the above.
In 1994, a new eye ward was established at the hospital and various departments have been revamped — from its 24-hour emergency rooms to radiology, gynaecology, pathology, medical ICU, surgical ICU, neurology and operation theatres. Currently a new surgical wing is under construction, with 18 operating theatres under one roof.
Leading by example, Chhapra and other patrons of PAF have also funded other major projects, among these the accident and emergency facility and the blood bank which daily provides 300 pints of free, screened blood. The PAF's role in turning JPMC around prompted many other citizens to also step forward with help and donations. In 2014-15 alone, PAF's Patient Welfare Department treated 92,710 patients at a cost of almost 205 million rupees. The money collected to subsidise treatments was from zakat and charity.
As if the JPMC and PAF were not enough to occupy Chhapra, he next turned his sights to another area in dire need of help. Realising that education was the key to a long-term solution of the country's spiralling problems, among them intolerance and unemployment, Chhapra with five friends, Ateed Riaz, Ahsan Saleem, Hamid Jaffar, Rashid Abdullah and Arshad Abdullah — all prominent men of commerce and industry and also co-founders of other social endeavours with Chhapra — set up The Citizens Foundation (TCF) in 1995, with the ambitious goal of establishing 1,000 schools. Under Chhapra's chairmanship, TCF, a non-profit organisation, runs the largest low-cost, purpose-built network of schools in the world, providing free, quality primary and secondary education to the most neglected of the rural and urban poor.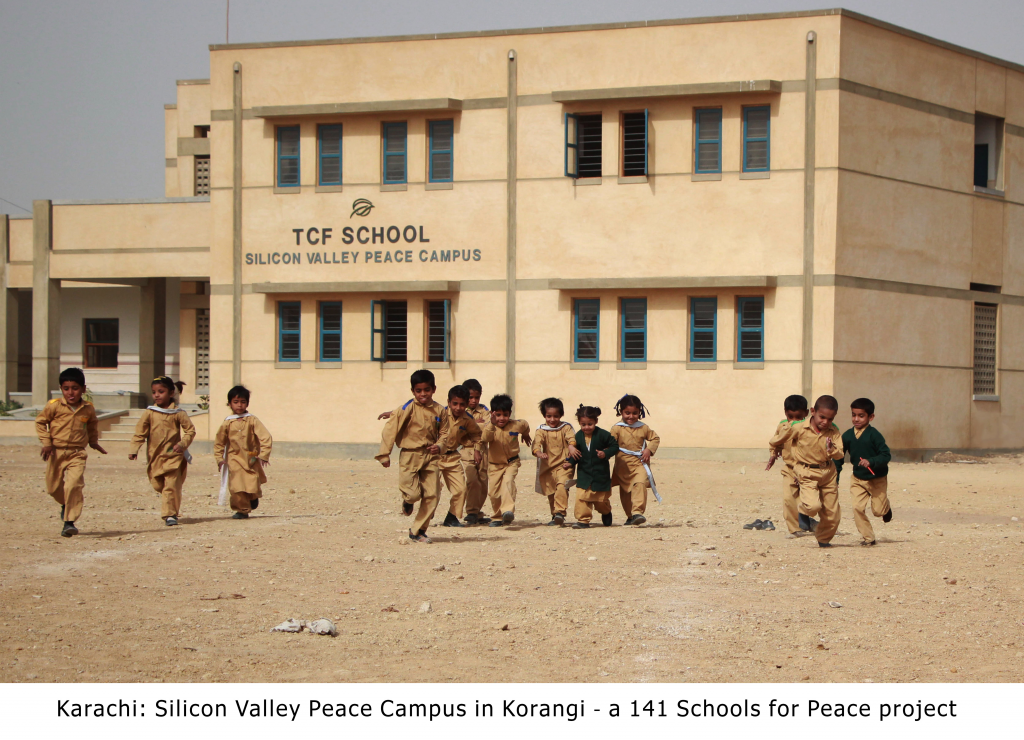 Now in its 21st year, the TCF has so far set up 1,202 schools — exceeding by 2014 their original target — providing free education to 175,000 needy children in 57 districts all over the country. From the onset, the mission was to provide professionally designed and managed schools where none existed, in consultation with the community.
TCF focuses on the character-building of students by instilling in them good core values and self-confidence. Chhapra and TCF's vision of education is one where it becomes instrumental in the removal of class barriers and grooms students to be agents of positive change.
TCF also has a Teachers Training Centre located in Karachi which focuses on training TCF faculty and providing them with logistical support. In the process, TCF has created almost 9,000 jobs in the neighbourhoods where their schools operate. Each year TCF formulates a teacher-training curriculum to meet the needs of the faculty, and last year a specially designed syllabus was introduced in its schools that encourages critical thinking in students.
Students are taken in on a first-come, first-served basis and an equal numbers of boys and girls are enrolled to maintain a gender balance. Almost 92 per cent of the TCF children pass their matriculation exams — almost half of them with `A' grades and above. In government schools, the pass rate for matriculation is 56 per cent — with less than half achieving top grades.
Because of its commitment and integrity as one of the largest sustainable non-profit organisations in the education sector, The Citizens Foundation school system has been recognised internationally. In a country where one third of the country's children are out of school, The Citizens Foundation presents a model that can be replicated to counter the education crisis not just in Pakistan, but in other third world countries as well.
Mushtaq Chhapra is rarely in the media, but his outstanding efforts have been recognised at various forums. In 2010 in Qatar, Chhapra and TCF were one of the six recipients of the WISE Awards — international plaudits that recognised him as a champion of peace and a symbol of hope. For his work with TCF, he was also awarded the Skoll Award for Social Entrepreneurship in 2013, and last year in June, he received a lifetime achievement award from the Canada Pakistan Business Council (CPBC). Chhapra is also a member of the Clinton Global Initiative and a Schwab Foundation Social Entrepreneur.
The layout of the TCF head office resembles that of a blue-chip multinational company. Just as Chappra's interview with Newsline was about to begin, an important international call for him came through. The conversation over the phone revolved around numbers with a potential donor. Clinching the promise of substantial funds for setting up another TCF purpose-built school and three years running expenses, Chhapra returned to his interview. He apologetically joked about the importance of the call saying, "There are two things you can never be certain about — donors and death." And with that laid-back attitude, Mushtaq Chhapra gets on with his life-changing work.
"Our children are our real heroes" – Mushtaq Chhapra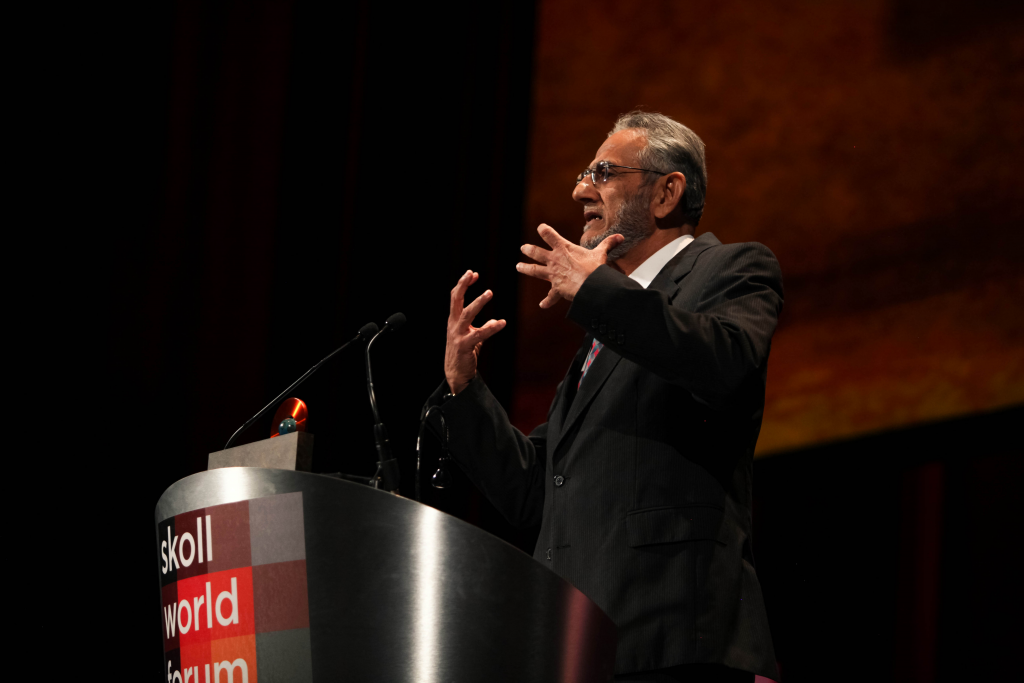 You have had such a long run of truly effective social initiatives, what is the secret of your philanthropic and fund-raising success?

I'll give you a very clear and candid synopsis to that question — it has always been team-work. It has never been about an individual. Whatever we have worked for, has always been as a group. We started The Kidney Centre with dedicated men and women, and the results speak for themselves. It was similar with the Patients Aid Foundation and TCF.

The one thing that differentiates us from the others is perhaps a touch of madness — a junoon. I say this in earnest, not as a joke. All of us feel an intense compassion for the poorest of the poor of this country. We feel that Allah has blessed us with good education, power, authority and money — for a purpose. That is not to take everything for ourselves or for our families, but to share the benefit with the less fortunate who cannot afford good healthcare and educational institutions.

Did your social work start as part of corporate social responsibility?  

I'd say corporate social responsibility (CSR) definitely has been an influence in our work. Corporate donors who come forward play a very important part. In the last 20 years they have helped bring about a lot of change by supporting non-profits and start-ups that have evolved into good institutions. TCF started 21 years ago, and from day one the decision was to turn it into a model institution. We registered The Citizens Foundation as a company through Section 132. TCF headquarters has a professional set up, which most MNCs and Pakistani corporate companies don't. That includes corporate governance, merit-based, professional managers, delegation of authority, etc. All the best business practices and ethics are applied and implemented in running TCF.

There is accountability and transparency. TCF accounts are duly audited and managed by an audit committee. We also have a chief financial officer (CFO). These are the reasons why we are so successful. Now other non-profits who want to do good work in the country are following our model. That is the beauty of our work.

What is the ratio between your major donors and smaller ones?

No donor is ordinary for us. If a working class person earning 2,500 rupees a month donates 100 rupees, it's worth 10 million more, because his sacrifice is bigger. A multi-millionaire, who is making crores, donating 50 lakhs may not feel the pinch.

We regard them as small ticket and large ticket donors but we don't like to differentiate between or segment them. Obviously building schools takes a lot of money, but we make it inclusive for everyone. A major donor may be footing the bill for building an entire school but we encourage, say a group of 12 to 15 donors to participate by funding a classroom or a library. It's an interesting sort of a mix where all donors' hearts go out to others and it gives everyone a sense of ownership. Our foundation is like a movement that is evolving into a kind of a revolution.

Did you know that there are 26 TCF chapters in the USA alone from where fund-raising is done? You will be surprised at how many Pakistani donors abroad contribute heavily towards the well-being of their countrymen. Every day there is some fund-raising drive. Even as we speak, one of our directors and co-founders is engaged in functions for that purpose, and I'll be travelling for the same reason soon myself.

How have you managed to stay away from the media?

I have appeared in the media and appreciate their role, but at the back of our minds it is our work, and what we are trying to achieve that is bigger than all of us. That is why we project our schools. Our children are our real heroes. We keep the media abreast of TCF activities and functions, but we shy away from projecting personalities — we don't want to.

I read somewhere that your parents were also into philanthropy…

Yes, my father especially was a good philanthropist from Karachi. He started with community work and later he joined the Lions' Club and various other projects. Even at our dinner table, my father would leave his food if anyone came to the house for assistance and try to sort out their problem. That's the kind of upbringing we've had in our home, and it has played a very strong role in moulding my character and those of my children. Both my son and daughter are now part of a youth group called Young Education Supporters (YES) that supports TCF in its initiatives. We like to tap into the new generation because they are technologically very savvy and do wonders in spreading news on social media at a viral pace.

How do you foresee the sustainability of your projects in the future?

As of now we provide 90 per cent scholarships to the children studying in TCF schools, who only pay 10 per cent of the school fees. If a child's schooling costs between 1,300 to 1,400 rupees a month, the majority of it is funded through donations. In terms of financial sustainability, we say there should always be a basketful of opportunities. One is an endowment fund, but it will never have enough money to fulfill a rather large requirement. The endowment will only address a portion of our running costs. Zakat is another source, as are grants. There are a number of international agencies that give grants for educating children and we regularly apply for those. My biggest faith remains in the Creator to keep it sustainable.

The children educated through the TCF system will be the single largest segment of sustainability. The 15,000 children who have matriculated through our schools are now in colleges, universities, and tertiary colleges. And they are already so conscious. We have organised them into an alumni. In 10 to 15 years, you'll see a new lashkar — a TCF army of educated youth who will run the TCF schools for the betterment of yet more children. Five hundred of them are already currently working as schoolteachers in our TCF schools. The same educated TCF lashkar will change Pakistan for the better.

Currently the TCF network has 1,202 schools, including 90 government schools that we have adopted and upgraded. If we can pilot and transform such schools, you will see more and more being added, Inshallah. The government through public-private-partnership has played a tremendous role. And the KESC as part of their CSR gives free electricity to all the TCF schools from Hub Chowki in Balochistan right up till Gharo in Thatta. They give free electricity to our head office as well.

Could you tell us about your recent trip to Davos for the World Economic Forum?

Last year we were the recipient of the Social Entrepreneurship Award given by the Schwab Foundation, which is a part of the World Economic Forum. This year as the chairman of TCF, I was invited by the founders of Schwab Foundation to attend the World Economic Forum in January. There we shared our TCF model and we are in talks with people from Nigeria and East Africa who have shown interest. Forums like Schwab and the Skoll Foundation are important because the latest ideas, innovations and new developments in education are discussed.

Have you encountered any problems or obstacles in your long history of philanthropic work?

I have been asked this question many times and in many ways, but Alhamdolillah no one has ever stopped our work at any time; nor has anyone tried to create a hurdle or block our efforts — which is remarkable. Perhaps it's our methods. The TCF system is unique because there is a community comfort.

Before building a school in a new location, the very first thing we do is have a sit-down with the community elders. We give them importance and make them feel it is their initiative. Since we are at a location for a short time, we give them the responsibility for and ownership of proposed initiatives in their areas. It makes the endeavour so positive that the community is willing to do anything to participate — even the most conservative ones.

The other reason is that in our schools we only have female faculty. All the teachers and principals are women. The only adult men are the chowkidars outside the school buildings. So any misgivings conservative or religious-minded folks may have about their young daughters being taught by male teachers is entirely dispelled.

We decided a long time ago that TCF teachers would only be female. We refused to open schools in areas where we found we'd be unable to recruit or train women as teachers. But even in the most orthodox communities in remote areas, you will find TCF schools where girls and women are teaching in our co-ed schools. We refuse to change our system because our decisions have had a far-reaching impact.

Even in our head office you will find young working women from diverse, respectable backgrounds. Their parents are happy with the secure environment we provide and the confidence we give them. This is one of the few organisations which has a crèche for working mothers. They can bring their infants and young children to office to keep an eye on while they work. They have the choice to feed their children themselves or bring ayahs (maids) with them.

We have zero tolerance for any kind of disrespectful behavior or intimidation towards women. That's why we have never had any complaints from any of our schools or offices. It's another matter if a female employee is not performing, for which there is a vetting process in place, as there is for all employees.

What is your next big social endeavour?

In terms of education in Pakistan, I feel there is still a lot to be done. Recently we launched a college in Qayyumabad, Karachi, very close to our head office. It is for those extremely talented students graduating from TCF schools who have scored 80 per cent and above in their studies. At this time it has only 200 seats. We have specially designed a test and a selection process for the most gifted.

This year we made all the 2,000 TCF children who successfully matriculated undergo this test. Four hundred children were selected but we have to narrow it down further. The selection process is strictly on merit and the test isn't the only deciding factor. A large group of volunteers check the test papers and interview the students afterwards. There is a checklist of items that they are graded on, including mannerisms, confidence, etc.

The reason we started the college is that the children we sent to government colleges after they passed out of TCF schools were being lost. They lost interest because they were not learning anything in these institutions, so by the time they finished junior college, their hopes and attitudes would change. They would drop out and start doing odd jobs. It was a pity to see some of the cream of the TCF children waste away and all the hard work and time invested in them get lost. That's the reason behind the pilot college, and I have no doubt it will succeed. Next Inshallah we will open a college like this in every city of Pakistan — wherever there are TCF schools.

People now ask if there is a university in the pipeline. I say, who knows? We don't plan — we just jump into it. Now we have 175,000 children getting quality education in TCF schools and we have begun adopting government schools. And what if next the government decides to give us the responsibility of 5,000 schools? Our work is a game-changer.
The writer is working with the Newsline as Assistant Editor, she is a documentary filmmaker and activist.
Next