Nest of Vipers: Accountability in Balochistan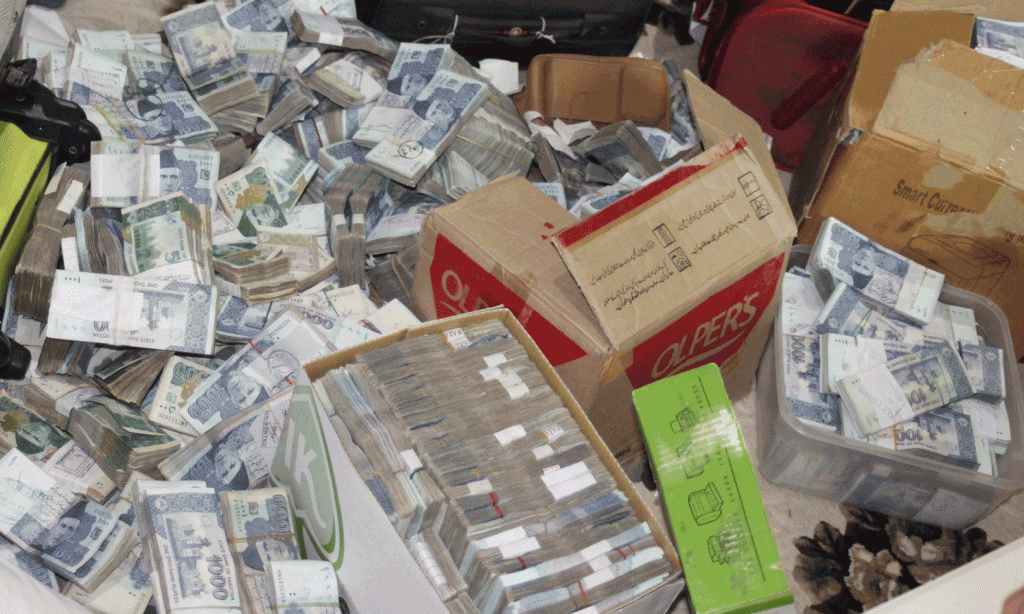 After a long period of inaction, the National Accountability Bureau (NAB) in Balochistan finally sprung into action and went after corrupt politicians and bureaucrats. NAB, which had earned the well-deserved reputation of being a dormant body, unearthed the biggest scam in the province's history, in the process recovering over Rs. 660 million worth of cash and jewellery as well as property documents in the hundreds of millions.
Those who have been arrested for their role in this mega-heist include Mir Khalid Langov, the advisor to the chief minister on finance, and the Secretary Finance Mushtaq Ahmad Raisani as well as their front men. The money was recovered in a pre-dawn raid at Raisani's house, where the police found Rs. 600 million in local currency, foreign currency valuing another Rs. 50 million and papers for properties in Karachi, Islamabad, Quetta and Dubai worth an additional Rs. 200 million. All the cash was supposed to be transferred to Dubai the very next morning through hundi or hawala channels.
The raids were spurred by a tip-off from the intelligence agencies, which eavesdropped on phone calls between the advisor to the chief minister, the secretary finance and currency dealers. Based on information given in custody by the secretary finance, three other accomplices — Tariq Ali, a sub-engineer in the Communication and Works department, Executive Engineer Sohail Shah and his brother Asad Shah — were arrested. Saleem Shah, a junior officer working for a senior official in the Local Bodies department, is still at large and NAB is trying to track him down.
Langov and Raisani are currently being interrogated for the embezzlement of Rs. 1.5 billion of the local bodies funds and Rs. 6 billion of the MPA's development funds. The opposition parties in the Balochistan Assembly say that the provincial government tried to intimidate NAB officers into abandoning its investigation. When that did not work, it started accusing NAB of entering the provincial secretariat without permission and harassing its employees.
Khalid Langov is the son of a noted politician, the late Abdul Khaliq Langov from Kalat District. After his father was killed in an armed attack, Langov joined the National Party and became a supporter of security efforts to restore peace in Kalat. On the floor of the Balochistan Assembly, he denied any involvement in corruption and promised to fully cooperate with NAB. Despite this, he avoided appearing before NAB investigators despite being issued three summons in three weeks. During this time, he tried to use his establishment connections in both Quetta and Islamabad but to no avail.
Political observers say that if Langov had surrendered to NAB authorities, as he claimed he would do on the assembly floor, he would have created a good impression. Instead, he was shown on all the news channels being dragged out of his SUV by NAB personnel and put into their waiting vehicle.
What was different this time around is that the security establishment, which normally always supports its allies, was missing in action. It has already had to sacrifice two Frontier Corps generals and a few brigadiers and colonels, all of whom had served in Balochistan, after they were relieved of duty on charges of corruption.
A senior army official says, "It is the policy from the very top to discourage corrupt practices. If the chief is not sparing black sheep within the army, how can we save corrupt people from the civilian set-up?"
The government tried to do what it could to save Raisani and Langov. The day Raisani's house and office were raided, the government directed the IGP Balochistan and Home Secretary to stop searching the office and 'harassing' employees. They were further ordered to arrest the NAB officials if they continued their action. The IGP and Home Secretary then contacted higher-ups in the Balochistan chapter of NAB and were advised to refrain from interfering in their work.
That same evening, an emergency cabinet meeting was called where participants expressed anger over NAB's actions. The meeting concluded without any firm decisions being taken.
The action against Langov and Raisani could, say NAB officials, just be the tip of the iceberg. They claim there are a number of corruption cases pending against politicians and technocrats, including former chief minister Nawab Aslam Raisani, former senior minister Maulana Abdul Wasey, ex-ministers Ghafoor Lahri, Mir Asim Kurd Gaillu, Babu Amin Umrani, Asfandyar Kakar and former chairmen Balochistan Public Service Commission, Ashraf Magsi and Imran Gitchki. An inquiry against leaders of the Pakhtunkhwa Awami Milli Party is also likely to be initiated for their alleged involvement in giving away prime government land at throwaway prices.
Speaking about corruption in the province, one Quetta-based military official said, "I feel sorry to see that 12 members get elected to the assembly from the provincial capital on general or reserved seats and each gets Rs. 400 million in development funds each year. Still, the city looks so dirty and there is no development visible on the ground."
NAB officials say the current wave of accountability will be stricter than those in the past because it has the full support of the military establishment. This comes as a welcome relief since Balochistan has the reputation of being the most corrupt province in the country.
There is a general belief that most of the politicians who have served in the Balochistan government have amassed huge fortunes and transferred them to places like Dubai, London, Malaysia and the Central Asian republics. There have also been many reports that politicians, including sitting ministers, either have shares in or own hotels and other businesses in Dubai. A middleman was once believed to have run away to Canada with seven billion rupees which the chief minister and one of his ministers were trying to move to Dubai. The middleman was from Chaman and it was only through the efforts of tribal elders in this area that half the money was recovered.
The Public Sector Development Programme (PSDP), which received funding of Rs. 54.5 billion for the current fiscal, is the biggest source of corruption and embezzlement, especially since it started being distributed equally among each MPA. This decision was taken during the government of the previous chief minister Nawab Aslam Raisani, and is contrary to how every other province distributes development funds, which is always done on the basis of population. Now, every MPA receives Rs. 400 million from the PSDP every year and it is thought that only 20-30 per cent of those funds are spent on the ground while the rest are pocketed.
Even when funds are spent on a legitimate project, such as constructing roads, so much of the allotted money goes to kickbacks and the like that what is built is usually substandard. After a few years, the roads become unusable and the politicians blame it on floods and snow.
NAB officials are now quietly confident that it will be able to unearth many other such scandals in the near future. One official said, "A NAB team may go to Dubai and other countries to collect evidence about investments made with stolen money."
NAB Balochistan claims to have recovered Rs. 4.3 billion in 349 different investigations in the last 16 years, 251 out of which were against government employees and 30 against politicians. They say the difficulty in framing cases comes from the fact that no civil servant is ready to cooperate and share information, either out of fear or because they are indulging in the same corrupt practices. They do not get any help from experts like engineers or revenue officers either and the courts are reluctant to accept their evidence. The fear now is that a newly-empowered NAB will be used only to go after selective targets rather than practice across-the-board accountability. Only time will tell if this is a new dawn in the fight against corruption or just more of the same.
The writer is a journalist based in Quetta and is President of Quetta Press Club (QPC).
Next