Cover Story: Corrupt to the Core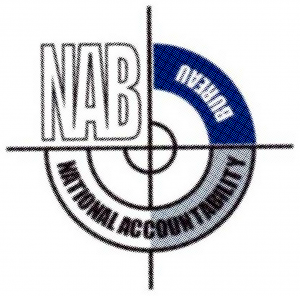 When it comes to corruption in Sindh, the sky is the limit. Not only is the corruption financial but, as a confidential report presented to the army chief last year revealed, there is a nexus of politicians, government officials and the police with terror networks like Al-Qaeda, the Tehreek-e-Taliban (TTP) and Lyari gangs. Among the allegations contained in the report was that terrorists were working with officials in the Sindh Building Control Authority (SBCA) to collect extortion money.
It was this briefing which led to the decision that the war against militancy in Karachi and elsewhere could not be won without breaking this nexus and eradicating corruption.
Massive corruption in Sindh has been uncovered in the last year after three different inquiries into the police were launched, specifically in the recruitment and promotion, transfer and postings, procurement, purchase of uniforms, CCTV cameras, arms and ammunition and investigation and security.
According to sources, the PPP government set up a Special Security Unit to look after the security of its leaders. It has a budget of around 10 billion rupees and its head is said to be more powerful than the Sindh IGP. The provincial government is still providing security to PPP leaders such as Bilawal Bhutto Zardari, who holds no official position but has more security than the governor and the chief minister.
The unit has about 5,000 highly-trained officers and even an office in the Trading Corporation of Pakistan, which does not come under the jurisdiction of the police. It is currently under investigation by NAB for the purchase of thousands of M-14 rifles, which were bought for $4,000 per rifle, as opposed to a price of $900 by the police.
The police, meanwhile, is facing an inquiry into its substandard uniforms. A police team, headed by SP level officers, visited the factory where the uniforms were being manufactured before being issued an NoC. And it was found to be using substandard material, leading many to believe the contract was given out of favouritism. Another 76 police officers are facing an inquiry for forging bills of purchase for refreshments.
This type of corruption has infested every function of the police. Of the five CCTV cameras installed at 176 different places in Karachi, many have stopped working because of a lack of maintenance or repair. UPS batteries are either never installed or only purchased on paper.
The most scope for corruption in the police is in recruitment, transfers, postings and promotions, where bribery is often the leading factor in making decisions. This is why the Rangers asked the chief minister and home minister to refrain from making frequent transfers and postings and even sent a report to the Supreme Court about it.
Now, a review committee, headed by DIG Sanaullah Abbasi, is reviewing the cases of some 1,600 police officials, many of them on the basis of complaints by the Rangers. In addition, captured Lyari gang leader Uzair Baloch has provided a list of police officers and investigators who were on his payroll and said that his former allies in the PPP knew about this arrangement.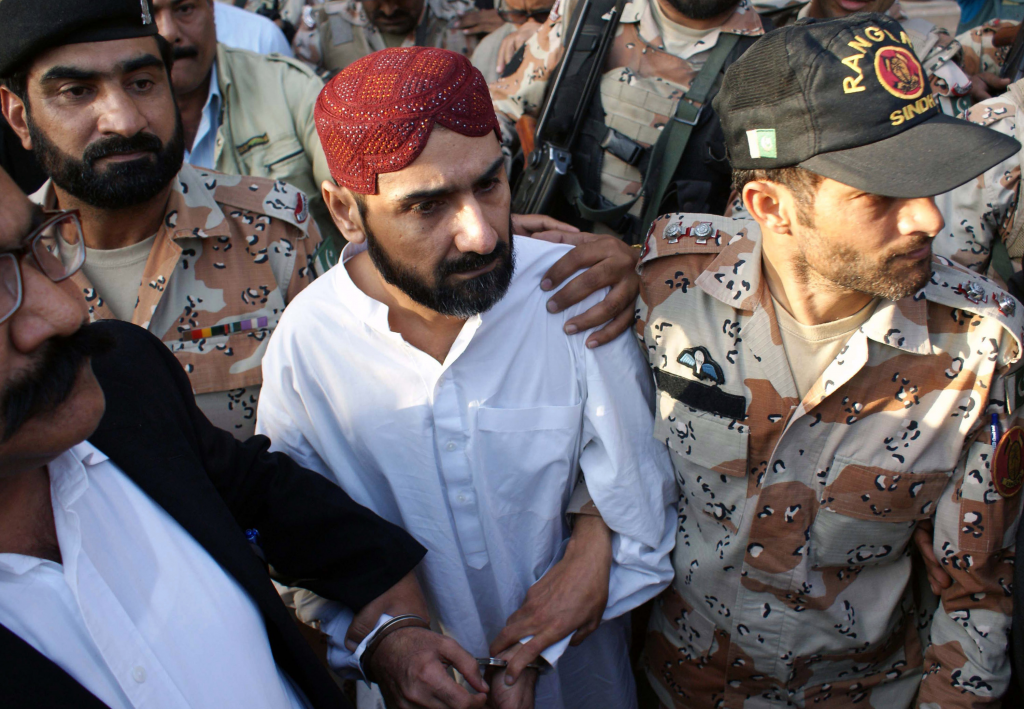 The police, like just about every other political actor in the city, is also involved in land scams. Plots, which were supposed to go to the families of officers killed in action or to officers cited for gallantry, were instead distributed among sitting officers. Each plot cost around Rs. 5 crores and was in the Defence housing societies.
The Sindh government, too, has taken over 200 plots from the DHA, and then handed it over to their favourites, in return for giving land in other places to the DHA.
More than anything else, it is the illegal process of "China-cutting" that has allowed corruption to thrive when it comes to the sale of land. China-cutting is when a large piece of land, such as amenity plots, government plots, parks or cemeteries are divided into smaller plots and sold separately. It is estimated that more than Rs. 100 billion worth of land has been sold illegally. In fact, the chief minister was informed that of the 900,000 acres of land owned by the Sindh government, 6,000 acres had been sold illegally.
Raids by the Rangers and then the FIA led to the recovery of 14,000 files from the SBCA. NAB sources say they are investigating many cases where plots were converted from residential to commercial plots and scams by cooperative societies but no action has been taken as yet. The illegal sale of land is not just restricted to plots. The sale of railway tracks, for instance, is believed to have put the plan for the Karachi Circular Railway into jeopardy.
The provincial government didn't take the allegations that were made against it seriously and paid little notice to investigations by the Rangers and the courts. The Excise and Taxation Department, notorious as a hotbed of corruption, recently violated the spirit of a Sindh High Court decision and reinstated 29 officers who had been promoted out of turn and without merit.
Right now, NAB has 190 high-profile cases open in Sindh, which include sitting and former PPP ministers, government servants and even some businessmen. One of the more prominent cases is against former provincial information minister Sharjeel Memon who, along with figures from his party and PPP-backed bureaucrats, is alleged to have taken over Rs. 4.5 million in kickbacks. Memon has so far escaped accountability by fleeing to Dubai.
Another minister who fled to Dubai while under NAB investigation is Owais Muzaffar Tappi who, along with de facto chief minister Faryal Talpur, is considered the most powerful politician in Sindh. He managed to escape by informing law-enforcement agencies that he was going to bring back the body of his cousin to the country. Predictably, he is yet to return and is wanted in multiple inquiries, including his involvement with criminal gangs in Lyari and corruption worth billions of rupees in the fisheries department.
All of this corruption was made public by the DG Rangers, Major Bilal Akbar, when a press release revealed that he had briefed the Sindh Apex Committee that Rs. 230 million is collected illegally in Karachi, usually in the form of extortion, and then distributed to the armed wings of political parties and militant groups. When asked why he made this information public, Akbar told me, "I had given the statement to the apex committee which then asked the government to take action. We waited for a few weeks and when no action was taken we decided to share the information with the people."
After a few months, the Rangers arrested Akram Baloch, a PPP man who used to handle security at Balochistan. Others had been arrested too but the key detention was that of Lyari gang leader Uzair Baloch, allegedly while he was travelling from Muscat to Dubai. In the video statement Baloch gave to the JIT, he said he controlled the fisheries department, from which he earned 10 crores a month, and out of which he gave a share to Bilawal House and other "officers."
It was this tip-off from Uzair Baloch which led investigators to look into the fisheries department and find out that terrorists were able to get official cards of the Fishermens Society, which gave them easy access to the seas and use it to smuggle arms and escape on fishermen's boats. It was also revealed that Iranian oil was smuggled into Pakistan when their boats came here for maintenance. The fisheries department chairman Nisar Morai was taken into custody and his testimony has led to many more arrests. He is said to have revealed that the money trail goes all the way up to the top leaders of the political government.
NAB and the Rangers are now looking for Manzoor Kaka, an engineer and student leader of the Sindh Peoples Student Federation, who is said to have become one of the richest bureaucrats around after working in the Karachi Building Control Authority and its successor, the SBCA. Tales of his riches abound, with rumours of properties all over the world and a private zoo at one of his houses.
But few can match Dr. Asim Hussain, a school friend of Asif Zardari's, who has been charged with corruption in a Rs. 460 billion case. When the Rangers decided to arrest Dr. Asim, the information was kept secret, even from the Sindh Apex Committee, after others who were about to be arrested were forewarned and able to escape. Knowing how angrily Zardari would react to this, the corps commander and GHQ were the only ones who were told.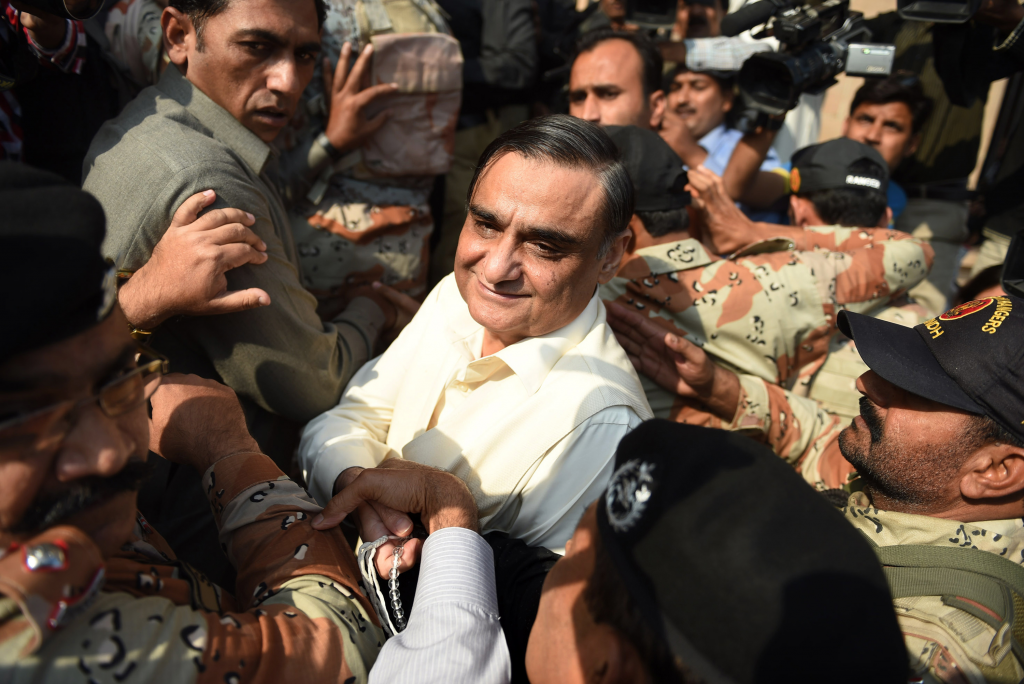 According to the JIT report on Dr. Asim, he is facing charges of terror financing, money laundering and corruption. NAB has recently filed a reference in which he is accused of misuse of authority as a federal minister between 2008 and 2012, particularly relating to interference in SSGC, SNGPL, KESC and PSO among others. He has also been accused of establishing 36 private companies abroad, out of which 11 are in the UAE, five in Kuwait and two in the UK.
Dr. Asim has denied all the allegations but when I met him in the hospital he also seemed unhappy at how he had been abandoned by his friends in the government. He said, "I became a victim of circumstance and was arrested for reasons other than those mentioned by the Rangers or NAB. Some in the government also had a role in my arrest. I was interrogated for 90 days and then also by NAB and accused of having ties with RAW, but I will fight to clear my name."
NAB is also holding an inquiry into corruption in the education department in everything from recruitment to the purchase of text books and leasing government school buildings. One such investigation is into the former education minister Pir Mazhar, who is accused of giving jobs to some 13,000 unqualified teachers, something he has denied.
The Sindh government is used to routinely denying allegations of corruption but it need look no further than the findings of its own fact-finding committee on Thar, where billions of rupees were allocated every year to deal with summer famines but barely spent where they needed to be. From sub-standard wheat to expired medicine, the aid only made things worse and the report blamed the Sindh government for corruption and incompetence.
Now, even international donors are shying away from funding projects in Sindh. The Asian Development Bank had allocated some 200 million dollars for the Sindh Road Improvement Project three years ago. That money is now about to lapse and the government is yet to appoint a project director. A staff member of the Canadian High Commission met with the chief minister in May and said the Canadian government is withdrawing the 20 million Canadian dollars that had been sanctioned for a teachers' training programme.
All of the corruption mentioned here is only the tip of the iceberg as almost every government department has been affected. This has a negative impact on not just our economy but our national security as well but no one seems willing or able to tackle this rotten culture.
Next