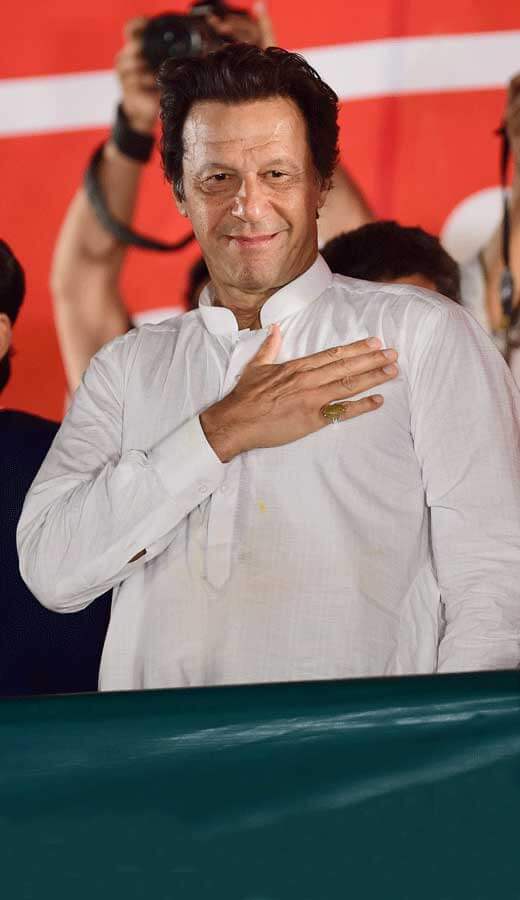 The Pakistan Tehreek-e-Insaf (PTI) is all set to govern the most populous province of the country. Having initially won 123 Punjab Assembly seats compared to the Pakistan Muslim League-Nawaz's (PML-N) 129, the PTI now claims it has the simple majority needed after independent candidates hopped onto its bandwagon. They include Ajmal Cheema, Umar Farooq, Abdul Hayee, Raja Sagheer, Syed Ahsan Shah and Salman Naeem. Party insiders confirmed that the final announcement of forming the government was all but a formality.
"Tonight, the PTI will achieve the 140-mark in Punjab Assembly," said PTI leader Fawad Chaudhry on July 30. "Talks are being held between members and parties to form the government." 
While the Pakistan Muslim League-Quaid (PML-Q) has been contacted by the PTI, and the Pakistan People's Party (PPP) by the PML-N, the 27 independent candidates — the third-highest tally in the provincial assembly — will be the decisive factor in the formation of the Punjab government. 
As far as the polling results themselves are concerned, a pattern of closely contested wins was witnessed, where Punjab was convincingly conquered by the PTI in its bid to form the central government. 
PTI Chairman, Imran Khan, who managed to secure all five seats — Islamabad, Lahore, Mianwali, Bannu and Karachi — faced the toughest contest in Lahore's NA-131 constituency. He defeated former minister for railways and PML-N leader, Saad Rafique, with a miniscule margin of about 600 votes. The minister has asked for a recount.
Even so, the PML-N maintained its control in Lahore, as PTI's senior candidates Aleem Khan and Dr Yasmin Rashid lost their seats by a slim margin. 
The PML-N's grip on the provincial capital was reaffirmed with wins for Muhammad Riaz Malik (NA-123), Hamza Shehbaz (NA-124), Waheed Alam Khan (NA-125), Ali Pervaiz (NA-127), Shaikh Rohale Asghar (NA-128) Ayaz Sadiq (NA-129), Shehbaz Sharif (NA-132), Pervaiz Malik (NA-133), Rana Mubashir Iqbal (NA-134) and Afzal Khokhar (NA-136). 
The PTI, however, won Lahore's NA-126, NA-130 and NA-135 through Hammad Azhar, Shafqat Mahmood, and Karamat Ali Khokhar, respectively.
Disgruntled PML-N leader, Zaeem Qadri, who had revolted against the senior leadership, including Hamza Shehbaz, lost in Lahore's NA-133.
The PML-N was the dominant party in Kasur, Okara, Nankana Sahib, Sheikhupura, Gujranwala and Sialkot, while Gujrat, Jhelum and Faisalabad swung in favour of the PTI. In a major upset, former state minister for water and power, Abid Sher Ali of the PML-N, was defeated in Faisalabad's NA-108 by Farrukh Habib of the PTI. Similarly, ex-premier Shahid Khaqan Abbasi lost both seats in the twin cities, leaving his political future uncertain.
The biggest collective setback for the PML-N was mainly from South Punjab, which had given a thumbs up to the PTI after its promise of the creation of a new province on administrative grounds. Rajanpur, Dera Ghazi Khan, Rahim Yar Khan, Multan and other areas, have welcomed the PTI with open arms. 
There were reports of the military establishment's coercion in these
areas in particular, with many of the PML-N's original candidates being forced to jump ship on the brink of the elections.
Jamshed Dasti failed to win any of the four seats that he was contesting in South Punjab, including NA-182, NA-184, NA-185 and NA-189. 
Meanwhile the South Punjab 'electables' — PML-N dissenters, who formed the Janoobi Punjab Suba Mahaz and later joined the PTI — won. They include Makhdoom Khusro Bakhtiar, Rana Qasim Noon, Tahir Iqbal Chaudhry, Sardar Zulfiqar Khan Khosa and Jafar Leghari. 
Political heavyweights like Firdous Ashiq Awan, Nazar Mohammad Gondal, Raza Hayyat Hiraj and Nadeem Afzal Chan also witnessed their own electoral demise.
Bahawalpur saw a neck-to-neck tussle between the PTI and the PML-N, with the latter securing it. Out of nine seats, PML-N leaders won six, and the PTI, three. 
Two of the PTI's leading candidates for the position of chief minister, Aleem Khan (PP-158) and Mian Mehmoodur Rasheed (PP-160), were triumphant in Lahore. The PML-N President Shehbaz Sharif also won both Lahore seats, PP-164 and PP-165. 
Former PML-N lawmakers, Khawaja Salman Rafiq (PP-157), Hamza Shehbaz (PP-146), Mujtaba Shuja (PP-147), Bilal Yaseen (PP-150), Rana Mashood Khan (PP-152), Rana Iqbal Khan (PP-181), Ijaz Ahmed (PP-283) and others, retained their position in the Punjab Assembly.
Meanwhile, the PTI has made a dent in PML-N strongholds in Punjab, by establishing itself in almost the entire region. 
PTI won several seats in Pakpattan, from where the PTI chief's new wife, Bushra Bibi, hails. Muhammad Shah Khagga (PP-193), Muhammad Naeem (PP-194) and Muhammad Farrukh Mumtaz Manika (PP-191) also won their seats in Pakpattan.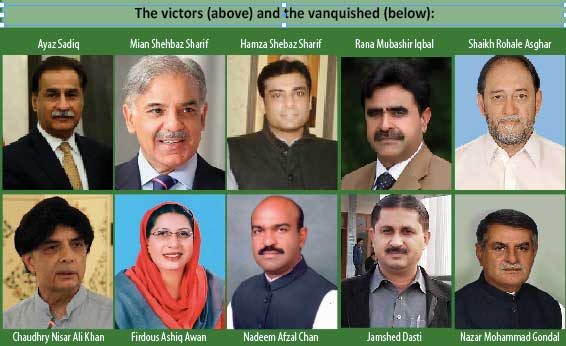 However, Sahiwal and Okara didn't disappoint the PML-N. Except for one seat, its trusted leaders won in their respective constituencies, including Khizer Hayat Shah Khagga (PP-196), Malik Nadeem Kamran (PP-197), Arshad Malik (PP-198), Naveed Aslam Lodhi (PP-199), Jawed Allao Deen Sajid (PP-183), Chaudhry Iftikhat Hussain Chichar (PP-185), and Noor Ul Ameen Watto (186). Senior journalist Jugnu Mohsin, aka Maimanat Mohsin, the wife of Pakistan Cricket Board (PCB) chairman Najam Sethi, was victorious in PP-184 of Okara. 
Despite failing miserably in the NA seats, estranged PML-N leader Chaudhry Nisar Ali Khan, also contesting as an Independent under the jeep symbol, managed to secure Rawalpindi's PP-10 — only one out of the four seats he contested for. Along with Nisar, Umer Farooq was another independent jeep rider to win a seat in Faisalabad's PP-106. 
Independents also dominated Jhang as Muhammad Taimoor Khan (PP-124), Faisal Hayat (PP-125), Muhammad Moavia (PP-126) and Mahr Muhammad Aslam (PP-127) won their seats. Two independent candidates, Syed Khawar Ali Shah and Hussain Jahanian Gardezi, won their Khanewal seats, PP-203 and PP-204, respectively. 
"If you notice, the PML-N has been completely wiped out in the Potohar Region," remarked senior journalist and analyst, Suhail Warraich. "The PTI's wave, which had taken over Khyber Pakhtunkhwa (KP), has now taken over northern Punjab as well. 
"One major factor behind the PML-N's defeat in the Potohar region was the defection of Chaudhry Nisar, who used to make all the party decisions in the area, including the choice of candidates for the elections," added Warraich.
With the Punjab government a virtual certainty, the PTI leadership is currently mulling over the cabinet formulation, with the key position of the Punjab chief minister being deliberated upon.
Multiple party insiders said that no one name has been finalised just yet, but there are a few frontrunners. Among them is Mian Mehmood-ur-Rasheed, the outgoing opposition leader of the Punjab Assembly. Other names being floated are Aleem Khan, Yasmin Rashid and Fawad Chaudhry. 
"All options are being considered," Rasheed said, maintaining that no single candidate's name has been put forward just yet. "Khan sahib hasn't announced anybody's name yet, but once we confirm the provincial government, then the party leadership will announce the [cabinet] positions, as well."
Next