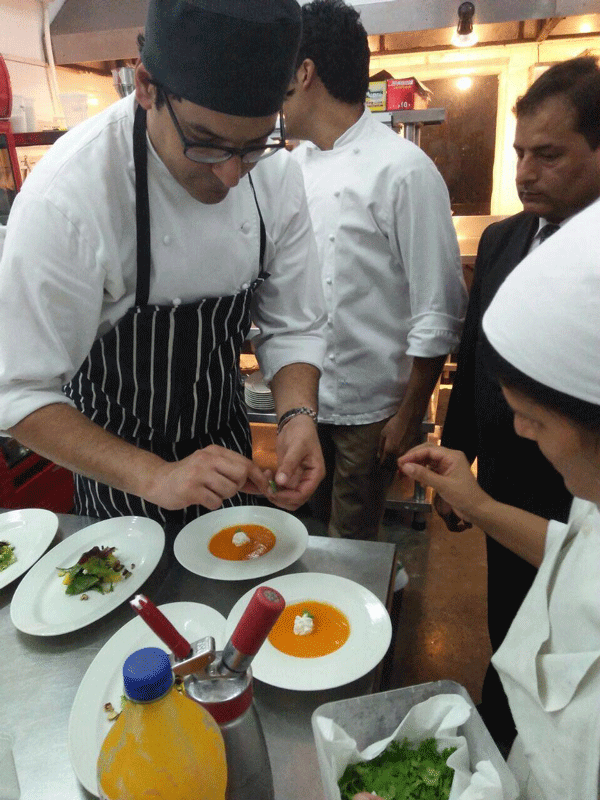 Amu is the perfect synergy between siblings Shahnawaz and Shahwali, between chef and architect. Entering the small foyer, your senses are immediately assailed by the aroma of apples lining an entire wall. You go up the terrazzo staircase and enter a space that epitomises old-world charm and gastronomy. The brothers have created a space where every detail, from table settings, bookshelves lined with books, waiting lounge and bathroom, to the ever-changing and seasonal menu, is impeccable and seamless. There is a language of food which is unique and multicultural, and Amu speaks it.
Shahnawaz grew up in Lahore, the heart of Punjab, and the seat of cuisine and culture. Every weekend he, his father and his brother, Shahwali, would go to their farm. There they hunted fowl for their supper, learnt how to butcher, skin and dress their birds and venison. They grew their own organic grains and vegetables, whilst their father cooked up a storm every evening. 
The majority of Amu's organic produce and grains are sourced from their farm, from a tract of land that has remained fertiliser and pesticide-free for over 20 years. What they are not able to grow they authenticate and source from the far reaches of Pakistan: grains and oils from Hunza and Chitral, seasonal vegetables from organic farms in Kharian and fish from Gwadar. They do not serve chicken as they are unable to aptly verify organic authenticity, but do on occasion, serve other kinds of wild fowl. The meat and offal is Angus from the US.
At the age of 17, in 2002, fresh out of high school, Shahnawaz left for France to pursue his passion for food.  His mother, very supportive of her children's dreams, helped him enrol in Ecole' Superior Ferrande in Paris. He was evasive about the nature of his studies abroad with his cousins and other family members, fearful of ridicule and taunts of "khansama!" But he remembered his father telling his sons since they were young boys to "learn a trade where you use your own hands so you never go hungry." The boys did just that: Shahnawaz became a chef, while Shahwali went on to become an architect.
It helped of course that Shahnawaz had excelled at culinary school and managed to get a scholarship hitherto only granted to French students, allowing him to continue at the school for another year and earn a diploma in 'Perfection in French Gastronomy.' Meanwhile, to earn money to live, he waited tables and did odd jobs. Upon graduating he got a job at the Plaza Athené, working at the Michelin rated three-star, world-famous restaurant, Alain Ducasse. Returning to Lahore in 2004, he interned at the Avari, working in the hotel's Fujiyama and Dynasty (Japanese and Chinese) restaurants. 
In 2005, Shahnawaz left for Dubai where he did a stint as 'chef de partie' [head chef, sous chef, line cook] at the Grand Hyatt. Meanwhile, his best friend, a banker in New York City, kept asking him to come to New York, a multicultural city where you can find the best samples of cuisines from all over the world. His father, having lost his eldest son in the Twin Towers in NYC on September 11, was completely averse to this move. It took all of both boys' powers of persuasion for Shahnawaz to be allowed to move to NYC and start working in the city's highly competitive market. He started working for David Bouley as server, line cook, butcher, you name it, for any amount of hours he was asked. In 2008, he made it to sous chef. I had the pleasure of having brunch at David Bouley's during his tenure there. A long, salubrious brunch ensued. For the next many hours my palate was wooed with the most delicious and delicate of flavours, both savoury and sweet. And all the while I rubbed shoulders with the who's who of New York City. All this compliments of Chef Shahnawaz. After almost four years he left Bouley to take a break from fine dining and worked at smaller restaurants and bars. A year-and-a half later he decided to get back into the fine dining game and joined Andrew Carmellini's 'The Dutch' as tournard and sous chef.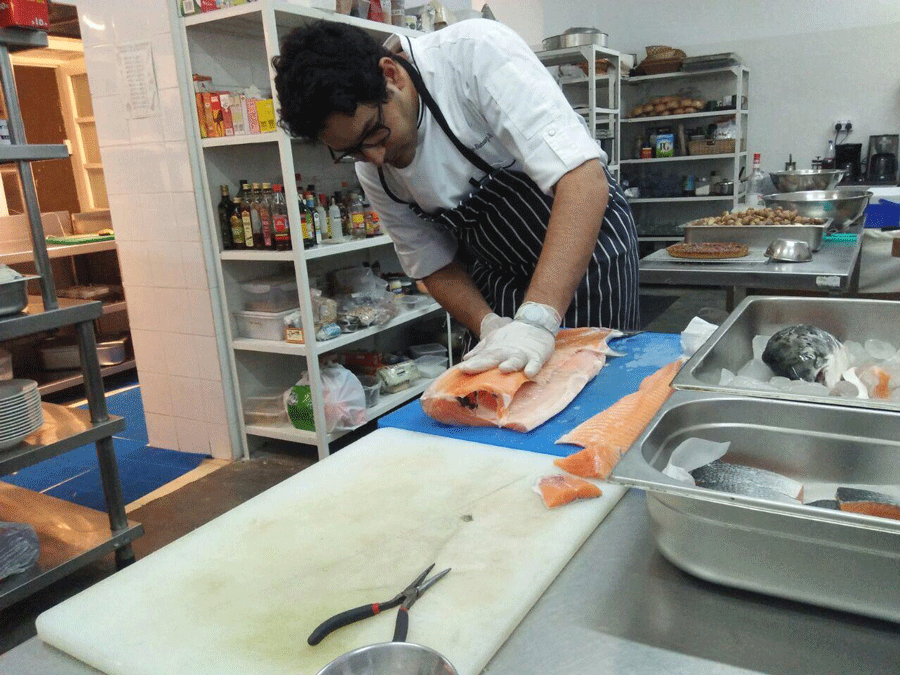 Two years later, in 2013, he decided to head back home. In Lahore, Shahnawaz continued his culinary journey, planning, organising and overseeing brunch at The Polo Lounge in the Polo Club at Race Course Park, Lahore. While he was there, brunch at the club was booked solid for months. He also began to work at the Scafa Culinary School as an instructor, where he still works every Tuesday through Thursday. On weekends his time is occupied by his own restaurant, Amu.
Shahnawaz had returned to Pakistan with his family embroiled in complicated estate issues and very little money to invest in a new venture. However, despite receiving many offers of investment, he did not want to compromise the integrity of his restaurant by having to commercially appease a partner if the issue came up. His perseverance paid off and Amu, a family enterprise with his mother, brother and wife all pitching in, opened to a packed house on Valentine's Day, 2016. That trend of full house continues, despite no advertising – just satisfied customers and word-of-mouth endorsements . 
Shahnawaz reigns supreme in the kitchen designed by Shahwali and cooks every single meal himself. At the front end, his brother personally answers calls for reservations at all hours of day or night. He personally knows every regular customer and sends out menus (which are continuously changing and evolving) to his customers each week.
When you walk up the stairs at Amu, you step into a reception area where you are greeted by Shahwali and shown to your table to the sound of music with a tone and timbre just right for a wonderful dining experience. The restaurant has a Mediterranean, tropical ambience, reminiscent of the Bergman-Bogart mood of Casablanca. And the tables with immaculately placed settings, cutlery, starched, white napkins and linen, tasteful floral arrangements and black suited waiters are a throwback to Downton Abbey.
Shahwali brings over the menus and discusses your options for the four-course meal over complimentary sparkling soda water, with a hint of fragrant hibiscus from flowers grown in their garden, and a subtle pomegranate/tamarind taste at the base. Shahwali recognises that the language of food is important. Hence a menu describing each item in words attuned to the Lahori vocabulary, yet cosmopolitan. As for the food — it is eclectic but also pure, both subtle and earthy in taste. 
I sit at my one-person table savouring my hibiscus drink as I wait for my first course. It begins with an earthy tomato soup with tiny, delicate croutons served with a pretzel bun boiled in baking soda, salty and with a hint of rosemary. It has a crusty outer layer and a soft inner that melts in your mouth. I become nostalgic for the freshly baked bread in the Murree Convent that Sister Marie Rose baked on a Sunday morning. That magical fragrance wafted up the stairs to our dormitory rooms, along with the sound of church bells announcing Sunday Mass, and crept into our sleepy consciousness.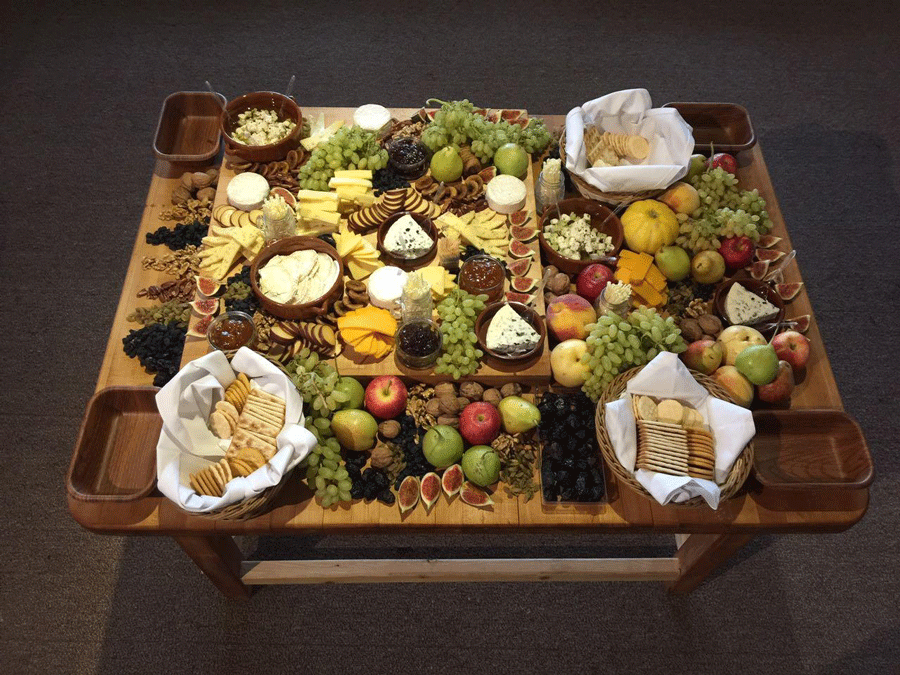 Next is a delicately balanced salad of greens with a hint of balsamic, tangy cherry tomatoes sprinkled with cheese and quinoa pearls. Honeydew melon and truffled balsamic follows with cantaloupe wrapped in braesola, with mint and crunchy almonds. By this time I have died and gone to gastronomic heaven. All the dishes are beautifully presented, and an olfactory treat. The idea when I sat to eat was that I would taste small amounts of all the options available in each course, but greed has gotten the better of me and I have consumed every last bite of all the portions. Resultantly, I am almost unable to breathe when the last appetiser arrives: calf's liver cooked to perfection.
I beckon Shahwali and explain my predicament: I am completely sated, so, I ask, could the main course be miniscule, please? I am told it can't happen as the dishes are very precisely measured and done. I opt for one main only, the cod with pea purée and swiss chard. The fish is very fresh and minimally cooked, as it should be, beautifully garnished and presented. Not only is Shahnawaz the rock star of food, he is an artiste par excellence and 'Amu' his atelier.
Dessert is carrot cake with caramelised banana and strawberries, and option two, apple pie with cinnamon seasoning. I eat both and am joined for a short moment, when I am trying to come out of my food-induced stupor with Colombian black coffee, by the man himself – Shahnawaz.
 My mother's birthday at a vineyard in South Africa comes to mind. We were at a Michelin star-rated restaurant, said to be third-best in the world. The Amu experience was even better than that. 
Perhaps fittingly then, a meal at Amu's can be expensive – up to Rs. 4,000 per head for a four-course dinner – but given what's being served up,  not prohibitively so.
Next