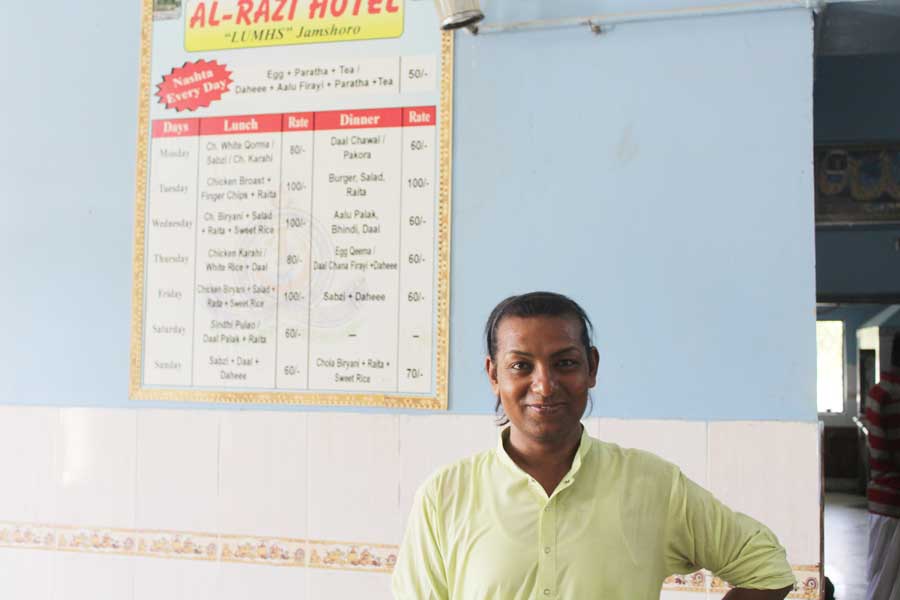 The aroma of biryani fills the dining hall, where the medical students are being served lunch. It is coming from a small room in the corner — the kitchen. Among the staff is a good-looking man dressed in yellow, his hair tied in a bun. He seems to be in the driver's seat, keeping an eye on his workers and greeting students with a hug and a beatific smile. He is none other than Ustad Shakeel, the mess owner.
"Let's go to my room," he says. The small, triangular room has a rilli (patchwork quilt) spread on the floor. Its window overlooks large trees that sway slowly with the wind. Students can be seen flocking to the dining hall in the dozens.
A wooden ledge in the room is cramped with beauty products — make-up, cream, a comb and hair-oil. In another corner hangs Shakeel's work attire, along with clothes he wears outside the hostel. A mirror hangs on the wall.
Shakeel connects his phone to a pair of speakers and starts to comb his long hair. The room resonates with Noor Jehan's melodious voice. "Hum pay ilzam tau waisay bhi hai, aisay bhi sahi." I enquire if he feels comfortable talking. "No — after the meal," he replies, and goes out.
It was nothing short of a miracle that Shakeel found work at the Al-Razi hostel, of the Liaquat Medical University and Health sciences (LMUHS), in Jamshoro — known as the city of stones. He lived with transgenders in Bhit Shah — where he was known as Tania — before moving here some 15 years ago. "We'd beg from dawn till dusk," he recalls. "Whatever we received, we handed over to the Guru who would give us a little in return." 
Shakeel had no choice but to stick it out; he had nowhere else to go. He isn't proud of the circumstances under which he left home. When he was a child, his father wanted to barter him for a buffalo, terming him worthless because of his gender. 
"It scared me very much," he says. "I told my mother about it and wept." She consoled him and promised to send him to a place where he could lead a happy life.  Subsequently, he moved to Hyderabad and started working as a cook in a bungalow.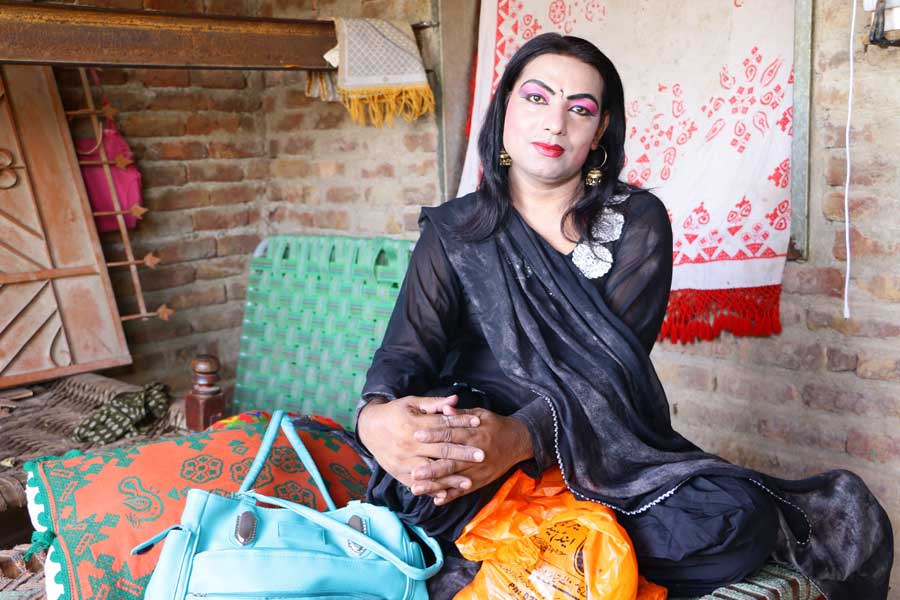 One day, his employer sent him on leave, promising that she would call him back. But she never did. After two weeks, he returned to find the house locked up. The woman had committed suicide after killing her daughter. "It left me shattered," he laments. "I was left with no choice, except to move in with transgenders." 
So he went to them. It was a life full of trials and tribulations, lacking the peace he was searching for. He often thought of running away, but had nowhere to go. "No one liked my presence at home, except the women," he says. "My brothers and uncles would leave if they saw me coming. Why go where one is not respected?"
One day, his prayers were answered. A LMUHS student, who belonged to his village, offered him a job as a cook, which he accepted without a second thought. He felt relieved that a new life was awaiting him and he could say goodbye to the transgender community, and his persona — Tania. This thought made him very happy. 
However, all did not go as planned. While his new life earned him respect and financial stability, it failed to help him break away from the transgenders and the persona of Tania. At the hostel, Shakeel felt isolated. He missed his community in Bhit Shah. At least it had given him a sense of belonging. "Students laughed when they first saw me," he says. "It upset me. But I was determined not to go back."
Initially, except for a handful of students, most flatly refused to eat the food he cooked, while others quietly fled to another mess. There were days when almost all his food went to waste because no one came to eat. But as time went by, the same people flocked back. Perhaps they had gotten over the initial shock of being fed by a transgender.
Currently, about 300 students eat at the mess which he now owns, where the other employees refer to him as Ustad. He is able to support his family — who got in touch soon after hearing about his new job — as well as villagers, transgenders, and students, who now borrow money from him.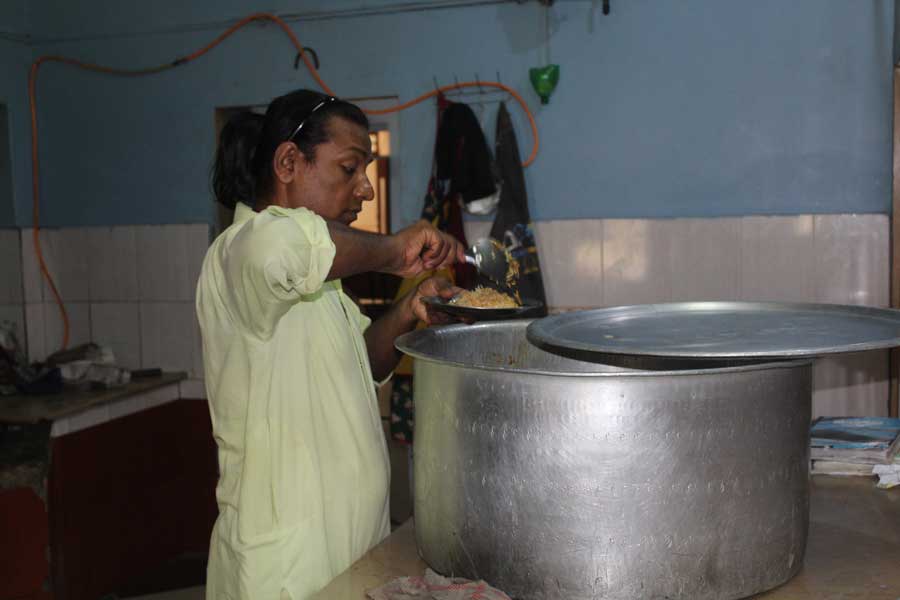 Shakeel does not charge the poorer students and provides food for hospitalised patients, who do not have any cash. "Ustad Shakeel is definitely a good cook, but more than that, he's a good human being," says Parshad Dewan, a final year MBBS student. "When we are running short of money, we turn to him."
Despite his generosity, he is still struggling to fit into the world he now lives in. "I think people care as long as they need you — family and relatives too," he says. 
He says he still gets the shivers when he thinks about the night his friend Mustafa was killed. "I saw two young men walking around suspiciously," he recalls of the night Mustafa was shot. Years later, when Shakeel was saying farewell to the Guru, the latter threatened him with the same fate as his friend. He later learnt that Mustafa had owed the Guru and another transgender some money. When he failed to repay, they hired a hitman to kill him. Yet there was no accountability. "Who cares about a case involving a transgender?" he asks. "Many have been killed and the culprits are yet to be arrested."
Shakeel shrinks as he sees a watchman approaching. "I have to be discreet because this is not a permanent job," he says. "I can lose it anytime and won't be able to find another. Not many people want to hire a transgender to cook their meal," he continues, with his characteristic clap. 
Fifteen years later, Shakeel has not been able to extricate himself from the transgender community or from Tania. The latter has followed him from Bhit Shah to Jamshoro. He has now accepted her as a part of him. He carries within him a world that is ruled equally by Shakeel and Tania. Their joys and sorrows, suffering and success are shared. "At the mess, I am Ustad Shakeel," he says. "But when I get tired of this atmosphere, I go to the transgenders as Tania."
Next