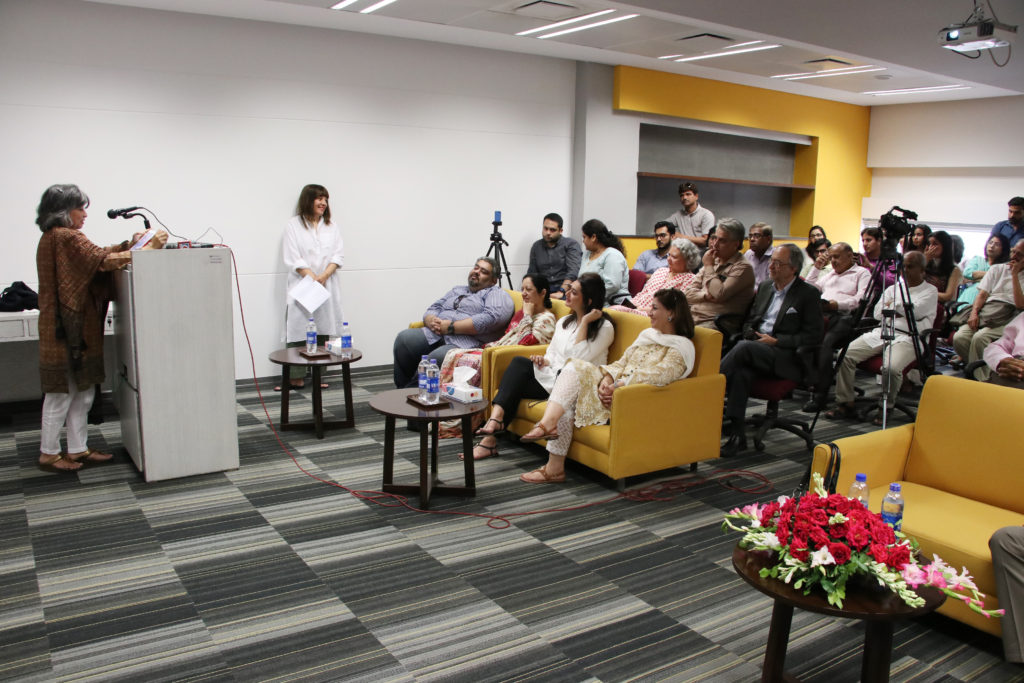 Twenty-two years ago, the Pakistani journalists community lost a fearless crusader for the freedom of the press — and of the people. Petite, dignified,  deceptively mild but with a will of iron, Razia Bhatti  held her own against dictators and demagogues – and death threats. It was not easy. It took its toll. She died of a brain haemorrhage on March 12, 1996, leaving a void in the lives of her family and her fraternity. Unfortunately, her husband, Gul Hameed Bhatti, a sports editor, died just a few years later.
On July 19, her daughter Sara unveiled a plaque to commemorate the inauguration of the Razia Bhatti seminar room at the Centre for Excellence in Journalism, Institute of Business Administration (CEJ-IBA) in Karachi. A Razia Bhatti gold medal for the best  investigative report was also announced for the graduating Master's of Science in Journalism class at IBA to be organised with the help of the family. Newsline also signed a MOU to provide internship to two CEJ students every year. 
At a small, but packed, event, speakers talked of Razia the perfectionist, of her strong convictions and her commitment to doing the best. Umber Khairi, a member of the Razia Bhatti Memorial Initiative and one of the co-founders of Newsline, said that "To have an idea of how impressive her work was, you need to understand what Herald magazine was like through the 1980s — it was stylish, but also was hard-hitting. Through the martial law and post-martial law years it navigated the censorship and the repression bravely and wisely. For Razia, mediocrity or sloppiness was not an option…she is a reminder of how important an editor's role is… a team without an inspired, thoughtful editor is basically like a rudderless ship."   
Razia started her journalistic career in 1967 with the Illustrated Weekly of Pakistan, that was later renamed and redesigned as the Herald, a monthly. In 1976, she was appointed its editor — a post she retained until 1988, when she, along with her staff, resigned following differences of opinion with the management. 
In July 1989 the team, with some supporters, founded and started Newsline, a monthly newsmagazine, which Razia edited till her death. No story was too dangerous or too sensitive if Razia felt it needed to be told. Newsline's political and social exposés quickly won the magazine a loyal readership.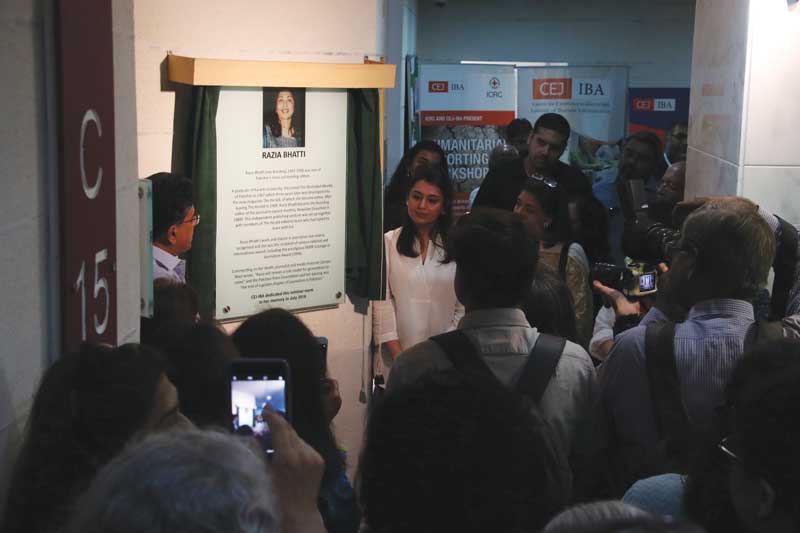 Razia's courage in the face of many odds was recognised internationally when she received the Courage in Journalism Award from the International Women's Media Foundation (IWMF) in Washington in 1994. She received several local awards as well (some posthumously), one of the most important being the Nisar Osmani Award from the Human Rights Commission of Pakistan.
Unfortunately for Pakistan, the dignified warrior died at just age 53, leaving behind her family, friends and colleagues to mourn her. On July 19, 22 years later, they came together again to celebrate and honour her memory and her accomplishments: her children Kamil and Sara with their spouses, her much loved sister and brother-in-law, her eldest brother with his daughters, a Newsline co-founder and now editor, Rehana Hakim, and other Newsline colleagues and the wider journalists fraternity. Zaffar Abbas, editor Dawn, spoke of how in the darkest days of censorship when he started working in Star, Herald's sister publication, Razia's advice and guidance proved invaluable. Dr Huma Baqai, Associate Dean IBA, praised Razia for the work she did at a time when the media was going through an era of oppression. "I'm happy that IBA has dedicated this room to Razia. She fought back in a country that is not nice to women or journalists," she said.
Kamal Siddiqui, director of the CEJ, while commenting on the rise of the electronic and social media, said it cannot replace the print media and while recalling how brave Razia was, said, "her words will never become irrelevant despite social media." 
In the editor's note in the first issue of Newsline in July 1989, Razia ended by saying: "We promise no miracles but if somewhere along the road to this nation's destiny, the truth presented in these pages makes a difference, Newsline will not have been in vain."
Twenty-nine years later, part of the core Newsline team she started out with are carrying on with her legacy to fulfil Razia's  dream: to strive to make a difference.
As CEJ trains future journalists, it would be worthwhile if there was a session or two dedicated to familiarising the new generation of mediapersons with past icons in the field, whose footprints and struggle to carve out a path, has made their path easier.
Next