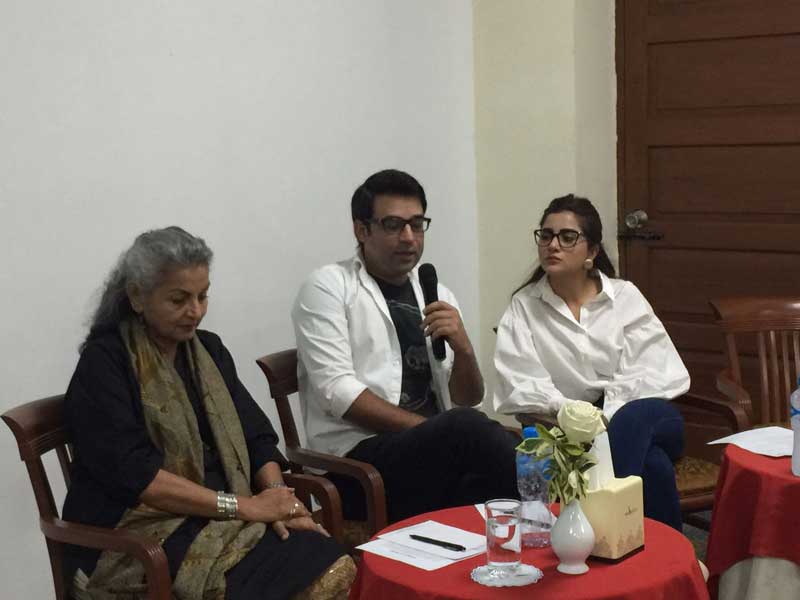 The team of the Motorcycle Girl – Adnan Sarwar, the writer and director of the film, Sohai Ali Abro, the lead actor, and Shamim Hilaly, veteran actor, were invited by Uks Research Centre, the advocacy and rights-based group, for a panel discussion in  their 'Dialogue for Change' series at the Beach Luxury Hotel on July 23.  
The panel discussion was moderated by Uks director and founder, Tasneem Ahmar, who introduced the panellists, and discussed how movies — alongside almost any project in the entertainment industry — often reinforce linear, one-dimensional images of females as damsels in distress, or villainous spinsters, specifically in Pakistan. 
The event marked the second time Uks had invited renowned figures from the cinema industry in Pakistan to speak in the series, to engage with audiences of the movie, and to identify biases in the content, context and nature of serials and movies telecast by channels.
Adnan Sarwar spoke on how the team approached the production of the Motorcycle Girl, and why it was critical to make a female the hero of the movie — a first in Pakistani cinema. The discussion explored how films and art are meant to introduce new ways of thinking and make people rethink their views on identity, ambition and beliefs, which is why representation is vital in helping influence mindsets. "Change has to start not from television, nor cinema," said Sarwar. "It has to start well before that. Though the burden is laid on the entertainment industry, it should be tackled first by oneself."
Sohai Ali Abro, the charismatic lead, shared anecdotes of the time spent during production, when little girls who had seen her sparring with her co-star during shooting, were swift to mimic her once the scene was over.  Shamim Hilaly spoke of the uphill battle to make the movie a reality, and how with the support of many other women in the cinema industry, the Motorcycle Girl came to fruition and achieved the success it did. "This unwavering perception of women as secondary characters, even in their own stories, starts from the textbooks, where mothers are forever telling their daughters to clean up, and calling their sons to dinner," said the veteran actor. "Our textbooks do not show women developing their own personality, but only how they exist around men."
The panel discussion wrapped up with a question-and-answer session, where the audience shared their own interactions with different women on motorcycles in Pakistan. People took turns to tell the panellists of the connection they felt watching the movie, and seeing a woman be a strong, independent hero — a role many saw the women in their own lives play.
Next