Saving Pakistan's Animals After the Floods
The rain may have stopped, but the pain and devastation continues. And they are likely to continue for a long time. This article is one of seven in Newsline's special coverage of the ongoing humanitarian crisis and how it is affecting the lives of Pakistan's most vulnerable citizens, the country's food supply, the fragile economy and the neglected environment, as well as what Pakistan's politicians and bureaucrats are doing about it all. More articles will be published over the coming days.
Just how important livestock is to the rural population can be gauged by the fact that many of the interior's flood affectees spent their entire lives' earnings on transporting them to safe ground along with their families when the waters surged. "They paid truck drivers up to Rs 40,000 — 70,000 to move them and their cattle to secure places," says Mahera Omar, co-founder PAWS (Pakistan Animal Welfare Society). "And those who couldn't afford the exorbitant fares sent the women and children ahead on vehicles while they [the men] followed on foot with the animals. This extremely strenuous process of migration took its toll on the animals, and most of the younger ones died on the way."
Others have fallen victim to disease. "These animals are not used to standing in the heat, and they are getting sick because of malnutrition, no access to water and the stress of travel," says Omar. To provide some respite to the animals — and by extension their concerned owners — PAWS organised a relief mission to Thatta and Makli. Collaborating with the WWF (World Wildlife Foundation) and the EDO Agriculture and Livestock, Thatta, co-founders Maheen Zia and Mahera Omar, along with a team of veterinarians from Karachi Animal Hospital, veterinary students from Baqai and volunteers, embarked on their first mission. Taking with them basic first-aid supplies and medicines, PAWS treated 20 injured animals to the delight of their owners, who had all but lost hope of their survival.
Citizens and private groups are providing this different type of relief effort, but it is one that has critical long-term benefits.
The first trip by PAWS was followed by a second one soon after. This time, PAWS was joined by the Brooke Hospital for animals and the Pakistan Hindu Council's veterinarians. "After our first trip we learnt that the animals needed things like vitamin C drips, so we took them with us the second time around," says Omar. That was just part of the requirements. PAWS also identified the need, on an emergency basis, for fodder, shelter and veterinary treatment (vaccinations) for the animals. After the rains came again, Omar contends, some greenery began to sprout around the area, and those residing in the Makli graveyard took their animals to graze at these spots. However, they were driven back to their temporary abodes if they were found too near the fields owned by landlords, who did not want the cattle crossing over and grazing on their crops.
Given the paucity of fodder, PAWS estimates that seven trucks of fodder are required to be sent daily to feed the animals in the two districts of Thatta and Makli alone. The cost is estimated at Rs 80,000 ($934) per truck. Equally necessary are vaccinations. Omar warns of a possible outbreak of foot-and-mouth disease among the animals. PAWS and its team members vaccinated the animals they treated, and the livestock department is also doing the same. However, with the vast numbers, and with the people and their livestock on the move, it becomes difficult to keep track of animals that have already been vaccinated. Administering vaccines to animals that have already received the vaccine can cause more harm. PAWS has, for its own records, taken down the numbers of the owners to keep track of the animals it has vaccinated and to follow up on cases that require long-term treatment. Given track records, it would be a pleasant surprise if the livestock department followed suit.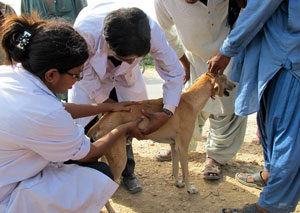 Another organisation providing relief to animals is Brooke Hospital, an international organisation dedicated to the welfare of horses, donkeys and mules — animals used for labour. Brooke has been operating in Pakistan since 1991, and has now launched an urgent appeal to the international community for aid for the animals affected by the floods. In Pakistan, it is assisted in its flood drive by Khyber Pakhtunkhwa government operatives and its partners, and by the Sarhad Support Programme in Sindh. The services provided by Brooke range from administering vaccinations and treatment to animals to providing them fodder and clean water. Brooke is also prepping the owners on first-aid treatment for their animals.
Lalzada, a horse-carriage driver from Budhni, was helped by Brooke to treat his horse Sohni, who was suffering from dermatitis and depression. Lalzada relies on his horse to provide an income for his family of 10 and is hopeful that with her improving health, she will soon be able to get back on her feet and earn her master a living.
In his message on the Brooke Hospital website, Brooke Pakistan CEO Mohammed Farooq Malik stated: "It's expected that food will not be easily accessible for at least the next six months, which could result in widespread starvation. With every day that goes by, more horses and donkeys will be at risk from dehydration, starvation, respiratory problems and water-borne diseases." In this situation, groups like PAWS and Brooke Hospital become even more relevant because the survival and well-being of Sindh's livestock is inextricably linked to the well-being of her people.
This was originally published under the title of "Man's Beast Friend" in the October issue of Newsline.
Farieha Aziz is a Karachi-based journalist and teacher. She joined Newsline in 2007, rising to assistant editor. Farieha was awarded the APNS award for Best Investigative Report (Business/Economic) for the year 2007-2008. She is a co-founder and Director at Bolo Bhi, an advocacy forum of Digital Rights.
Next