On September 23, a US Federal Court presided over by Judge Richard Berman sentenced Dr Aafia SIddiqui to 86 years in prison. This sentence was an enhancement of a February 2010 verdict, in which she was found guilty on seven counts of attempted murder and armed assault against US officials.
The enhancements, which applied to the latest sentence, are as follows: hate crime enhancement, official victim enhancement, criminal history enhancement, obstruction of justice enhancement, premeditation and lastly, terrorism enhancement.
Said Barrister Rana Sajjad, in his op-ed piece for theExpress Tribune: "The judge applied all the enhancements that he possibly could." Sajjad maintained that according to the judge, Dr Aafia's offences were hate crimes, motivated by her antipathy for America; she attacked US officials, thus the official victim enhancement, and she "lied" on the witness stand, hence obstruction of justice enhancement. "As much as these enhancements seem extraordinary," continued Sajjad, "they pale in comparison to the aptly described 'ceiling shattering' terrorism enhancement … it appears that while applying this enhancement, due process of law was not followed. This is because earlier the judge had refused to admit the evidence presented by the prosecution to prove Dr Aafia's intent to carry out terrorist attacks in the US. How ironic and contradictory is it then that the same judge enhanced Dr Aafia's sentence on the basis of a charge for which evidence was not even admitted?"
Following the verdict, calls for a mistrial have reverberated across Pakistan on the grounds that not only is the sentence disproportionate to the crime, but also because there have been several procedural discrepancies. It is widely believed that the evidence was not substantial enough to carry such a conviction.
More than anything else, Dr Aafia's trial has been a media trial. Since her disappearance in 2003 to her reappearance in 2008, her subsequent arrest, trial and conviction, little has been established as fact. But the stories emanating in the press, though speculative, have come to be accepted as fact in the public realm.
Depending on which side of the divide the reading public comes from, in one part of the world Dr Aafia is the "daughter of Islam" and "daughter of Pakistan," and in another, she is "Lady Al-Qaeda" and "terror mom." While Pakistan has been castigated in the western media for its "unquestioning" acceptance of Dr Aafia's family's version of the story — that she has no ties to Al-Qaeda, was picked up by Pakistani intelligence agencies, handed over to the Americans, detained at Bagram and subjected to torture and rape — outside of Pakistan there is an almost unanimous and unquestioning belief that Dr Aafia does indeed have links with Al-Qaeda.
In a jury trial, conjecture, surmise and perception play a significant role, says Omair Mohsin, an Islamabad-based legal expert who has a doctorate in law. It is widely believed that Dr Aafia's in-court behaviour, speech against Jews, Zionists, and the judge and jury, and her remark, "Death to Americans" while allegedly shooting at the US officials (with only US soldiers' accounts as proof), worked against Dr Aafia. With the media at a frenzy with the story, the judge and jury could not have been entirely oblivious to popular opinion — all of which proved to be her undoing.
According to Mohsin, the defense lawyers can get a significant part of the jury removed if there is any indication they are biased. Then why did the Pakistan government-appointed defense team not initiate any such action, especially when their client also expressed these concerns?
Dr Aafia was "dragged through an illegal trial, the process of which was flawed from beginning to end," according to Yvonne Ridley, the British journalist/filmmaker who was captured by the Taliban, voluntarily converted to Islam and was subsequently released, her story catapulting her to fame in 2004. She dubbed Dr Aafia the "Grey Lady of Bagram." Ridley has also accused the US of "throwing the Geneva conventions out the window" in Dr Aafia's case.
Ridley maintains there are FBI log sheets that prove Dr Aafia was not "offered" consular access, neither was she informed of her rights to these services. "The US stands guilty of violating the Vienna Convention on Consular Relations by failing to afford a Pakistani citizen — in this case Aafia — the right to consular access," she states.
However, what constitutes consular access or services? The Pakistan government did hire a team of lawyers to represent Dr Aafia, and paid a sum of two million rupees as fee. Dr Aafia however, was not happy with the lawyers. She stated several times during the February 2010 court proceedings, that they were not her lawyers.
According to Babar Sattar, an Islamabad-based lawyer, there are grounds for an appeal here: unfair trial, biased jury and error in sentencing. But, Sattar maintains, the errors need to be firmly established. According to him, a Pakistani citizen can indeed be tried by another country's court, but under certain circumstances, and depending on the jurisdiction of the court. What needs to be identified in this case, he maintains, are the following: Does this case fall under the jurisdiction of a US Federal Court? Was due process followed in the application of law? And is there a sentencing error?
Sattar feels it would be better to go into appeal before seeking repatriation, as repatriation entails serving the jail term in one's own country. If the sentence is indeed unjust, then an appeal is the way to go, as it deals with errors in sentencing, jurisdiction and the application of law, which could lead to a different sentence. However, Sattar concedes that the success rate of appeals in the US ranges from five to seven per cent — not a cause for great optimism.
Dr Aafia's sister, Dr Fowzia Siddiqui, wishes to appoint her own lawyers for the appeal, as she too is not satisfied with the government's appointees. And, according to her, this is not the first time she has been let down by the present government. Dr Fowzia reveals how Pakistan's Ambassador to the US, Hussain Haqqani, used to call her mother every day to reassure her that Dr Aafia would be home soon. However, according to Dr Fowzia, "no formal request was lodged with the US [for Aafia's repatriation] before September 21." Repatriation, says Sattar, is a three-step process. There has to be a request from the state (in this case Pakistan). The request has to be approved by the sending state (the US), and the offender also has to approve it (i.e. Dr Aafia has to give her consent).
As matters stand, the US is not willing to consider the request unless the Pakistan government signs two international treaties on prisoner exchange: the Council of Europe Treaty and the OAS (Organisation of American States) Treaty. Dr Fowzia has reservations about this and has asked the government not to do anything in haste. "I don't want the Pakistan government to sign something that entails long-term consequences for the country and its people. If the treaties facilitate the US picking up prisoners from Pakistan based on suspicion, then I don't want them to sign it. That would be equivalent to releasing Aafia from a smaller prison and putting her in a bigger one. Somebody like Justice Saeed-uz-Zaman should review the treaties, they should be deliberated upon, and then a decision should be reached. Besides, how do we know that if Pakistan were to sign the treaties, that Aafia would be returned to us?" she asks.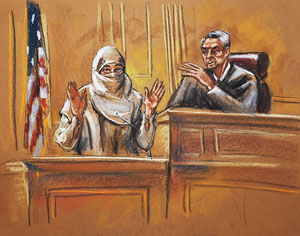 Is Pakistan's request to repatriate Dr Aafia as a "goodwill" gesture as reports suggest the government has done, naiveté on its part, arising from ignorance of the legal framework? Is it incumbent by law for Pakistan to be a signatory to these treaties to facilitate a prisoner exchange process? Or is this another strong-arm tactic by the US to intimidate Pakistan and other would-be terrorists?
"The government should have commissioned a fact-finding mission to determine the innocence or guilt of Dr Aafia before taking a position. How could the PPP government adopt a policy position on the matter without looking into the facts of the case?" asks Sattar. "The parliament did not set up any such committee."
Public pressure clearly prompted the government's rather delayed reaction when parties such as the MQM, that had hitherto remained silent about the issue, suddenly joined forces with Dr Aafia's family, echoing a clamour of protest by the PML-N, the PTI and religious parties and lobbies. In the face of these protests, the government suddenly found itself on the backfoot. However, as Sattar says, the need for a mechanism is imperative for the long-term, to deal with similar cases if they arise in future. He certainly has a point. It is unarguable that public opinion at home alone will have no bearing on Dr Aafia's case. The outcome will ultimately be decided in a US court.
Farieha Aziz is a Karachi-based journalist and teacher. She joined Newsline in 2007, rising to assistant editor. Farieha was awarded the APNS award for Best Investigative Report (Business/Economic) for the year 2007-2008. She is a co-founder and Director at Bolo Bhi, an advocacy forum of Digital Rights.
Next