"We didn't really ask for fame,
it came by itself and said, 'Hello!'"
– Cheapmunks
Cousins Mehak Taherani and Suhana Baloch shot to fame when they posted a duet on Facebook in September 2010. Their unique sound immediately caught the attention of thousands of unsuspecting Pakistanis. By harmoniously syncing their voices to render a fusion of eastern and western melodies, these 20-year-olds have found a niche that caters to the taste of the country's modern youth. They seem to have music running in their blood and also seem destined to scale new heights in music. Their studies, though, will take first priority.
Mehak is currently in her first year at University College London, while Suhana is taking a year off after 'A' Levels. It's only been a few weeks since the girls posted the video, but they have already performed at two fund-raising concerts, recorded songs with the City FM show "In the Loop," and gathered a fan base of nearly 3,500 people, a number which is growing by the day. Down-to-earth and charismatic, these young musicians are all set to be Pakistan's next "it" girls!
When and how did you decide to produce the original video that made you famous?
Mehak: It was nearly a month ago that we had a sleepover and we were really bored so we started singing 'Oh My Gosh.' I think Suhana said, "Why don't you play your guitar as well," so I picked up the guitar and we recorded the video on my laptop.
What led you to post that video on Facebook?
M: It was more an attention-seeking act than anything else! After making about 30 videos that night, we decided we finally had a good one. It was really hard for me on the guitar because I hadn't really practiced that song before.
Suhana: We didn't intend for everyone to see the video — it was just for our close friends so we put privacy settings on it. But a lot of people started asking us to take off the settings so that they could share the video with their own friends. That's really how the video spread.
You are first cousins, so has singing always been a part of your relationship?
M: Not really in the beginning, but more after we grew up. Even in school, we had concerts but we never performed together. Wait, there was one song where I played the guitar for Suhana.
S: Oh, yeah back in Bayview, 10th grade. It was 'Yaaron Dosti' by KK. It was my first performance ever and I was terrible because I was so nervous. Mehak played the guitar really well, but I was horrible.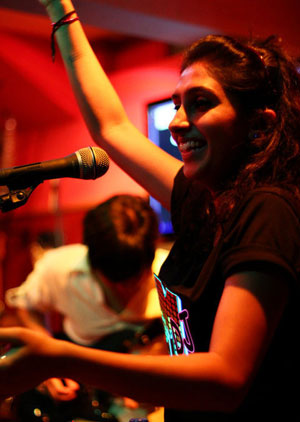 Do you play the guitar professionally?
M: Not professionally, it's more of a passion than anything else. My dad gifted me a guitar when I was 12 and he taught me how to play three old songs: 'Hotel California,' 'Nights in White Satin' and 'Dead Flowers.' I wasn't very into it at the time so I didn't take it up as a serious hobby. Guitar isn't easy, but since my dad always had a guitar on him, he gave me pointers. The Internet makes everything so easy now — you just look up the chords and there you are, you can play whichever song you want.
Did you ever aspire to become professional singers? What kind of a career did you hope to pursue before this, and what now?
S: It was always a dream of mine to become a singer — to perform on stage in front of people. But I never really thought I'd pursue it as a career. I always wanted to become an artist. I took art in both 'O' and 'A' Levels and will hopefully pursue it later on at Indus Valley too. But I really wouldn't mind a career in singing now that all of this has happened.
M: I never thought I was good enough as a musician or singer to do it professionally, but it all seems more possible now. The degree I'm doing is economics and statistics, which I really like. I would love to continue doing music, though, because it's something that I really enjoy. But I will definitely finish my degree; we're still pretty young so it could take a while for us to make it big.
You must be pretty overwhelmed by all the attention you're suddenly getting. Tell us what it's been like.
S: So far it's been crazy, completely unexpected, completely unplanned and it's scary. It's totally unnatural!
M: It usually takes people at least a year to make it this far and they keep trying for fame. With us, we didn't really ask for it, it came by itself and said, "Hello!" I remember when Adnan Malik of City FM inboxed us on Facebook, we were so excited. After that it was just more emails and messages, so it's been really good.
Till now, you've done two concerts at Base Rock Cafe (BRC) as fundraisers. What were those like?
S: The first one mostly consisted of our family and friends and people that we knew. In the second one, we hardly knew anyone there — it was just our fans.
M: We were sold out on both days. We had initially only planned on doing one gig, for which we sold out within two days. Once those tickets were sold out, people were still calling in for tickets so we decided before the first gig even happened that we would do a second one.
Have you already had people approaching you for record deals?
M: One person I'm not supposed to name, and the other one I'm not so familiar with, but he approached us through the BRC owner, Faisal Malik. And then there are a lot of random people who want to collaborate with us. We don't have any serious plans just yet since we're both studying, so we've told them all to wait another two years.
Do you write your own songs?
M: I do write songs, so we plan on doing some original numbers in the future. Until we don't sing our own songs, people won't know what our "sound" is.
Where do you see yourselves five years from now?
S: Not married, that's for sure! Music will probably not be our top priority, but maybe one of our priorities.
M: We'd love to do a big project once in a while, but I don't think that music or acting or drama is something you can rely on for all of your life. That's why I guess both of us want to finish our studies as well so we have something solid to fall back on.
What kind of feedback are you getting from your audiences?
M: We have been accused of being too western and pretentious and overrated by people who don't even know us!
S: I think people are expecting too much out of us, too soon. It's only been about a month and people are already comparing us to well-known singers. We're new to this so it's not like we won't try to reach their expectations eventually, but it's too soon right now. We need a lot of training.
M: A lot of people look up to us too, saying, "Wow you guys are the next big thing!" — so we have those as well.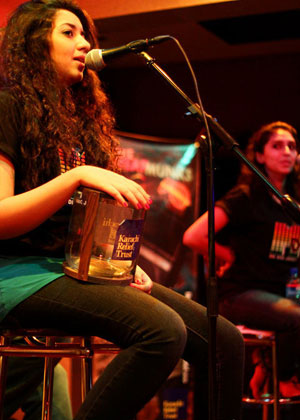 If you could meet one famous Pakistani, who would it be and what would you tell them?
M: I'd meet Ali Azmat and I'd tell him I don't think he's a dwarf! I just said that on the City FM show as a joke, and I'm sorry, I actually love you!
S: I'd love to meet Osama Bin Laden! Even though he's not Pakistani, but he's somewhere here apparently. I'd probably ask him what his real deal is and then I'd start jamming with him!
Do you plan to use your voices and fame to change the current state of affairs in Pakistan?
M: Well, there have been people from NGOs who've asked us to sing their songs for them. Aside from that, I'm actually working on a song right now to portray the situation we are in right now — what we've become in the eyes of the entire world and what we actually are, at least some of us. The song talks about how the freedom we attained in 1947 doesn't really make us feel like we're free anymore. We don't have the freedom to step out of our houses and I think a lot of people have gone abroad to seek that kind of security.
S: We hope to do more charity gigs. And, hopefully, when we come to that stage, we want to tour the world to show that we are also Pakistani women, and we don't all wear burqas.
Who came up with the name Cheapmunks?
M: I did! It's inspired from Alvin and the Chipmunks since they sing too. We're not exactly chipmunks, but we're cheap — so Cheapmunks!
S: But we weren't planning on naming our band "Cheapmunks." It was the title of our first video and since that's what everyone saw, the name just stuck to us.
So what happens when you go back to university. Does everything go on hold?
S: We plan to keep our fan page alive by posting new videos every now and then. Mehak will be back in December hopefully, so we're planning another gig at that time at a slightly bigger venue.
M: And this time for money! We did not get a single penny from our charity gigs! In fact, we actually spent money. But we managed to raise one lakh rupees between both gigs, which went to the Karachi Relief Trust. We've attended a couple of their meetings and they're really good with their flood relief efforts. They've already moved into the second phase, which is the rehabilitation of victims, so they're doing some good work.
Watch the Cheapmunks perform in the studio at CityFM 89 here.
Next