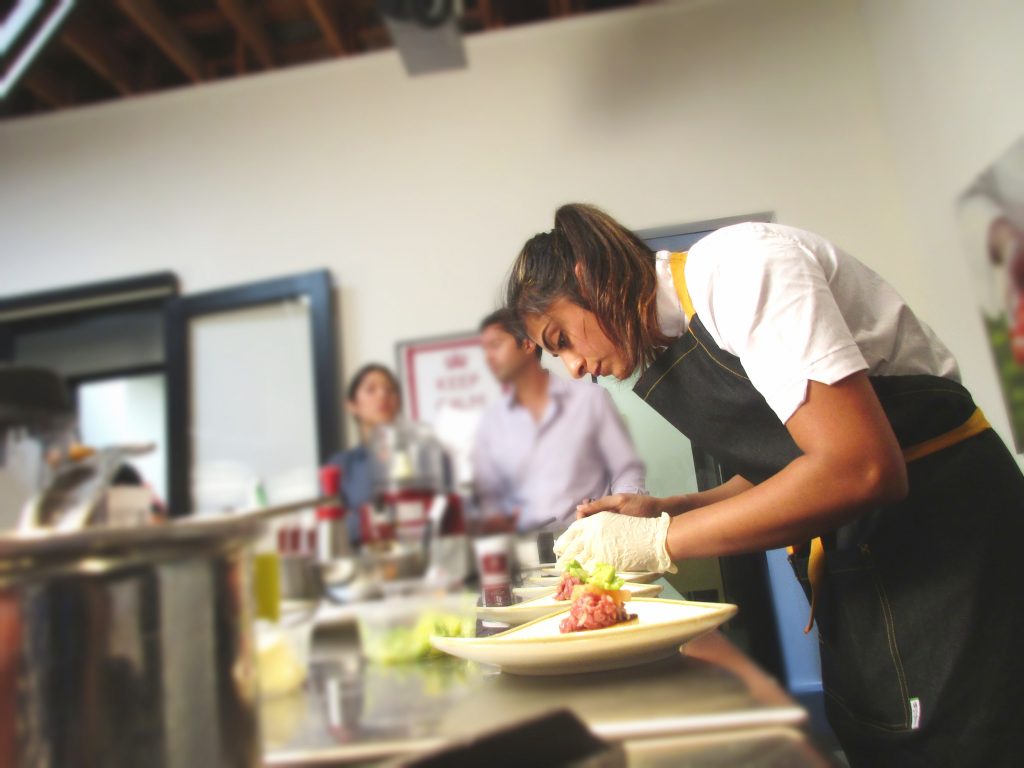 Considering the status accorded to the khansama (cook) in the homes of those affluent enough to have one, who would have imagined a bright young Karachi Grammar School alum would actually decide to become one — albeit in altogether another league. Well, Fatima Ali, the daughter of a lawyer and an educationist, did just that. And then proceeded to win culinary contests and land herself plum jobs in the toniest of restaurants in the USA. And all this by the age of 27. Initially, of course, there was some resistance from her parents about her choice of career, but her determination won them over. That battle won, she researched various options for her training as a chef, and made her way to the Culinary Institute of America, NY.
Immediately after graduating, Ali began working with Food Network chef, Maneet Chauhan, in New York City. She continued her culinary career with stints as an 'executive sous chef' in Vermillion, NY, Café Centro, the La Fonda Del Sol and Stella 34, among other upmarket Manhattan restaurants. And alongside, Ali hosted the NYC Wine and Food Festival for three years in a row.
Fatima Ali came to the attention of the world when she won the coveted award on the Los Angeles-based cooking show Chopped, in 2011 and the $10,000 prize money.
It was not Ali's first foray into competitive cooking: she had participated in earlier Chopped and other food competitions and had obviously been noticed enough to be invited to co-star in 2013's The Pakistani Four: an award-winning documentary following the story of four exceptional Pakistani women in America, 2013. Her success at Chopped brought Ali even more into the media limelight. And after the Voice of America ran her story, it gave her additional prominence. She compounded her celebrity status by winning the 'Centre Stage' cooking competition in November 2016 and with that victory came a one-year-long apprenticeship in a Michelin star-rated restaurant of her choice.
The secret of Ali's success? Probably the new-age fusion food she creates. She combines the western fare she has learnt professionally, with her home-grown knowledge of Pakistani cooking, to create dishes which are one of a kind — and obviously succulent.
While securely based in the US, Ali has not given up on Pakistan altogether. A highlight of her career was the 'pop-up dinner series' she orchestrated in Lahore last year at Cosa Nostra, using local ingredients from farms around Punjab to create on the spot dishes. She says she found it inspiring to work with local produce and turn those homegrown ingredients into sophisticated food.
Last year, she ran a food truck in New York called 'VanPakistan.' And this past year, Fatima set up a stall at Brooklyn's oldest outdoor food festival called 'Smorgasburg' — a seasonal market that features about 40-60 different vendors selected from the hundreds of applicants that apply. She set up 'VanPakistan' there with the aim of introducing the American public to Pakistani street food. Some of the dishes she featured were lamb bun kebabs with pickled cabbage, cheeseburger chaats, rasmalai sundaes and buttermilk fried chicken biryani.
Because outdoor food vending is seasonal fare in New York, she wrapped it up in November, and will reopen it next year. In the meantime Fatima is looking forward to exploring opportunities at various Michelin star restaurants around Europe and the West Coast.
When asked about her best moments as a chef, she said, "I live for watching a customer's face light up with excitement and joy while eating something I have prepared. There is nothing quite like that feeling."
Or, given her active participation, the feeling she obviously has working for charitable fundraisers and awareness campaigns, including the Make-A-Wish-Foundation, City Meals on Wheels, Wellness in Schools, etc.
Next