Movie Review: No One Killed Jessica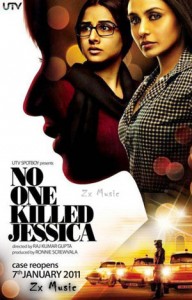 "Someone with a pistol in his hand, power in his head, decided that a life was cheaper than a glass of drink." When in New Delhi back in 1999, Jessica Lall was shot dead upon her refusal to serve a drink after closing hours, her murder made headlines all over the world. The murderer, the son of a wealthy Indian politician, escaped scot-free. This most infamous miscarriage of justice is dramatised in No One Killed Jessica, a movie that remains as true to the original episode as possible, all the while serving as a riveting theatrical display of emotion, anger and passion to seek justice against all odds.
Raj Kumar Gupta, although relatively verdant in the film industry — his only other production so far has been the well-received Aamir — does well to add thrills and maintain an air of suspense throughout the movie, even though the events and final verdict of Jessica's murder case are largely public knowledge.
The plot outlines the quest of Jessica's (Myra Kam) docile and bespectacled sister, Sabrina (Vidya Balan), to bring her sister's murderer to book. But what seemed like an easy task — given the 300 guests that were present that night to attest to the crime — proved to be complex and nearly impossible as witnesses were bribed and threatened. "What would you do if you were offered the choice of 10 million rupees or a bullet?" asks one witness. Once Manish Sharma (Mohammed Zeeshan Ayyub) is acquitted of his cold-blooded crime, brash and feisty television reporter Meera Gaity (Rani Mukerjee) takes it upon herself to see that the criminal receives his due punishment and that Sabrina's years of hard work do not go in vain.
Together, the two girls battle corruption and injustice as the case goes through several legal complications. They mobilise the rest of India to pressure the judiciary to reopen the trial via campaigns, text messages and candlelight vigils. Eventually, Sabrina and Meera prove that even corruption cannot stand in the way of people's power. The case is reopened and Manish is awarded a life term.
Thankfully, rather than being presented as a tedious biography in a docudrama format, the movie runs like an engaging thriller with suitable music by solid duo Amit Trivedi and Amitabh Bhattacharya to heighten the drama. Mukerjee comfortably smokes and curses her way through the role proving that she is more than just a doe-eyed beauty, whereas Balan was commended by the real-life Sabrina for her well-constructed and powerful portrayal of her.
And while the movie would have done well to significantly reduce its length in order to strengthen its impact — Mukerjee's introduction is way too long — No One Killed Jessica artistically captures the strength and anguish of common people faced with a justice system that is rotten to the core, but not invincible.
Next