Movie Review: Life Goes On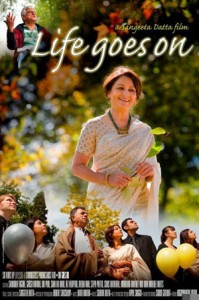 We Shall Overcome
Sangeeta Dutta's Life Goes On revolves around the lives of a Bengali family that is part of the British Asian diaspora, coming to terms with a death in the family. It is a story of their personal loss and of their coming to terms with it. The narrative explores the complexities of living one's own culture as a member of a small, minority community residing in London.
Featuring the mother-daughter duo of Sharmila Tagore (Manju) and Soha Ali Khan (Dia) together in a movie for the first time and, that too, in mother and daughter roled, the movie is set over a week, from the day of Manju's death to her funeral on the seventh day. In the six days leading up to Manju's funeral, the discussions revolve around her. The goings-on in the lives of her husband Sanjay (Girish Karnad), daughters and friend Alok (Om Puri) are marked by her presence — there is no escaping her memories. Each scene in the present draws its relevance from a scene from the past featuring the mother, wife and friend.
Manju's death is a devastating blow, with each family member unable to fathom how to get on with their lives, and who to take their problems to. The daughters are confronted with not only their mother's loss but also their own share of personal and professional problems. The older sister's (Mukukila Banarjee) marriage to an Englishman is falling apart and he is absent when she most needs him. Tuli (Neerja Naik), who moved out of the house to live with her girlfriend and was too taken up by work to visit her mother before her death, has to take a vital decision: whether to take up an offer that will catapult her to great heights in her career, or turn it down and spend time with her family and attend her mother's funeral. This earns her the ire of the youngest member of the family, Dia, the only daughter living at home.
Dia has to tend to the house, prepare for the funeral and decide whether to perform in a stage play, King Lear, the same week. At the same time, she needs to find a way to break the news of her pregnancy to her father, something her mother was going to do for her. Sanjay is also confused and unsure: he does not know how to fill his wife's shoes and help his daughters. It is Alok, who as uncle and Manju's confidante knows many of the girls' troubles, who steps in to lend a helping hand and to spread mirth and laughter in a gloomy time.
The film addresses the subject of inter-faith relations as well. Dia's pregnancy and decision to keep the child presents a greater challenge because her boyfriend, Imtiaz (Rez Kempton), is Muslim. This aside, her own father Sanjay is the head of the Bengali community in London and must uphold certain norms. Additionally, his personal prejudice towards Muslims, based on his experience during Partition, forms a significant part of the narrative.
The movie is compelling not only because of its subject and powerful performances, but also because of the way it has been constructed. It is heavily inspired by art, music and literature. Dutta uses Rabindra Sangeet — some verses are translated into Urdu by Javed Akhtar — to accompany certain scenes. The most breathtaking are the ones featuring Manju breaking into a song in the fields or to the accompaniment of a sitar. Dutta incorporates the play-within-a play strategy to add meaning. Dia's life is a reflection of Cordellia, the character she plays, in theKing Lear production she acts in, with her father Sanjay playing the off-stage Lear.
Filmed in English, with a smattering of Bengali and Hindi, Life Goes On has won the well-deserved Best Feature Film Award at the Pravasi International Film Festival in Delhi, and the Best Feature Film Audience Appreciation Award at the London Asian Film Festival, and should go on to win some more now that it has entered the commercial market.
Farieha Aziz is a Karachi-based journalist and teacher. She joined Newsline in 2007, rising to assistant editor. Farieha was awarded the APNS award for Best Investigative Report (Business/Economic) for the year 2007-2008. She is a co-founder and Director at Bolo Bhi, an advocacy forum of Digital Rights.
Next