As a young teenager in Murree, Tehmina began experimenting with a Kodak twin lens Brownie camera, recording anything that caught her eye. Her first real camera came much later when, after majoring in Psychology, she began a career in advertising, and later joined Newsline as one of the founding editors. She currently heads their documentary film production unit, Newsline Films.
Photography, however, was always an interest, and she was a long-time member of the International Photography Club of Karachi, participating in its group shows, and at Chobi Mela, the International Photo Festival, in Dhaka, Bangladesh. The exhibition at Nomad Gallery in Islamabad, 'Thresholds,' is something of a new beginning, as she intends to concentrate more on photography: in the past, work in editing took over her life and apart from the occasional photo-essay, most of  her time was spent editing and writing.  A recent decision has led her to follow her creative instinct, which includes the visual as well as poetry. She hopes to take the current exhibition to Lahore and to Karachi.
Photography is about light. This is a sweeping statement, given the amount of discourse on photography. And yet to a certain extent it is true. Without light, without contrast, there is no picture. Lest anyone disagree, however, I admit that light is not the be all and end all, as photographs from all genres, from photo- journalism and war reporting to portraits and experimental art photography, bear out: a combination of light, subject and composition are three of the bare necessities.
Tehmina Ahmed's first solo exhibition at Islamabad's Nomad Gallery, however, is about capturing light. A purist by nature, she likes to shoot what she sees framed in the lens: the picture should be complete when it is shot, and she avoids cropping or retouching unless absolutely necessary. There are only two photographs on display that have been manipulated: one is a silhouette of musicians sitting in a tiled courtyard backed by pillars decorated with tiles. Predominantly in black and white, the pillar tiles are picked out in blue and white, all of which were the original colours;  but other colours have been eliminated. This is where the digital photo lab comes in, and Tehmina sits with the technicians to get the results that she wants, so that they match her vision.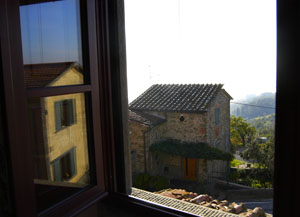 The other photograph, 'Stop Frame,' has been cropped. This is from a trip to California where, as she says, the light is like no light elsewhere. Behind the almost ungainly dark birds filling the foreground are the waves, luminous to the point of seeming transparent, the spray merging with the afternoon haze to seem like a veil of light that frames the tiny figure of a man by the water. 'Carpenteria Beach,' from this  series, captures the same transparency: the mountains in the background are dense, except for the upper corner of the sunset sky where the farthest range appears almost transparent.
In the same vein, though exploring a very different theme, Tehmina Ahmed's latest work, which includes 'Indigo Earth,' 'Spring-time in Islamabad' and 'The World Changes,' approach art in the handling of the image. This capturing of light is her forte: the way it reflects off surfaces, such as the dye vessels in 'Indigo Earth,' rendering colour almost transparent, or transforming it. Although her photographs of historical places are beautiful for the way that she uses contrast to pick out coloured details amid the dark mass of old archways looking through into light, interspersed with figures, (and this includes the bazaar scene 'Stepping Out, Mochi Darwaza,' which she admits is one of her own favourites), "it is the subject matter and treatment of this new work, involving everyday objects, that I find exciting."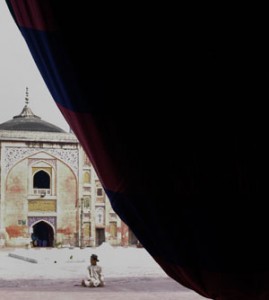 For Tehmina, who used a manual camera for years, the change to digital photography was difficult. When in 2004 she did a photography course at the Brooks Institute in California, she discovered that the course she had signed up for the previous year but was unable to attend, had been altered and was now structured around digital photography. The first thing she had to do, then, was to go out and buy herself a camera, since she had come equipped with her manual one. Most of the work on display here belongs to the last two years, except for the California series, although she says that she would like to go through her boxes of negatives and display the older work at some point.
Ruminating over digital versus traditional photography, she says that black and white film, along with darkroom printers, have all but disappeared, making it difficult for one to continue using analog cameras. However, one of the upsides of digital media is the ease with which work can be stored and organised: it is almost impossible to leaf through boxes of negatives, whereas digital images can be stored on the computer or on CDs.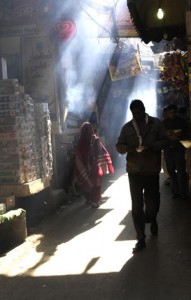 Although there are many photographers at work, there have not been many exhibitions of photographs at art galleries in Islamabad until recently. It would be good to see more, to give impetus to the growth of the genre as an art form.
Next