'Jamil Naqsh Pays Homage to Picasso,' a cache of hitherto unseen works straight out of Naqsh's London Studio, that went on display for a day at Karachi's Momart Gallery makes for delightful viewing. Once again, a master plays a winning hand. While this tribute collection references Picasso directly, one can conjecture that Jamil Naqsh was probably taking cues from the 20th century's most important, celebrated and productive artist much earlier in life. These works themselves were several years in the making, but Naqsh's affinity goes far beyond.
Picasso's work manifests a remarkable stylistic originality, whether in the naturalistic portraits he painted after the First World War, in the neoclassicism of the 1920s or in the savage pictures of women which preoccupied him in the early 1930s. From around 1940, however, while there is constant vigour and renewal, Picasso's extraordinary capacity as a draftsman, together with his uncanny talent for convincing formal experiment and his life-long resistance to fully abstract tendencies, had become the core of his contribution to modern art. But the majority of his technical excursions post date Picasso's most revolutionary visual achievement — the cubism he created with Georges Braque.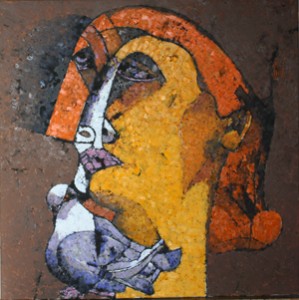 Tracing the two artists' stylistic moves and aesthetic preoccupations prompts one to ponder over similarities, incidental or otherwise, that place Naqsh under Picasso's influence, covert or overt, since the time he commenced his career. Honed in the craft of miniature painting by none other than Ustad Haji Sharif, Naqsh, like Picasso, was conversant with the classical traditions of the region he belonged to and he, too, utilised this knowledge and painterly ability in varied forms throughout his career. This may also have been the reason why he never succumbed fully to abstraction. Picasso's studies of antiquities in the Louvre and a 1905 retrospective of the works of the French neoclassical painter Ingres, prompted his classical phase during which he painted nudes — either young idealised women or adolescent boys in a restrained terracotta palette evoking the ancient Mediterranean. Paintings from the late '60s and early '70s show Naqsh preoccupied with neoclassical miniature painting and a naïve semi-cubist mannerism from which he soon gravitated to 'savage' renditions of women. But unlike Picasso's thick-limbed anatomies, he opted for vacuous-eyed, sharp-clawed, long-limbed women. All the while his grounding in the traditional techniques kept resurfacing as he continued to paint full-bodied, sensitively rendered, soft sepia or pearly hued nudes in remarkably novel arrangements.
The artist's cubist fragmentation is essentially Naqsh's own signature, even though one can read glimpses of Shakir Ali's "Leda and the Swan," Picasso's "Demoiselles de Avignon," Modigliani's vertical figuration and a host of other stylistic influences. As a practicing artist, he has gone beyond just absorbing and amalgamating the ethos of traditional elements and modern approaches. Crafting his own concepts and vocabulary, he has evolved a personal idiom that has manifested its capacity of constant renewal. It is this regenerative ability, the knack of integrating the essence of his influences with his individual preferences that has brought uniqueness to and extended the range and scope of his oeuvre.
This tribute show thus is yet another dimension of Naqsh's repertoire where he connects with Picasso in spirit, mimicking the giant's ability to "break forms and create a new order." He reinvents Picasso by accessing the master's characteristics without losing any of his own. The resultant medley is a sterling fusion of polarities. Steeped in eastern tradition, it has all the radicalism of western modernity. His typical pictorial emblems — the female nude, pigeon, woman and horse — are drawn or juxtaposed against each other in the true Picassoan technique of interlocking and overlapping planes, his subjects being sometimes not only arbitrarily lit, but seen from slightly different angles. His patchwork of blocks of translucent colours, deployed across the whole surface, produce an effect of depth and volume without destroying the flatness, the integrity of the painting. Incorporating Picasso with all the prominent elements in his deck of cards, Naqsh entertains the viewer to a full house in just 30 odd canvases and 80 graphite works on paper. Particularly enchanting are his ethereal nudes, where the only Picasso influence is in the cubist grids, facets and planes that surround, imprison or project the nudes. Even his pigeons enter the cubist trajectory most willingly. A fabulous colourist, Naqsh retains his palette of enigmatic contrasts. Indigo cuts through ochre and chilli pepper red sits against turmeric yellow without jarring the eye, and his terracottas, blues, greys and bleached whites evoke the master juggler's chromatics without disturbing his own format. Crusty, abrasive surfaces, speckled with pigments applied in thick layers, delicate, finely brushed canvases, as well as acutely chiseled, linear effects remind viewers that the artist's signature skills are sharper than ever. Indeed, he is in fine fettle.
Today, when young generation new media art is vying for centre stage, such shows revive memories of the brilliance and splendour easel painting is capable of creating.
Next