Many cafés have now started to offer breakfast menus. It is a sign of the changing times and may be a reflection of the growing number of working women who start their mornings relatively early and don't mind socialising prior to setting out for work. However, while many of these restaurants are equipped to handle customers first thing in the morning, some seem to have jumped onto the bandwagon with no clue of what to serve and how to go about it. One of them is U & Me Coffee. Our party descended for breakfast on the Khayaban-e-Shahbaz-located café after the restaurant had confirmed that they served a proper breakfast menu.
A relatively spacious and chirpy-looking joint with brightly coloured walls — orange on one side, fuchsia brick-effect on another and a black picture poster in front advertising the hot favourites the eatery has to offer — the interior is welcoming enough. The white coffee counter and bakery display section to the right of the entrance offers a marked contrast to the otherwise bright colour scheme, while the wooden flooring gives a rich look to the eatery. A simulation of a massive slot machine with artificial fruits displayed within doesn't do much to enhance the aesthetic element of the restaurant, but it attracts attention nonetheless. However, where the restaurant really loses out is on its menu and service.
Although we had been told that the eatery offered a proper breakfast, all it really had were different kinds of omelettes — two to be precise. The menu boasted a cheese omelette, a Spanish omelette and a vegetable omelette, but upon further enquiry we discovered that there was no difference between the last two. Of course, this brilliant discovery wasn't made in a jiffy — first we were informed that "The Spanish omelette has Spanish in it, and the vegetable omelette has vegetables," and it took a substantial wait and repeated enquiries to finally get the relevant information. So, we opted for one of each. None of the other items traditionally found on a breakfast menu, such as croissants, doughnuts, waffles and pancakes, were available and, in fact, there wasn't even any bread — we had to wait till the waiter brought some loaves from a bakery located nearby. That was probably just as well, for the brown bread was fresh and delicious.
Since there was no other breakfast item to gorge on, we ordered the potato and chicken cutlets from another section of the menu. Both the omelettes were appetising, and the cutlets, comprising mashed chicken and potatoes that were deep fried till golden brown, were tasty as well. The latte was plentiful and light. The tea, on the other hand, although made with tea bags, was served stingily, constituting hardly half a cup, and even after a request for additional water, didn't quite make it as a cupful.
Which brings us to the service. Aside from the fact that the waiters were ill informed, the service was pathetically slow: it took the kitchen over half an hour to whip up a simple order. Additionally, we had to make repeated requests to the waiters to bring us plates, cutlery and salt and pepper. It seemed like the staff was not trained at all.
Not the best way to begin a morning — even though the food is not at all bad.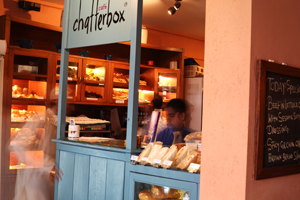 Exotic Morning
Chatterbox, also located on Zamzama, is worth a visit for a great breakfast. Offering perhaps the greatest variety by way of breakfast items, the café has some divine dishes, including egg croissant sandwiches, which are filled with creamy scrambled egg, cheese, beef bacon, garlic and mushroom. Although all kinds of eggs can be whipped up on demand, the Mediterranean omelette is a must-have, made with eggs stuffed with black olives, feta cheese and tomatoes.
If the eggs are not enough of a temptation, the spicy breakfast burrito, comprising scrambled egg in tortilla, or the French rolls, made with grilled tortilla filled with cheese and black olives, will entice even the most diet-conscious customer into abandoning all caution. For the less adventurous, there is also the usual selection of waffles, pancakes and French toast. Baked beans are available for the health conscious, as are fresh juices and green tea, while those into regular tea and coffee won't go disappointed either. Breakfast is available from 8:30 a.m. till noon on weekdays, and till 4 p.m. on weekends.
Carb Delight
The best part about Bread People, located on main Khayaban-e-Shahbaz, is that it offers breakfast from 8 a.m. right up till midnight. It is one of the few places that offers eggs in a variety of ways, ranging from the traditional Pakistani omelettes, tortilla Espaniola (egg-and-potato omelette) and a brunch omelette (with onion, chicken, green peppers and tomato sauce) to steak and egg, pizza egg, scrambled egg and egg with tortilla chips, salsa and cheese.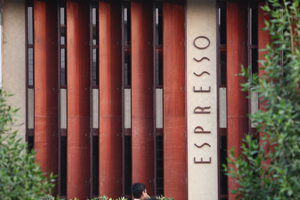 If eggs are not exactly what you are looking for at breakfast, no need to fret. The eatery also offers a variety of waffles, ranging from the traditional waffle to a banana split waffle and a French waffle (with cocktail fruits). Also scrumptious and not found on the breakfast menu at other eateries are the crepês. You can take your pick of chicken and mushroom, French breakfast (with mixed fruits) and strawberry supreme crepês. A whole array of breads is also available. The essential tea or coffee are also both available.
The Price is Right
Situated at the corner of Zamzama — with another franchise located at Labels — Café Coffee Day is a spacious eatery that offers decent breakfast at affordable rates. The breakfast is served between 8 and 10 a.m.
Two types of egg are available — veggie and cheese. The veggie omelette is quite dry and can be given a pass, but the cheese omelette is succulent and shouldn't be missed.
The waffles, served with maple syrup and honey, are crisp and tasty, while the croissants are soft and fresh. To wash down the meal, you can enjoy Assam tea or a caffe latte .
The writer is a freelance journalist based in Karachi. She also works at Hum television.
Next