Pakistani fashion has come of age with the innovative trend of fusion of eastern and western styles of sartorial creativity. The enthusiastic and dynamic Sanya Muneer constantly experiments to achieve a synthesis embodying urbane sophistication and symmetry in design.
This shoot highlights some of the new concepts Sanya is exploring: draping, flowing fabrics to elongate the silhouette in elegance. While the hemlines are all worn long, the cuts vary — from the tailcoat to the multi-kali kurta. The flared pajama complements the silhouette.
The fabrics are used to bring in balance. For instance, a flowy sheer fabric is offset by a chemise, which gives the outfit a subtle and glamorous lift. The colours are very vibrant and a variety of embellishments combine the old patterns with the new — a running theme of Sanya's work. Revel in the opulence of coral in summer days and luxuriate in velvet cobalt and indigo in the balmy evenings.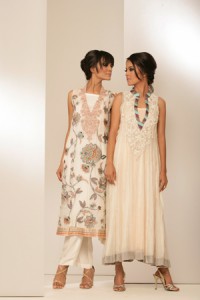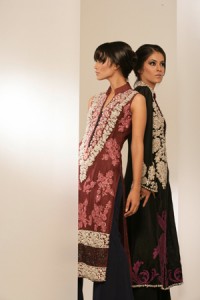 Next