Umerkot, the birthplace of Emperor Akbar and a city with a large Hindu population, celebrates Holi and Diwali with gusto every year. And Muslims have, in a show of harmony, always joined in the celebrations by singing and dancing alongside their Hindu neighbours and exchanging sweetmeats. But this year, on March 11, the celebrations took a tragic turn when an angry mob of Muslims attacked Hindus and destroyed their property to avenge what they claim was a "blasphemous act" committed by Hindus.
Ostensibly, they found the name of the Prophet (PBUH) scribbled on the road near Dr Rab Nawaz Kunbher Chowk, and accused the Hindu community of committing this act of "mischief." Word of this "blasphemous act" spread fast in the area via mobile phones and tickers on television channels. Within a short span of time, hundreds of people gathered in Udhepuri mohallaand started attacking Hindus and set their petrol pumps and shops on fire. "I was on my the way to the temple for pooja, when a group of angry young men, shouting 'Tum kafir ho, maut tumhara muqqaddar hai' (You are infidels and death is your destiny), blocked my way and attacked me with iron rods and dandas," says Sunny Kumar, one of several Hindus who were injured in the riots.
A delegation of the HRCP, comprising Professor Badar Soomro, Pir Abdul Rehman Sarhandi, Punhal Sario and Jam Saqi among others, visited Umerkot to investigate the incident. Incidentally, a similar incident had taken place at Mir Wah Gorchani around the same time.
The HRCP report made a disturbing observation — the persons who were actively involved in the March 11 incident are frequent visitors to the offices of the country's intelligence agencies. Professor Soomro also toldNewsline that two of the eyewitnesses had come up with contradictory statements: one of them stated that he saw the Prophet's (PBUH) name written in green colour, whereas the other said it was written in blue. Rizwan Kunbhar, another eyewitness, told Newsline that when he reached the spot he found a name written on the road, but it was not clear to him whether it was Manoj or Mohammad. On the other hand, Rehan Shah, a reporter for the daily Ummat, who was among the leading demonstrators, maintained that he saw the Prophet's (PBUH) name and tried to take a photograph of it but his camera failed to give the "desired" result — the image was of poor quality — hence the name was not visible.
Besides the HRCP's fact-finding mission, a 28-member peace committee, comprising religious leaders, police officials, personnel of the district administration, local political leaders and social activists, has also been formed to investigate the incident. In its first meeting held on March 18, some eyewitnesses were interrogated regarding the incident. Imdad Ali Solangi, SSP Investigations, Umerkot, told Newsline that Abdul Malik Kunbhar, Ibrahim Gishkori, Gulab Udhepuri and Tariq Udhepuri had confirmed that they had seen the name of the Prophet (PBUH) written on the road; however, they had not personally seen anyone writing the name. The police and members of the peace committee are trying to tap into their own sources of information, but so far they have made little headway.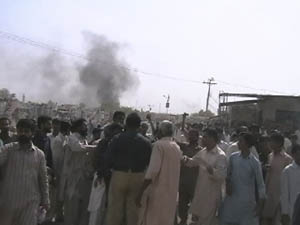 An unfortunate fallout of the Umerkot incident is that the sense of insecurity among the Hindu community in all districts of Tharparkar has increased. Incidentally, 95% of 2.5 million Hindus living in Pakistan have made Sindh their home. And 51% of those in Sindh are based in Tharparkar, of which 43% live in Umerkot. Thar is presently witnessing a drastic change as religious extremism is eroding the community's centuries-old tradition of social harmony and religious tolerance.
The majority of the Hindus living in Mithi, Umerkot and Islamkot run their own businesses. In the last decade or so, incidents of kidnapping and murder of Hindu businessmen have created a grave sense of insecurity among the rich Hindu community. In June 2008, Ram Maheshwari, a prominent businessman and head of the Maheshwari community, was kidnapped by professional gangsters. The Hindu community launched a vigorous campaign for his recovery and staged a series of strikes. Similarly, Khushal Malhi and Amlakh Malhi were also kidnapped and recovered only after paying huge amounts in ransom to the kidnappers. But Ram Maheshwari was not so lucky. Following his brutal murder in October 2005, the Hindus have lost faith in the security agencies. "They have failed to provide protection to the Hindu businessmen; consequently, many Hindus have been forced to migrate to India," says Mir Hassan Areeser, a local scholar and social reformer.
Alongside these abductions are the rising cases of conversion of Hindu women. Hundreds of Hindu women have been converted to Islam. While it is true that in some instances the Hindu women have converted to Islam of their own free will, in most of the cases, the women have been converted forcibly. Thirteen-year-old Mashu, who was abducted from Jhaluree, a village near Mirpurkhas, in December 2005, was forcibly married to Akbar, one of the four kidnappers. Before the marriage was solemnised, she was converted to Islam and became Mariam.
Incidentally, most of the women who have been converted to Islam belong to the scheduled castes such as Bheel, Kohli and Shikaris. Pir Ayub Jan Sarhandi, whose name appears in most of the cases of conversions, claims that in seven years he has converted about 10,000 Hindus, a majority of them comprising women. Sarhandi has established a shelter home for the converted women in Gulzar-e-Khalil, his ancestral village in Samarao district, Umerkot. He claims that he has never tried to forcibly convert the Hindu women, and maintains that all the converts were presented before the court magistrate as per the legal requirement and they confessed that they had willingly converted.
Religious groups are proliferating in this hitherto secular region and consolidating their position by providing social services free of charge, like digging wells in the remote areas and providing education facilities in the form of madrassas.  "The concept of social harmony and religious tolerance in the area is at stake due to the intervention of outsiders," observes Mir Hassan Areesar. According to Arbab Naik Mohammad, a local writer and intellectual, more than 3,000 madrassas exist in Thar alone. He recalls that in 2005, Dawat-e-Islami established a huge madrassa in Umerkot town. Moreover, he reveals that the Al-Khidmat Welfare Society, the Al-Mustafa Welfare Trust, the Al Akhtar Trust, the Al- Rashid Trust and the Alamgeer Welfare Trust, have all established several welfare institutions and outlets of service delivery in Thar.
"Increasing religious extremism in Thar is evident from the recent riots in which workers of the Dawat-e-Islami were found to be actively involved," reveal some journalists who were reporting the riots.
Religious groups, each with their own school of thought, are trying to consolidate their positions and gain a foothold in the area. The rift between the Deobandis and the Barelvis is quite visible and came into full view during the riots in Umerkot. Interestingly, all religious groups claim that their main priority is to provide protection to the Hindus. Pir Ayub Jan Sarhandi tells Newsline that in order to show solidarity with the Hindus, he is planning to convene a huge religious gathering in Umerkot in the near future. Meanwhile, JUI's Abdul Rehman Jamali also claims that his party would initiate confidence-building measures, such as organising processions for the restoration of peace.
Lal Malhi, a businessman and a local leader of the PPP, has a different take on the Umerkot incident. He maintains that it was used by some to settle scores. "If you look at the details of the incident, you will find many instances of personal enmity. The protesters, who were mainly Urdu-speaking, attacked my house and targeted a petrol pump, which is situated more than two kilometres away from the Udhepuri mohalla," says Malhi.
Shoukat Udhepuri, the naib nazim of union council 1, Umerkot, rebuts this allegation. "We do not have personal grievances against any Hindu, though we did have a quarrel with the Malhi community when they attacked Udhepuri youngsters some months back," he says.
Manghan Mangrio, the district nazim of Umerkot has his own theory: "We know that the culprits have a political agenda — to destroy the religious unity of Umerkot. Vested interest groups, who want to compel the Hindus to migrate, planned this incident."
Saroop Chand Malhi, 32, says he is as scared now as he was 21 years ago when his father, Panjo Mal, was killed along with three other Hindus at Shiv jo Mandir, an ancient temple located seven kilometres away from Umerkot. "My father was neither a fanatic nor a moneyed person. And he owned the same sweetmeat shop that I am running today. I was a child at the time when I heard that some people had slaughtered my father during pooja. I remember my mother saying that no Muslim could commit this dastardly act because we have had no quarrel with anyone. Today, I am feeling as insecure as I did then. How long can we live in this state of perpetual uncertainty and fear?" he asks dejectedly.
Next