Cutting-edge reinvention of the Mughal miniature was provoked by miniature students graduating in the early batches of National College of Arts, who insisted on entering into a conceptual dialogue with the traditional format. It was their spirit of experimentation and innovation that gave birth to what is now loosely termed as the contemporary miniature. Plying on the neo-miniature bandwagon, fresh graduates today are availing the benefits of modernisation and advancement of the genre without actually going through the initial struggle of breaking ground. They are trailing trodden paths and a sense of déjà vu is settling over the new produce. Save for a few younger artists, it is still largely the original radicals who continue to bring novelty to the genre. While most of them are established mid-career artists now (a few are recognised diaspora artists), some are also heading miniature art faculties in major art schools of the country. Unfortunately, their collective influence on the newcomers is apparent more in the technique of miniature painting and how to juggle it with new media insertions, rather than development of creative concepts. The quality of the miniature depends on radicalisation of both form and content and unless this is maintained the miniature will go stale. Stagnation will set in if repetitiveness and rehashing of various popular concepts continues unchecked.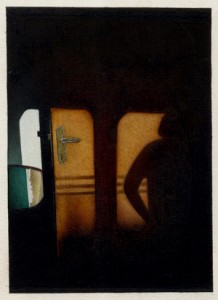 Art colleges in Karachi introduced miniature painting into their curriculum much later than their Lahore counterparts and the difference in conceptual thought and proficiency level has yet to be bridged. The miniature section in the department of visual studies, Karachi University, is still in its infancy and only some promising students have emerged from among the few batches that have graduated.
Recent works by graduates of KU, on show at Chawkandi Art, were a fair indicator of how these students are progressing as independent artists. In a collective exhibition of work by five artists, paintings by Sara Khan were by far the most representative of the miniature genre, as we see it today. Technically, her brushwork adheres to the academic requirements, especially the attributes of precision and delicacy, so essential to a miniature. She builds her narrative around graphics of pistols, firearms, bullets, gun barrel enlargements and figurative images of subalterns/sepoys from British India. Her layout conforms to the general practice among miniature painters these days of constructing works that are layered in subject and often utilise a pictorial fragment from a Mughal or Rajput miniature as a starting point. Addressing the identity flux through the lens of history is also a common theme among the young generation, and the visual history of colonial India lends itself well to the subject. It has wide appeal among artists and viewers as well. Theoretically, the artist has created individual works which may not be ground-breaking but her deft painting skills, novel use of silver foil, floral patterns and marblised effects on paper indicate her ability to step out of the mould. Sara Khan has the potential to experiment.
Miniature artist Abdullah, indulging in linear organic imagery, has produced monochrome paintings, abstruse in form and meaning. His indication of a foetus cocooned in a hand grenade could have created impact if he had developed the concept seriously. Madiha's dramatic use of light and shade veered towards photographic impressions.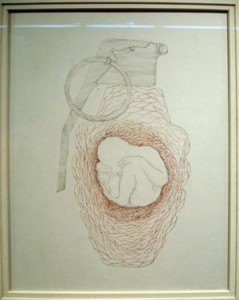 Unlike the ridiculously inflated prices the miniature has been commanding lately, the sale tags in this exhibition were realistic. Paintings by Sara Khan were reasonably priced, though one cannot say the same about the rest of the participants. There is a premium on names if one is buying works of established artists, but newcomers have to be extra vigilant about equating the quality of work with the prices they demand.
Next