A crowd of young and old infuses the autumnal night air with enthusiasm and laughter that is infectious. Families have turned out in all their finery at Karachi's Hindu Colony to celebrate Navratri — a festival to pay homage to the Hindu goddess, Devi. The festivities are spread over nine nights — in keeping with the concept of "nav" (nine) and "ratri" (nights) — and are primarily devoted to the worship of the nine forms of the goddess in order to attain the heights of godliness.
To add a touch of the sacred to this celebration, a street performance is staged for the crowds. The antediluvian epic of the battle of the gods, from the Ramayana, is recreated. Actors draped in deities' robes, their faces dusted with powder and paint of all hue that turns them into mythical characters from the ancient Vedas, enter the arena. As the action begins, and the characters come to life, the audiences are transported to another time, another place.
But for the actors, this drama transcends the concept of merely enacting a role. It is inherently a spiritual exercise: An actor is not only playing a role; he is, in a sense, emulating a god, which to him is a rare honour. It is not surprising then that many men from the community volunteer to act in these mythological plays. Incidentally, all the characters are played by men, even the female ones. Traditionally, the women's roles are enacted by younger boys, much in the tradition of Shakespearean theatre. The only notable contribution from the women is the provision of the colourful costumes. With the help of an elderly man within the community who has been engaged in this activity for several years now, they stitch an elaborate wardrobe for the actors, all in vibrant colours and shimmering fabric — to match the magnificence of the godheads.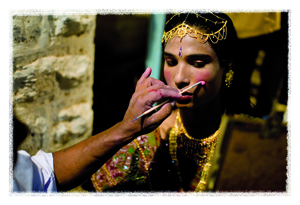 The beauty of the the entire Navratri nautanki is the unified effort the members of the community display in preparation for the plays. Despite insufficient funds due to the relatively small number of worshippers paying patronage at the mandirs, they put up an impressive performance. The props and wardrobe for the street theatre are purchased with whatever little the mandir coffers can dole out and also the donations from the families who put their boys forward to participate.
Beginning with the birth of Rama, the night-long performances recount tales of the battle between good and evil and the ultimate defeat and destruction of Ravana (the demon king) at the hands of the valiant Rama.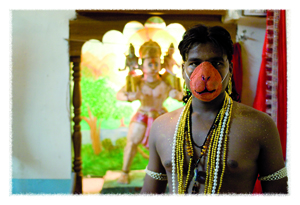 Next