Pregnant moms in Karachi have something to celebrate — other than the birth of their child, that is. The launch of Samar Mehdi's maternity line, Positive, in collaboration with Saima Ghazzanfar. With few designers offering collections that cater specifically to expecting mothers, many have to make a daily pilgrimage to their tailors — all in the name of comfort and, yes, fashion.
Positive includes a variety of tunics, maternity pants, and kameezes, all of which are designed with a priority placed on comfort. At the same time, this collection is stylish and contemporary — much in line with the rest of Mehdi's regular collection. Gone are the days when being pregnant meant wearing shapeless outfits that were two sizes too big or looking tawdry at family weddings. With prices starting at Rs 1,500 to Rs 18,000, mothers can breathe a sigh of relief.
Mehdi also offers a one-time free alteration to the outfits purchased at her shop. "It's an incentive for new mothers to get back to their previous size," says Mehdi with a smile.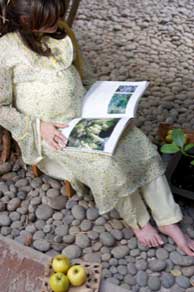 Next