Raymond Davis was released by Pakistani authorities last week. A deal was inked where diya(compensation, or "blood money") was paid to the family members of the two men he shot dead. In a trial held in Kot Lakhpat jail, the families said they were not coerced into making the deal. So more than six weeks after the CIA contractor (who was described as "our diplomat" by the US) first made headlines – and highlighted and exacerbated the often strained relationship between the US and Pakistan – Davis was handed over to US officials who whisked him out to Bagram Air Base in Afghanistan. In a press statement, US Ambassador Cameron Munter said, "The families of the victims of the January 27 incident in Lahore have pardoned Raymond Davis. I am grateful for their generosity." He also said that "the United States Department of Justice has opened an investigation into the incident in Lahore." This is just as Senator John Kerry promised in his visit to Pakistan in February.

But the realities of Raymond Davis's official diplomatic status were never revealed. As usual in Pakistani politics, the truth remains hidden. And in the process, public outrage over the incident continues. Of course, the fact that a CIA operative was spying on ISI assets and gunning down men in Lahore, didn't make Pakistan's top spy agency too happy either.

In this article, written and published in the March 2011 issue of Newsline before the deal was finalised in court to release Davis, the author examines the lies, theories and realities in Raymond Davis's role as a spy, how public reaction was stirred up by Pakistan's "ghairat brigade" and the extent of the political turmoil in US-Pakistan relations – distrust has reached new levels.

– Online Editor
In the crowd were people of all stripes. Sunglasses-wearing aunties in their 50s stood next to young women in their 20s. A man in shalwar kameez hoisted a burning effigy of a jailed American while another man with spiked hair and a button-down shirt helped keep it stable. Despite their apparent differences, everyone was in unison — in their chanting and in their minds. Their banners and placards were proof: "Hang Raymond Devil," said one, while another read, "Your Destiny," with a drawing of a noose above it.
This protest rally on February 20, in Karachi was just one of many to take place across the country since the January 27 incident involving Raymond Davis, in which he fatally shot two men, Muhammad Faheem and Faizan Haider, and in which a third man, Ibad-ur-Rehman, a bystander, was killed in a hit-and-run accident involving a US consular vehicle with fake license plates that Davis had called for as backup.
It is no secret that US popularity in Pakistan was already at an all-time low. But the death of three Pakistanis because of the actions of one sharp-shooting US citizen, who was officially described as a member of the US embassy's "technical and administrative staff," has further stoked anti-American sentiment. Distrust of the US and anger over the transactional nature of the Pak-US relationship is increasing. The tragic incident has allowed the self-anointed protectors of national honour — within the religious right and in the media — to lament lost sovereignty and unleash fresh rounds of opprobrium at the Asif Ali Zardari-led government, which is seen as a faithful servant to an American master.
Urged on by this chorus — and by Obama calling Davis "our diplomat in Pakistan" — people in Pakistan are asking, "What are we allowing the US government to do and get away with on our soil? Is the money they provide worth it?"
Besides high-level meetings with Pakistani leaders, Senator John Kerry's Lahore visit last month was also aimed at the people of Pakistan. Similar to US Secretary of State Hilary Clinton's visit in October 2009 (but on a much smaller scale), the conversational press conference he gave in Lahore was in part a "charm exercise." It involved the lanky US senator taking the hot seat while local journalists fired a round of questions at him. The discussion was civilised and Kerry, who is also the chairman of the US Senate Foreign Relations Committee, spoke calmly and avoided major confrontations by refusing to discuss the "details" of what happened on that January afternoon. He expressed regret about the "extraordinarily unfortunate incident" and talked about "the depth of our sorrow for this loss of life."
This humanity was welcomed. But the major part of the discussion could be described as "Vienna Convention 101." Kerry explained how the Vienna Convention is neither an American law, nor a new law, but a 50-year-old treaty between nations created by the global community. The US is a signatory and Pakistan is a signatory, he continued. It must be respected, "like it or not." It was a logical argument, especially given that the US contended at the time that Raymond Davis was a diplomatic officer of the US Embassy in Islamabad and thus benefited from diplomatic immunity. "For us, there is no question of that," said Kerry. "We know exactly what the papers say."
Of course, the US government's official stance was not always so clear. A day after the killings, the US Embassy issued a statement describing Davis as a staff member of the US consulate in Lahore. The day after that, it altered its stance and called Davis a "diplomat assigned to the US Embassy in Islamabad." In relation to the Vienna Convention, the change is not a minor tweak, but a major change: while diplomats have "inviolable" immunity in regards to criminal offences, consular officials have limited immunity that would be unavailable in cases in which a "grave crime" has been committed (i.e. killing another human being). And even though immunity extends to "technical and administrative" staff assigned to an embassy (the designation settled upon by the US for Davis), it is only valid when a person is performing functions in the course of official duties.
Initially, the US Embassy was silent about what was Davis's exact job and what he was doing driving around that area of Lahore on that now infamous afternoon. In those first three weeks there was only talk about "self-defence," when two armed men pulled up beside his car and allegedly tried to rob him.
The lack of answers about Davis's work from the Americans allowed the Pakistani media to speculate feverishly. Even now, what actually transpired that day to cause Davis to shoot Faheem and Faizan is still unclear. Was it an attempted robbery, a "spy meeting gone awry," or the case of a foreign agent getting rid of an ISI tail like some reports have suggested?
Whatever the case, the evidence that emerged implied that Davis did not behave like a typical diplomat. He was alone in his car, which did not carry diplomatic plates. He shot with precision several times through the windscreen of his car, hitting his targets. He took pictures of the downed men with a digital camera. Identification surfaced showing him as a US Department of Defence contractor. Besides the 9mm Glock pistol, Davis was arrested with not one, but five magazines of ammunition, a GPS device, a telescope, cash (in rupees and US dollars) and business cards for a company called Hyperion Protective Consultant. An investigative report by Dave Lindorff published in Counter Punch, showed Hyperion to be a dodgy business with no offices at the address given: "First, there is not and never has been any such company located at the 5100 North Lane address. It is only an empty storefront, with empty shelves along one wall and an empty counter on the opposite wall, with just a lone used Coke cup sitting on it. A leasing agency sign is on the window.  A receptionist at the IB Green & Associates rental agency located in Leesburg, Florida, said that her agency, which handles the property, part of a desolate-looking strip mall of mostly empty storefronts, has never leased to a Hyperion Protective Consultants. She added, "In fact, until recently, we had for several years occupied that address ourselves.'"
And when the police investigation report was shared, Davis's story of self-defence didn't hold water. Forensics results revealed that the two shooting victims, Faizan and Faheem, were shot five times each including in their backs. Moreover, there were no fingerprints on the triggers of the victims' guns and the bullets were still in the magazine, not the chamber. Lahore city police chief Aslam Tareen described the shootings as "cold-blooded murder."
Other Lahore police officials have disclosed, however, that the two dead men were unlikely to be innocent bystanders. Newsweek Pakistan reported that "both Faheem and Haider also had criminal records, including for armed robbery" and that mobile phones, cash in various currencies, purses and ID cards were found on the dead bodies.
After the initial silence by the US embassy about what Davis was doing driving around on his own with an unlicensed weapon and an array of electronic equipment, officials with the US government finally spoke up. But only after the Guardian forced the US government's hand and broke the story on February 20 that Davis was, in fact, working for the CIA: "Based on interviews in the US and Pakistan, the Guardian can confirm that the 36-year-old former special forces soldier is employed by the CIA. 'It's beyond a shadow of a doubt,' said a senior Pakistani intelligence official. The revelation may complicate American efforts to free Davis, who insists he was acting in self-defence against a pair of suspected robbers, who were both carrying guns."
A handful of US media outlets, including The New York Times, knew of this, but held off from publishing the CIA connection on the request of the US State Department. "On February 8, the State Department spokesman, P.J. Crowley, contacted the executive editor, Bill Keller, with a request. 'He was asking us not to speculate, or to recycle charges in the Pakistani press,' Mr Keller said. 'His concern was that the letters C-I-A in an article in theNYT, even as speculation, would be taken as authoritative and would be a red flag in Pakistan,'" wrote Arthur S. Brisbane in The New York Times on February 26. The respected newspaper has taken a lot of flak from readers for covering up the truth and knowingly misleading the public.
Even after the CIA connection was revealed, the US still maintains Davis has immunity. In a press briefing on February 22, a reporter asked P.J. Crowley, spokesman for the State Department, for clarification on this issue: "Whether he was working for the CIA or for the US Embassy, he was still a diplomat. He still had immunity, right?"
Mr Crowley answered, "Yes."
Since the CIA link was revealed, US officials have described Davis as a security officer who was familiarising himself with the area on January 27. But the scope of his duties is much greater. Davis, an ex-Special Forces soldier, worked from a safe house in Lahore, and undertook reconnaissance missions for "CIA case officers and technical experts doing the operations," reported The New York Times. Basically, Davis was involved in espionage.
Talk of private security contractors, like Davis, hired by the US and roaming the streets of Pakistan as part of secret missions has been commonplace over the past two years and has been supported by media reports. "Bob Woodward, who wrote about secret operations in Pakistan in his recent book Obama's Wars, described for me the competing priorities in play in this situation," wrote Arthur S. Brisbane in The New York Times. "On one hand, he said, the Davis affair is just the 'tip of the iceberg' of intensive secret warfare the United States is waging in the region."
Pakistani intelligence officials have been implying that they have been blindsided and are unhappy about it. But the ISI's denial about having any knowledge of contracted operatives is probably disingenuous. "They weren't there with Pakistan's authorisation, but they were there with Pakistan's knowledge. The ISI knows who these people are, but they want to control them, they want to know what their assignment is," reported Time, quoting an unnamed senior Pakistani official.
"They need to come clean, tell us who they are and what they are doing. They need to stop doing things behind our back," a senior ISI official told the Guardian. He estimated the figure of covert US operatives roaming Pakistan as "two or three score…if not more."
Of course, that is just a fraction of the operatives others claim are here snooping about. Newsweek Pakistanquoted Hamid Gul, a former ISI chief, as saying that "no less than 1,000 to 1,200" American agents are "deployed here, and on top of that there are security contractors." Gul also said: "While America has been seeking our support in the war on terror, they've also been engaged in destabilising Pakistan and gunning for our nuclear assets."
Gul's remarks are typical of the fear, doubt and anger about the US that are being served up daily in the public discourse in Pakistan. And while Washington rubbishes these claims, Gul's final statement points to a well-understood truth: the US and Pakistan have divergent strategic interests. And it goes beyond Pakistan's growing nuclear programme. "Washington would prefer an Afghanistan without the Taliban in it and Islamabad strongly prefers some accommodation with the Taliban re-ensconced in Afghanistan at central and sub-national levels," Christine Fair, an assistant professor in the Security Studies Programme at Georgetown University, tellsNewsline. "The United States is extremely concerned about Pakistan's ongoing support for Lashkar-e-Taiba/Jamaat-ud-Daawa and Pakistan's ISI is adamant in protecting its assets."
But the Raymond Davis case shows that the US is more than concerned about Pakistan's support for certain terror groups. It shows that the US believes that the wide divide between the strategic partners on this issue is unbridgeable, as the espionage Davis was engaged in allegedly involved LeT. "Irrespective of what you believe his diplomatic status is/was," says Dr Fair, "this is the most significant thing about the Davis Affair: he was part of a cell to degrade LeT's capabilities. This is a showdown between the ISI and the CIA over the ISI's most prized asset: the LeT."
The development has deepened fissures in the complex relationship between the two countries — a relationship that is often described as "an uneasy alliance," or characterised by "mutual distrust." Relations are so tense that CIA has been in direct talks with top Pakistani military officials, including General Ashfaq Parvez Kayani, about releasing Raymond Davis and finding a solution to the controversial incident. The case of the American contractor was reportedly also discussed in the "day-long meeting" in late February in Oman, involving top generals from both sides. "In Oman, US officials implored the Pakistani military to step up its involvement in the Davis case, following the Pakistani government's decision to pass the buck to the judicial system on adjudicating Davis' claim of diplomatic immunity. However, their concerns also went beyond this most recent diplomatic spat," wrote Josh Rogin on ForeignPolicy.com. Rogin stated that according to a written analysis of the meeting prepared by General Jehangir Karamat, a former army chief and former ambassador to the US, "The US did not want the US-Pakistan relationship to go into a free fall under media and domestic pressures… These considerations drove it to ask the [Pakistani] generals to step in and do what the governments were failing to do — especially because the US military was at a critical stage in Afghanistan, and Pakistan was the key to control and resolution."
Politically, things could get out of control as there are forces in both countries pushing for major change in the relationship. Moreover, it seems like US decision-makers are taking their cue from what's happening in Pakistan. Rampant anti-Americanism and the loud voices that scream that the US aid money is an entitlement "grates the nerves of American policy makers," says Dr Fair. In the face of massive national debt and budget cuts, US legislators "can hardly be persuaded to cut entitlements to the American citizen (e.g. Medicare and unemployment benefits) to make the Kerry-Lugar-Berman payments to Pakistan when some vocal and well-placed Pakistanis reviled the aid bill and when Pakistan demonstrates a deepening commitment to the very policies that it vowed to abandon — such as support for terrorism."
And while Dr Fair believes that the US-Pakistan partnership is "extremely important to both countries," she sees that Congressmen (both Republicans and Democrats), officials at the Department of Defense, personnel at intelligence agencies, and people in the State Department are ready to give up on Pakistan. "I hope that Pakistan's leaders are preparing for the day when the US will stop writing the checks as it did in 1990," she says, but adds, "I hope that my government won't turn away as it did."
Trying to determine which country needs the other more is a moot point. Both countries have much to offer each other. The spy agencies, despite their battles, seem to have that figured out and seem to be searching for a solution.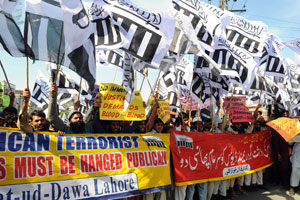 Recently, news reports have mentioned the potential of a "blood money" settlement to put an end to the Raymond Davis crisis. [Editor's note: A deal involving compensation in the form of diya, or "blood money" was announced after this article was published in the March 2011 print version of Newsline]. "This approach would require a prominent Islamic intermediary — perhaps from Saudi Arabia or the United Arab Emirates — who would invite relatives of the two men Davis killed to the Gulf. Payment to the victims' families could then be negotiated quietly. Once the next of kin had agreed to this settlement, the legal case against Davis for murder might be moot in a Pakistani court," wrote David Ignatius in The Washington Post. Of course, any way out of this explosive situation would have to be agreeable to the families of the victims and be free from any coercion from any side. Sadly, there have been reports that religious parties have already stopped the victims' families from making any deals with the US government.
Still, a solution for the victims' families and the fate of Raymond Davis won't erase the mutual distrust between the governments of Pakistan and the US. "There are limits to how far partners can pursue mutually offensive policies. And changing these policies that are so alienating to the other may be impossible or extremely costly to either or both," says Dr Fair. "Right now, policy, defence and intelligence elites in both Pakistan and the US are trying to figure out whether the other is a friend, a foe, or a troublesome but still important partner. Both countries are weighing the costs and benefits of the relationship and the needed policy changes that will make the partnership more durable."
Where do Pakistani politicians stand on the issue of immunity and how it should be treated?


(These questions where asked and published in the print edition of Newsline before the "diya" deal was reached to free Davis).







































Next