Interview: Amin Gulgee and the Curators of Imag[IN]ing Cities
"A global discourse is needed to re-enchant the world
to turn it actively toward viability, and it starts in the Souths"
– Amin Gulgee
The Amin Gulgee Gallery recently hosted "Imag[IN]ing Cities: a South — South dialogue." The venture was a curatorial collaboration among Amin Gulgee, Dominique Malasquais and Kadiatou of Space for Pan African Research Creation and Knowledge (SPARCK). Sumbul Khan, the curator of Poppy Seed Gallery, interviewed the three curators about the aims and accomplishments of the exhibition for Newsline.
Q: Imag[IN]ing Cities was based on photographs and videos. Why did you choose these specific media and how did they lend themselves to the premise of urban experience in "underdeveloped" countries or "countries of the South?"
A: In an age of wildly accelerated globalisation, these media have come to play an undeniably central role. They are growing at a dizzying speed everywhere on the planet. The idea, much too often repeated, that in the South artists today are more inclined to work with more classical materials (painting, sculpture, etc.), is simply inaccurate. The point is not that forms such as painting and sculpture are somehow less forward-looking: anyone who is seriously interested in art knows that some of the most engaged artwork is made by creators whose focus is on these media — and it should be underscored that Imag[IN]ing Cities gained tremendously from the inclusion of radical works that belong, quite precisely, to the realm of sculpture and painting: Amin Gulgee's sonic rickshaw installation that took centrestage in the middle of the main gallery space and was created as a platform for sound and video installation; works by Malam Essoua in the side gallery — sculptures set on fire in a performance/installation held in the Parisian suburb of St Denis, which were shown here in the form of photographs. The point is to underscore that everywhere — South and North, East and West. There is concurrently a boom in what are commonly referred to as "new media." Long before Facebook and Twitter, many people had underscored this. Despite the much touted "digital divide," ordinary, everyday people in cities across Africa and South Asia were making highly effective and original use of the Internet, in daunting conditions (no computers at home, electricity shortages and breakdowns, loadshedding). As all of this underscores the media of digital photography and video have proven to be supremely well adapted to an emergent urban world whose heart and whose future are undeniably positioned in the South. The sheer explosion of talent and gazes, aesthetics and messages that come to the fore in the work of the 52 artists highlighted in Imag[IN]ing Cities is perfect proof of this.
Q: In initiating what you call a South-South dialogue, how would you describe your curatorial approach: empirical, interventional, reflective or activist?
A: All of the terms your question includes — empirical, interventional, reflective, activist — are a part of our curatorial approach. In Imag[IN]ing Cities, as in all SPARCK projects, we seek multiple points of entry into the themes and the spaces we explore. Only through experimental practice — practice that is emphatically not predetermined — can we hope to come close to the goal we have set for ourselves: learning, finding paths that we ourselves did not know earlier, but which others elsewhere have already begun exploring. The kinds of dialogues in which we wish to engage are already thriving. The point is not for SPARCK to initiate such dialogues, but to join in them, and where possible to enrich them, through networking practices that offer us unrivalled opportunities of engagement and ethical growth.
Q: Do you feel that by limiting the medium, the dialogue that was achieved was filtered, given that in our local art scene video is still considered very "new media"?  Especially because some of the pieces we saw by local artists were incidental/experimental forays into video, not something they actively work with as a regular part of their practice.
A: When we began with the Amin Gulgee Gallery, the curatorial process of identifying Pakistani works for inclusion in Imag[IN]ing Cities, there was so much interesting, cutting edge material to look at — such a sheer variety of artist interventions — makes this very clear. That some of the artists included may more commonly work in other media only underscores it: if the works they showed are early forays into the digital world for them, just imagine what is yet to come! A point must be made, however, in addition, that Amin Gulgee highlights — a number of Pakistani creators whose work appears in the show have been working in video and film for some time and have, in the process, developed a highly sophisticated body of work. Key examples are Bani Abidi, Madiha Aijaz, Wajid Ali, Durriya Kazi, Angeline Malik, Saqib Malik, Danish Reza, Hasan Zaidi and Maheen Zia. Among the African artists represented, such practices are very richly developed, with examples ranging from Neil Beloufa to Dineo Bopape, Doktorosé, Ahmed El Shaer, Ismail Farouk, Khaled Hafez, Stacy Hardy, Kakudji, Aryan Kaganof, Nástio Mosquito, Mowoso, Julia Raynham and, perhaps most notably, the incomparable Goddy Leye (1965-2011), who led a one-man video revolution in his home country of Cameroon in the 1990s, resulting in the emergence of key players on the video and performance scene today, there and in a wide range of other contexts.
Q: This show, being the first of its kind in Karachi in terms of the technologically savvy experience it offered, was exciting for all of us. Evident common themes were industrial structures, modes of commute, violence and uncertainty, political satire, rampant consumerism, wilful collusion with hegemonic powers and love too!  What were some of the themes that you'd hoped the audience would not leave without paying attention to?
A: The most exciting moments in ventures such as this are the wholly unexpected moments: the ones you just hadn't seen coming. One such moment came when a number of visitors pointed out to us how fundamentally relevant one piece — Haled Hafez's "A77A Project (On Presidents & Superheroes)" — was to the current situation sweeping Egypt and related countries. We had, of course, thought of this — how could one not — but this was not at all part of the original curatorial intent, because the work was chosen long before the protests began in Tahrir Square (the piece dates from 2009!).
What was so striking here was the intense engagement of the viewers with the sheer prescience of art and artists: with the capacity that art and artists have, and the essential role they play, most notably in the South, in thinking the future of our world. This very point was the point — the one core theme — of Imag[IN]ing Cities. It's what brought us to create the show and it's what drives the whole SPARCK programme. So here we were, in Karachi, in the midst of a crowd buzzing with ideas, conversations, inquiries and self-questioning, where what we had hoped to do made sense to people. No need for gallery guides and curatorial walk-throughs: we had entered a space, a series of networks, already vibrating with the energy of the future. We were doing what, above all, we seek to do: joining conversations and movements already in motion, bringing momentum, we hope, but not making it happen. Momentum was always already there and we were one among many actors moving forward. It was what we had most hoped and our hopes were fulfilled beyond our most beautiful expectations.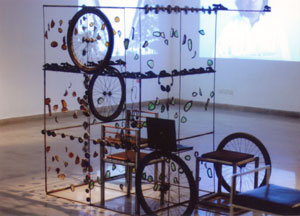 Q: In some international art fairs now, there seems to be a space for what is the MENASA — Middle East, North Africa, South Asia — region. In fact, there is now even the Menasa Art Fair in particular, and I'm curious how the greater African continent sees itself in relation to this regional category?  Also, how do SPARCK's activities help fill in these gaps in global discourse?
A: The first thing that needs to be said in response to this complex question is that SPARCK would not exist without the generous funding that it receives from the Africa Centre, an NGO based in Cape Town dedicated to contemporary art in the global African world. We have the unbreakable will to do what we do and seek to do much more but, in the world we live in, engagement in the kind of global discourse you bring to the fore desperately requires means. And, for SPARCK, those means begin with the trust the Africa Centre has put in the programme that Kadiatou and I have set afoot. The Africa-MENASA discourse is particularly relevant in this context, not least because it is not particularly common.
Histories of colonisation — diverse yet simultaneously and violently convergent, as well as their aftermaths — have resulted in forms of polarisation worldwide that tend to create divides (or, altogether, chasms) between regions of the South that have a great deal to say to one another. There are dialogues between sub-Saharan Africa and the MENASA that are clearly, powerfully, already underway — the works shown in "Imag[IN]ing Cities" make this very clear — but far more is needed, in a wide range of settings: more dialogue, more joint action, more of the essential work required to cast new eyes on possible futures, not only for the South, but also from the South, in order to rethink the world globally. The time for centres and peripheries is over. Long over. A global discourse is needed to re-enchant the world — to turn it actively toward viability, not for a year, not for a decade, but as a matter of long-term hope — and that discourse, we are convinced, starts in the Souths (plural because there is no, and there should be no, one South). Not because things are "better" or "more equal" or "more original" here — we are not naïve — but because this, today, is where history brings us. Things have changed and are changing every day at a pace that, even a decade ago, we could not possibly have imagined.
Next